Local SEO is not just something that might help a business anymore, it will. In today's business space it is absolutely vital for all business to position themselves in search results appropriately so that local visitors can easily locate a business.
I speak with people each and every day that think that SEO is the best thing since sliced bread. Well, I think it is, but SEO, specifically local SEO is fairly complex these days and includes different areas of search. I will discuss what each of these areas actually are, but I also wanted to make a case of how local search works great but there is a saturation point. A point where the number of possible and actual visitors reach a maximum number. I think this is one area that many local and brick and motar businesses don't truly understand.
Here are the local SEO areas to include as your build your business:
Local Maps: Google, Yahoo and Bing all have local map sections where businesses can list themselves for website visitors that might be using them in order to find a local business. Local maps will often times appear right above the organic search results and below the paid advertising ads in the search results. This area is usually reserved for only ten business listings so it is important to have your listing live sooner than later. It is based on location and on a random rotation so it is important to at least launch your profile. Encouraging happy customers and clients to leave reviews on your local listing will only help your business and business listing grow over time. Also, there are many 2nd tier and smaller local service directories that I recommend that you submit your business to, such as: Yelp, Superpages, Yellowpages, Citysearch, Merchant Circle, etc. Believe it or not, these sites do generate visitors, in many cases, different demographics, either way they are a good place to be.
Organic Local Search Engine Optimization (SEO): Local search results appear in the center column below the top paid ads and local map listings. Organic local seo is not as straight and forward as launching a local map listing for your business. Local SEO or search engine optimization requires a well crafted plan of attack that is a little bit of technical website adjustments and a whole lot of marketing knowhow. As local businesses grow more and more competitive online you will eventually be left very far behind if you don't start taking this step seriously. Every day people use a variety of search terms to find the same exact service or product. Some of these search terms have generated many different variations depending on how a person is typing it into the search engine. Some variations have a great deal of monthly volume and others have very little. It is important to have these search terms strategically sprinkled throughout your website. They need to be there in order for your website to rank in search results. Remember that the search engines don't really think for themselves, they read. If they can't read it they can't index it appropriately. The best "common sense" recommendation I can give you about local SEO is spend the time doing your keyword research and naturally optimize your website based on the content on each page. Once your website is optimized, be sure to market and promote your business and website as much as you can. Link building will happen naturally as your market your business.
Pay Per Click Advertising (PPC): Pay per click advertising are the paid search engine ads that appear on the right hand side and on top of search results. Each ad costs that advertiser a certain amount of money when the ad is clicked on by a visitor. If you are in a competitive space sticking out is going to be the name of the game for your business. Sometimes a business can get a local map listing, their website in the organic search results and a pay per click ad allowing them to really hit many visual points for that web searcher.
To summarize everything that I have talked about in this blog post, below is an example of a local business in my area that does a great job of positioning themselves in the local search results Personal Care Chiropractic & Massage in Arlington, MA (yes, they are a client of mine)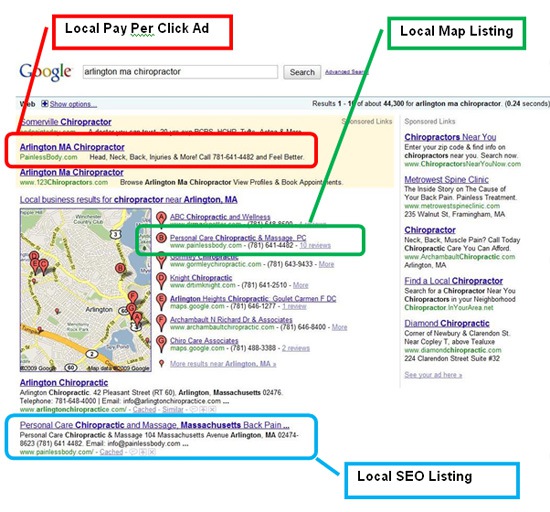 As you can see when done correctly, over time a local business can build a nice local online presence but there is a point will search (local SEO, Map listings, local pay per click) all reach a point where it is as good as it gets. For this client example above, I think if they can hit the #1 position in all of the local search areas, then they will be a great shape, but my advice is not to put all of your eggs in the local SEO basket. As a business owner and/or marketer, I always recommend that you market your business online many ways, social media marketing, opt-in email marketing, local advertising, sponsorships, etc.
Nick Stamoulis, a search engine marketing industry veteran, is the President of search engine marketing company, Brick Marketing. Nick Stamoulis also writes daily in his SEO blog, the Search Engine Optimization Journal.