Local Search Rank Checker is a nice web-based tool that lets you check and track your local search engine positions efficiently. Here's a quick overview of its features (you can run your own test drive and share your opinion: this doesn't require any registration or payment)
Track Your Local Rankings
The tool is very easy to use. To start, you don't even have to login: just provide the following details for a test drive:
Your search terms (you can provide maximum of 25 local phrases for one free / basic report);
Your domain name;
Your country (US or UK)
Your company details (optional);
The search engines you want the tool to crawl: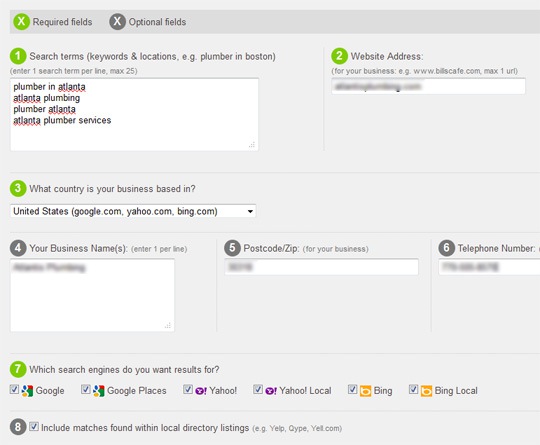 View the Report
The resulting report contains the following details:
Your current position in each search engine;
Your last position;
The type of the result (organic, directory listing, local – e.g. Google Places)

Here's a quick infographic that gives an even more detailed explanation of what you get in your report: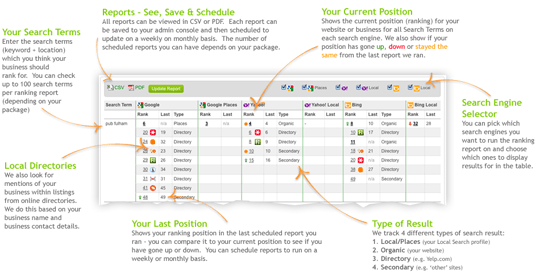 You can export the report as a CSV and/or PDF file.
You can also report incorrect results in your find any.
A few more essential details you need to know when using the tool:
It digs through the top 50 search results within all search engines and local search engines;
Apart from the specified search engines, it also crawls local directories to spot the business mentions there.
Save the Report
As a user you can test it out for free 5 times before being prompted to register for a package and 30 day Free trial. An account allows you to save your reports. So you get a more complete experience when logged in.
You can also schedule a weekly or monthly ranking report and specify five email addresses to have the report emailed to.
Don't Miss the Contest!
There's a fun competition held on BrightLocal. The winner will get lifetime's FREE access to the Local Search Rank Checker tool for themselves and for their favorite local business.
Please take part in the contest here.