Last year I did a short post on building links via local blogs. Looking back at that post I think it is quite limited. Those resources are so much more than just link building tools.
Learning to find and build contacts with local journalists and bloggers will benefit you in plenty of ways (yes, it may take quite some time but it is well worth it in the long run).
What should I do with these resources?
(If you are a local blogger or a local journalist) Subscribe to each of them to make sure you cover all major events in the area;
(If you are a local blogger) Submit or claim your listing there to increase your content distribution, visibility, and traffic;
(If you are the owner of a local business) Track news and build connections with local bloggers to get covered by them (run contests, sponsorships, promote your events, etc);
(If you are a link builder) Connect to local bloggers to get links when you need them,
etc
Tool
Sources of local information
How to track local updates
How to promote your local resource
Reach
Placeblogger
Blogs
Register to add places and blogs to favorites
Submit your local blog here
Universal
Outside.in
Blogs, news resources
Subscribe by RSS (bottom of the page)
Register your site with Outside.in for Bloggers
Universal
Patch
Local media
Register to follow events, subscribe by RSS feed
Apply as a local editor here; Add your events here
US: New Jersey, Connecticut, New York
Every Block
government Web sites, blogs, local media
iPhone app, email alerts, RRS feed
To get covered or included, contact the team feedback at everyblock.com
US: Atlanta,
Boston,
Charlotte,
Chicago,
Dallas,
Detroit,
Houston,
Los Angeles,
Miami,
New York
Philadelphia,
San Francisco,
San Jose,
Seattle,
Washington, DC
"Local" Twitter search
Microblogs
RSS feed
Follow and make friends with local influencers on Twitter
Universal
(Below are some details on each one)
1. Placeblogger
A placeblog is a blog about the lived experience of a place. What do we mean by "lived experience"? The "lived experience" can be the local political news of a place, the social news of a place, the arts news of a place, etc. So, placeblogs are often about political issues, community news, restaurant reviews, music scenes, architecture, visual arts, etc. Any aspect of life in a place that makes it different from other places, or information that tells you something about the lifestyle of the place.
This is one of the most effective media to find plenty of local bloggers. For each place you'll see:
The list of local photos (from Flickr);
Recently submitted Placeblogs;
Most popular Placeblogs;
Recently added posts aggregated from blogs in the database;
Site users that currently live, used to live or plan to live in the area.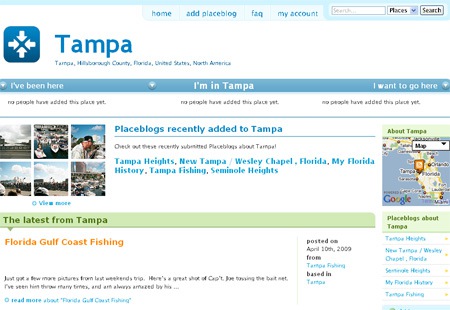 2. Outside.in
Outside.in is a hyperlocal news platform… Hyperlocal means news and information on a more granular level than traditional media provides. Previously, most "local" sites didn't actually get more, well, local than cities or towns. They assumed that just because you live in a specific city or town you are looking for the same news as everyone else. Hyperlocal content gives you the news and information for the area right around where you are, like the block around your office or the neighborhood where you live.
For any combined search query (place + keyword) Outside.in will display the list of aggregated blog posts linking to the actual post on the site (unlike Placeblogger, that redirects to the blog profile on the site):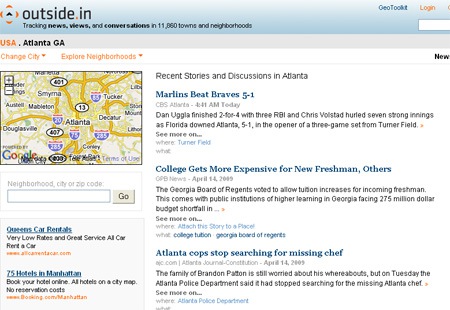 3. Patch
Visit Patch to keep up with news, businesses, and events, check out photos and videos from around town, see what neighbors are up to, and get in on the conversation.
Email each author of the article right from within the Patch;
Browse various directories and categories (events, announcements, school news, local facts, etc);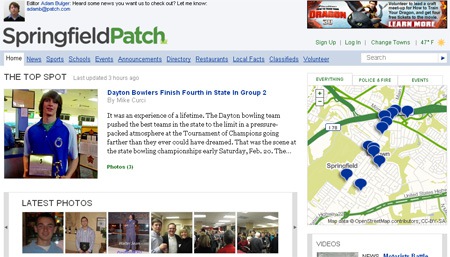 4. EveryBlock
EveryBlock is a local news Web site with a twist: it offers news down to the block level. Enter any address in one of the supported cities, and you'll see news articles, blog coverage, crime reports and a wide variety of other local information, all updated throughout the day.
See news distribution (which blocks are more actively covered in the news);
For any local news see the list of sources (left-hand panel);
Search through each city press releases (be neighborhood or by zip code), etc: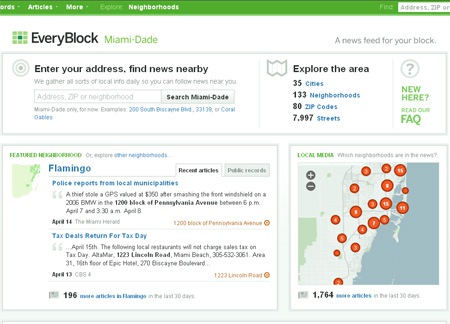 5. Twitter Search
There is no way to stay properly updated on local news without keeping an eye on Twitter. You can do that via tools like NearbyTweets or ChirpCity but I prefer using Twitter search.
With it you have to options:
By keyword: just type "City name" or use a hashtag #cityname and watch what is being said about the city;
By help of NEAR: operator (easily accessed via the advanced search).