SEOquake, an SEO addon for FireFox (which will soon be also available for Google Chrome), has one great feature that I enjoy immensely: it allows to extract all links from the page (internal and external ones), retrieve some useful information one each of them and export all this data to Excel.
This useful option enables you to:
(!) Research who your competitor links to (remember to keep your competitors friends close);
(!) Research any web page "neighborhood" by estimating the power and authority of the pages it links to);
(!) Find the most powerful pages you link to, etc.
Let's see how this works
1. With SEOquake toolbar (or "SEObar") enabled browse to any page and click "Ext. links tab":

(Notice the number in brackets – it represents the number of "nofollowed" links on the page))
2. You should see the list of all external links: click on question marks to retrieve stats for each linked page: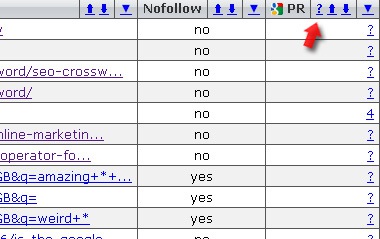 The stats you are able to retrieve for any linked page include:
Google PR;
# of results for SITE: search for the linked domain;
# of links to the page (via Yahoo! SiteExplorer);
Domain age (via Web Archive);
Delicious bookmarks of the URL; etc
Note: there's also a button above the table called "Request parameters" that will retrieve ALL stats for the whole table.
3. Once you are done collecting the data you need, hit "Save file" and export the whole table together with the retrieved data.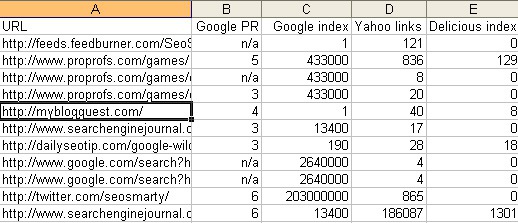 Note: you can use "Append to file" button to save the data to an existing file. This is a useful option, if you are collecting this data for the whole site by going from page and page and performing steps 1 to 3 again and again.
4. Now what?
Play with Excel sorting, filtering and other data managing options to your heart's content to analyze the site linking behavior.