LinkedIn is working on a new tool called Talent Insights, which is designed to help companies make data-backed decisions when recruiting and managing talent.
With access to rich global datasets, LinkedIn aims to empower recruiters when it comes to making more intelligent and strategic talent decisions.
Boasting over 500 million members and 11 million active job listings, LinkedIn is in a unique position to provide a dynamic view of the rapidly changing job market.
About Talent Insights
Talent Insights will provide a self-serve access to two key reports that are said to inform immediate and long-term talent decisions.
Talent Pool Report
The 'Talent Pool' report will be able to understand the type of talent you're looking for, and narrow it down to a specific population of candidates.
Data included in the report will tell you what you need to know in order to recruit from the talent pool to fill your job openings.
Insights can include:
Where the talent lives and what industries they work in
How difficult it is to hire the talent you need
What schools are producing the talent you're looking for
How a particular type of talent is engaging with your company on LinkedIn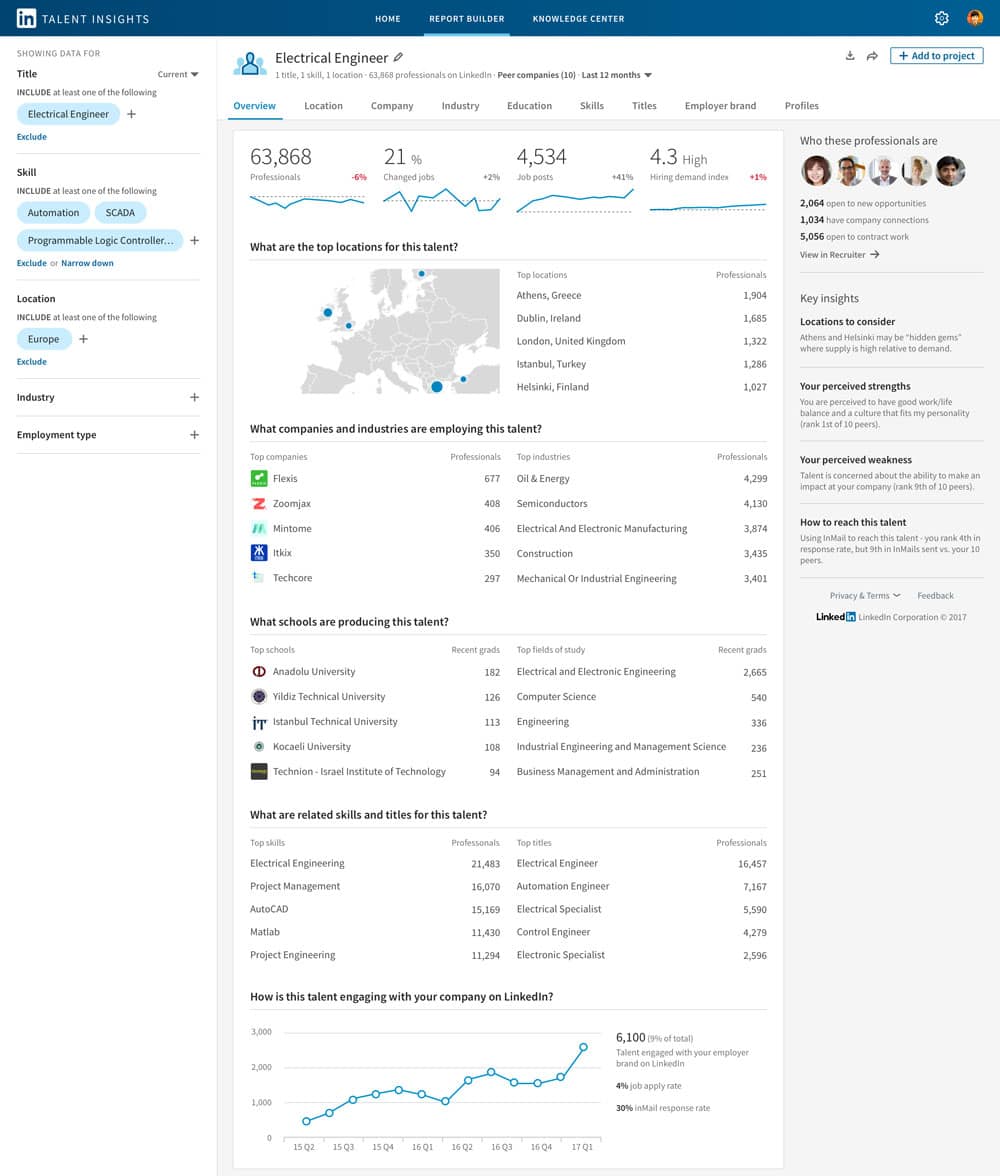 Company Report
The 'Company' report provides insights about how your company is doing when it comes to attracting and retaining talent.
In addition to these insights, the Company report will provide tips for how to adjust your recruiting strategy based on what the data is saying.
Insights can include:
How a company's workforce is distributed by function and geography
Where a company is gaining talent from and losing talent to
Which skills at a company are growing the fastest
What schools a company is hiring talent from
Both of these reports will present data in the form of user friendly visualization that can be exported and shared. When it launches, Talent Insights will be seamlessly integrated with LinkedIn Recruiter.
Expect to hear more about Talent Insights before its expected release date in 2018