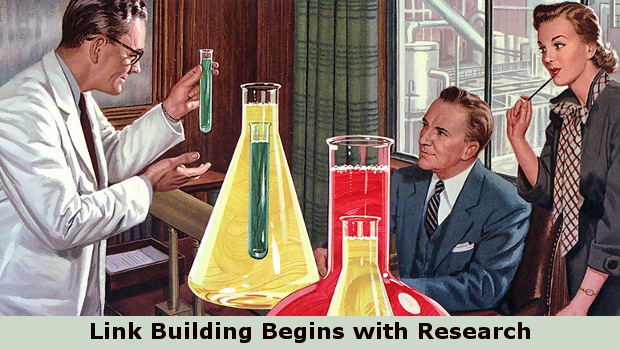 A link requires two websites. If you're building links one of those websites already belongs to you but when the other website comes in, that's where it gets complicated. Finding that site at the other end of your would-be link takes research, and that research, if it's going to be useful at all, requires a special, dedicated kind of person. Generating content and creating outreach are important, but the content and outreach have nowhere to go without a foundation made of good research.
Understanding Your Niche
In the link building world, research comes in many forms. Research is a broad term with a few different definitions, but it all comes back to exploration, discovery and tracking.
Compiling backlink research, using advanced link building tools and plugging in fancy search operator strings won't do you a world of good unless you understand your niche. Who are the big players in the industry? Who are the prolific bloggers? What are the issues? Which specific challenges have you faced? What's the industry jargon?
It's best to answer these questions as soon as possible. The more you familiarize yourself with a client's niche, the less time you'll waste on research that won't yield any results. This specific type of research doesn't necessarily need to be conducted by a number-crunching data-head—it's imperative that anyone directly working on your link building campaign understands your industry before diving in headlong. This can only be accomplished with a human brain. All of the research and analytics tools in the world won't help you really understand your niche—only that special, analytical gray matter powerhouse can do the job.
Research Techniques
Once you understand your niche, it's time to find some sites. These websites are where the fabled 'other end of the link' will go, so no real link building campaign can go anywhere without extensive site finding. This is where you'll need a dedicated data-head and a reliable spreadsheet. Understanding that information requires a human brain—one that sees the world in terms of data.
Boots on the Ground – This is the most basic approach, but also the most creative approach. Use basic search strings or come up with something complex. Anthony Pensabane and Sean Revell both have some great, unique ideas for finding niche sites. Simply put, this method allows you to cozy up with Google until your eyes go numb.
Tools – There are plenty of companies that offer link building tools, and many of them specialize in finding sites. Ontolo does a ton of the grunt work for you, and Guest Post Labs offers an excellent query generator. There are also tools that aggregate articles/posts from sites like Reddit and Google News into a single spreadsheet, and the user can input any imaginable keyword.
In a World Without Google – This method is also pretty basic. Imagine a world without Google. Now click through some niche/industry sites. See who they link to. Check their blog rolls. Go down the rabbit hole—you might be surprised what you find.
Backlink/Competitor Research – This type of research can be exhausting, but it's imperative in any good link building campaign. Analyze your competitor's backlinks and use that information in your strategy.
Social Media – Social media outlets (especially Twitter) are a great way to find sites that might never come up on Google for target keywords. Search hashtags, search profiles and search tweets. Alternatively, ask around—it is supposed to be social, after all.
Networking – Speaking of asking around, you can never talk to too many people or make too many friends. It's as simple as striking up a conversation and recording any relevant results.
Understand that using this information requires a human brain—one that sees the world in terms of data. Otherwise, every single URL is sentenced to rotting in a spreadsheet. That dedicated researcher, the one that knows what to do with the data itself, is the important part.
To Every Link a Good Home
It's best practice to weed out crappy sites as you go along, but you're going to see more raised red flags as you dig a little bit deeper. A good link building campaign won't work without reputable sites, and it's a researcher's job to ferret out the spam and the garbage. A reputable site might mean a 99 DA tech blog, or it might mean an 18 DA personal blog that's highly relevant to your niche. A drone or a tool can't determine if a site is reputable or not—it requires a human brain.
Then, there's the smell test. Robots and spreadsheets can't smell, so a human is required here, too. The researcher applies the smell test—was the content written by real people, for actual people? Are the ads sketchy? How often is the site updated? Is there an audience? Building a link from a robotic spam blog to your site isn't going to help anyone—not your website, not you and not the internet as a whole.
Research also involves meeting people. Speaking with blog owners and webmasters will help you determine if your content or resource link is a good fit. You'll learn exactly what their audience wants and you might find some new link prospects in the process.
A link isn't valuable unless it has a good home.
Crunching the Numbers
Data analysis is important, and only certain types of people can really crunch the numbers and figure out what they mean. That's what separates a researcher from an average writer or social media strategist. A good researcher has to track search rankings, track time and efficiency standards, track link building goals and find patterns in each. You can build a thousand perfect, sustainable links, but if you can't see the results (and how you achieved them), then what's the point? A good researcher can find meaning in a sea of numbers, hyperlinks and spreadsheets. This is where case studies are born as well, which are an opportunity for more links and content.
Writers, designers and video producers create great content, but none of it would have anywhere to go without research. There are some great research tools out there, but all of them require a human brain to interpret the data and results. Researchers are the foundation of any successful link building campaign—they're shamans that communicate with the world of raw data, hyperlinks and complicated search operators. Link building begins with research and research begins with a human brain.