Have you ever wanted to send out a link request to thousands of people without being a spammer? Now you can, thanks to social media. Let's look at the ways you can use great content + social media to establish trust, build an audience of bloggers who love to link out, get exposure for your link worthy content, and learn how social media really affects your link profile.
Establish Yourself on Social Networks
Whether you are sending out standard link requests, link exchange requests (not advised, but still happens), guest post requests, or any other types of link building correspondence, you will have more success if the webmasters and bloggers see you as a real person, not a nameless, faceless link builder. Simply including a link to your Twitter or Google+ profile in an email signature adds a personal element to your request, giving the recipient a chance to check you out and learn more about you.
For email recipients using Gmail, this is especially true as emails are connected to Google+ profiles, making it easy for Gmail users to spot a real person vs. someone who is using a throwaway email. Note that your Google+ profile picture and latest updates make a big difference for Gmail users – just having an account doesn't cut it as this is what they will get.

Build a Network of Bloggers
As you are building your social audience on Twitter, Google+, and other networks you set up, aim for bloggers in verticals that align with the websites you are building links to. Google likes editorial links, and there's no better in-content link than those that come naturally from bloggers. Note that I didn't say blog networks like the ones Google has shut down lately, but links from real bloggers.
Aim for bloggers that are active on Twitter, retweet others often, and engage directly with others. You can start your search using the Followerwonk profile search for your vertical keywords plus blogger, blog, etc.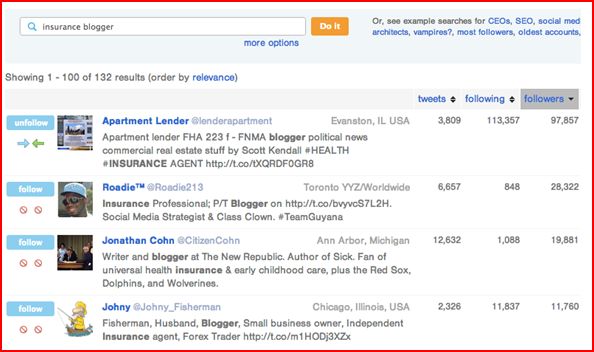 You can perform a similar keyword search to find blogging connections on Google+. As you build this audience, be sure to engage with them and retweet / share their posts often. The more bloggers that have you on their radar, the more links you are likely to receive.
Create Content for Particular Social Networks
The more social visibility you get on social networks, the better your chances are of getting links to your content. Try creating content in your verticals that will be instant winners on particular social networks like The Top 50 People Tweeting About _____ and 25 Great Google+ Communities on _____. Topics like those tend to do well on their related social network.
Make Your Content Shareworthy
Don't just expect your content to do well based on your own promotion. Help your content out by making it easily shareable on social networks by using social sharing buttons. WordPress users can install the Digg Digg plugin to quickly add a variety of social sharing buttons to their posts and pages. No matter what you use, make sure your plugin includes the official Twitter, Facebook, and Google +1 button.
Share in Social Network Groups
Expand the reach of your content even further by sharing your content in social network groups – Facebook groups, LinkedIn groups, and Google+ communities in particular. Check the rules or latest activity for the groups you join first. If you see lots of content sharing, and those shares tend to have reactions (likes, +1's, comments, reshares, etc.), then it's a safe bet that the content you share (assuming it's relevant and quality) will get noticed.
While there are many tools to post updates to your social media accounts, there aren't many to post to social groups. Oktopost is a great tool to post status updates to LinkedIn groups and see click stats. PlumSocial supposedly helps you update your Facebook groups, but their website is confusing and their own Facebook is auto-updated and covered in spam, so I can't guarantee this is a legit tool.
Reach Out to Bloggers Who Link Out Often
Recap posts are popular in the online marketing industry, and probably in other verticals as well. Some examples of recap posts include SearchCap, Marketing Day, Fresh Pressed, 5 Links, Fetching Friday, Brilliant Bloggers, and SEO Content Marketing Roundup.
Find the bloggers who post regular recap posts like the examples above and really start engaging with them. If you create quality content, chances are those bloggers will start to notice your content and will start to link to you.
If you get to know the blogger behind the recap really well, and you have a piece of content that you know they will love, you can even make a personal request via their contact form to consider your content for their next recap. Aim to send your request as soon as your content starts getting social traction from other social promotion. This way, the blogger will see that the content has a lot of shares already, making it irresistible for their recap.
See How Social Affects Links
So does creating link worthy content and then promoting it on social media really help increase the number of links to your website? Now you can find out. CognitiveSEO has added social visibility analysis that looks at your number of incoming referring domains vs. the social shares of your pages on Twitter, Facebook, and Google+.
You will also find charts for the total number of social shares your website has received, the pages with an increased number of social shares within a specific time period, the pages with the most number of social shares throughout your website, and the individual networks vs. referring domains. You can also sort a full chart by number of shares each social network and referring domains.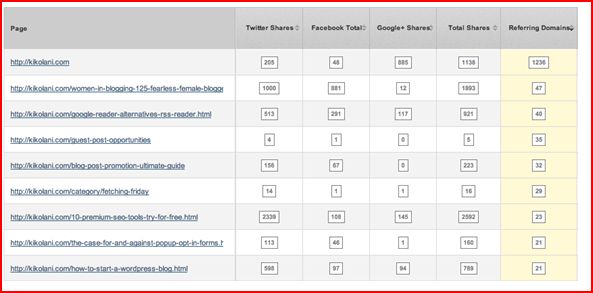 This can help you determine if ongoing social sharing is making a difference on your link profile. It can also help you easily monitor the success of your content on social media.
How do you use link worthy content and social media to attain more links? Please share in the comments!