Webinars are a great place to learn any skill related to business and the internet. Unlike blogs and other content pieces, you aren't forced to read text, which can get monotonous. The PowerPoint plus audio interface throws a nice wrench in your normal learning process and can help stimulate development.
The professionals teaching webinars are frequently thought leaders in their area. They will frequently bring their A-Game to the free sessions in an effort to attract you to a paid subscription service afterwards. Plus, you almost always have the opportunity to ask questions afterwards, allowing you to get into the minds of the experts without ever having to attend a networking event or spend $2k on a conference.
Put this all together and you have the best learning format available on the internet, which makes missing or not participating in them a huge mistake.
Locating these webinars can often be difficult. You might hear from your colleagues or on your RSS or Twitter feed, but that rarely occurs often enough. There are several other webinars on the internet that you will miss out on if you only look on these channels.
Thanks to advancements from the Google team, you can now use their alert platform to find a webinar about your favorite subject. Google Alerts will deliver daily updates to your e-mail inbox or RSS feed with every website match they find for whatever you input. For SEO, see the example below: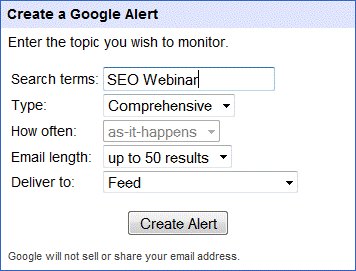 You can create these for any area of learning you want. Simply repeat the process and fill up your Alert profile with as many webinar queries you want. Of course, you can also leverage Google Alerts for other areas of business development and reputation management as well.

When you start getting these alerts in your RSS or Inbox, begin sorting through them to assess which ones are real webinars and which ones just mention your alert term on the page. Once you've found a few pages, evaluate the quality by researching the webinar service and speaker to determine if it's worth your time. You shouldn't have to pay for any of these – there is enough volume on the internet that you should be able to find free webinars without much trouble.
Once you've done that, it's time to add it to your calendar. The nature of these alerts is that they will show you the page once it's been created/updated, so you will frequently get a notification for a webinar weeks or months in advance. By adding it to your calendar, whether on Google or elsewhere, you will get a reminder (hopefully you have these set up, or you're busy enough to look at your calendar every day) to attend.
The next step is the webinar itself. Here are a few recommendations for maximizing your return from these sessions:
Do research on the speaker before the event. Read past articles they've done, look at a bio and do whatever other research you'd like to get familiar with this person. You should find yourself with a few queries about their past successes, articles or otherwise, and this platform is a great way to get instant, good feedback about your questions about them and their experience.
Write down niche-specific questions. If you're listening to the webinar, you probably feel your skill set is subpar as it comes to the topic being discussed. This means that you must have questions about how to start, proceed, and execute within the noted area. If you find yourself watching a webinar without any real questions beforehand, you probably don't have much to gain from the session and are wasting time listening to it.
Take notes, preferably in a notebook. I find that I retain information better in notebooks and by taking written notes. You can get multiple notebooks and sort these by category, so you can frequently go back and look at your notes for reminders on what you've learned. This also allows you to maximize the powerpoint screen and fully take it in without any other distractions on your desktop.
Reach out and say thank you after the event. Acknowledgement is always great, and speakers will connect with you more if you make an effort to directly acknowledge and thank them for their presentation. This is best done through Twitter, which is a good way to open dialogue. You can also use e-mail if you want to talk more in-depth about the subject. This can promote further learning and also a possible business relationship later on. Should you see or talk to this person later on at a conference or elsewhere, you now have a speaking point you can utilize to start the conversation.
Rinse, wash, repeat. Webinars are a superb way to get ahead in the tech world. By utilizing and implementing the suggestions above, you have a great opportunity to match wits with the leading thinkers in the field of your choice.
Ross Hudgens is a Senior SEO Analyst at Single Grain, LLC, an internet marketing company. You should follow him on Twitter here.