"The best place to launch your startup, raise money and learn about starting a company." So goes the tagline for Jason Calacanis' Launch Festival in San Francisco, which kicked off yesterday.
The annual 3-day startup competition showcased all walks of entrepreneurial life: tech founders seeking funding and airtime while vying for attention from VCs, angel investors and seasoned entrepreneurs who were there to check out the goods and kick the tires.
While wearable technology, gaming and B2C plays were prevalent, there was plenty to be had in the internet marketing sandbox, such as analytics platforms and both fledging and re-born social networks.
The atmosphere at the conference seemed buzzy and hopeful, the crowd perhaps still feeling the aftereffects of last week's $19 billion Whatsapp acquisition bombshell. Attendees bounced between two demo stages and a demo pit.
The event got off to an odd start, as attendees were greeted by enthusiastic protesters outside the venue. The picketers were highlighting a labor dispute with a conference vendor, and in a brilliantly effective move, created a cacophony with drums that nearly drowned out the opening speakers Travis Kalanick, CEO of Uber, and Calacanis.
It was rumored that Calacanis paid off the protestors to cease and desist, as the drums went silent towards the end of Kalanick's talk.
Panelist judges such as Sherpa Foundry's Tina Sharkey, the iconic Mark Pesce and tech media pundit Kara Swisher of re/code offered critiques and succinct advice for founders who had been picked to demo their ideas on the main stage; the latter often squirming while being asked hard questions about their target markets, business models and chosen technology.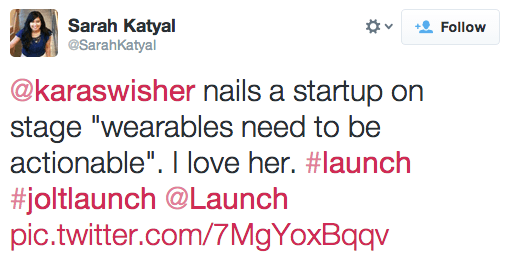 Swisher had a lethal combination of hardcore savvy and flippant snark that seemed to win over the crowd, dark aviator shades not withstanding.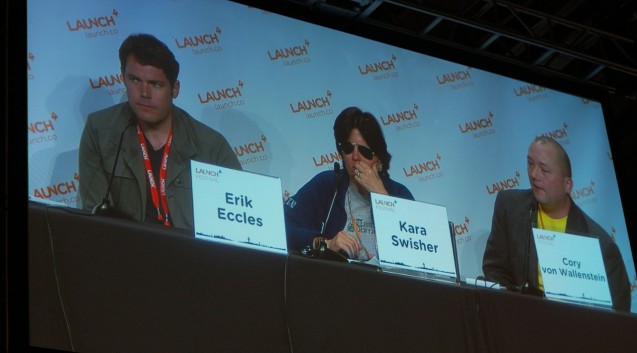 Y Combinator's Paul Graham, who announced onstage that he's stepping down from his startup incubator, had a packed session that saw many tweeting his every quotable quote. (Company he most regrets not investing in? Sendgrid.)
Bebo, the AOL-acquired social network bought back by its own founder last year, re-launched to much fanfare with a video app called Blab, which attendees were describing as a "cool video walkie-talkie app" that allows users to easily send videos back and forth.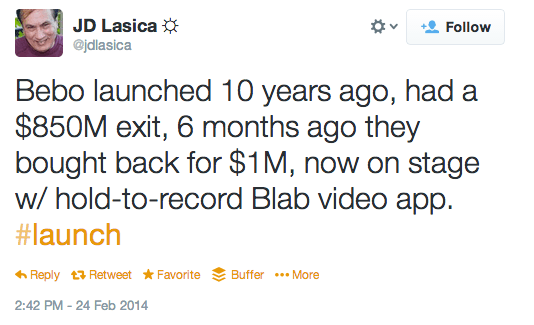 There were several search-related startups represented. Bliips held court in the demo pit, showing off a site that combined local search with reviews and deals.
Tycoon, a New York-based startup, is an SMB e-commerce analytics platform with a focus on "analytics your team will use", described as performance alerts and metrics in plain-English, in a mobile app that strips away the extra noise. The married co-founders, Katie and Matt Iles, met at Duke University. Tycoon is currently self-funded, thanks in part to the digital marketing agency they started three years ago, Nine Lines.
Says Tycoon's Monica Pereira, "Tycoon is a newsfeed for your business. We make marketing data simpler to understand, so that teams can focus on what actually matters, share insights and ask questions in context."
The service is in private beta and scheduled to launch in late March with pricing starting at $99/month.
Diversity has been a topic of discussion in tech as of late, and the conversation was continued at Launch. When two male founders portrayed "Suzy" using their iPad connected scale for baking, while "the guys could use it too" for measuring liquor for drinks, Kara Swisher dryly noted how "the guys" had selected rote gender stereotypes for their personas. And yet, women as a whole seemed a bit scarce amongst the young and professional-looking audience, and even fewer appeared on stage.
SEOEngine was one company at Launch with a woman at the helm. Maura Stouffer, CEO, described her role as their 'big picture' strategist. She started the Silicon Valley-based startup with her husband Scott "out of necessity" when they needed a search tool for clients that didn't exist at the time.
Stouffer describes SEOEngine as "the first search engine startup [with] a viable biz model that doesn't require [taking] advertising market share from Google to grow". According to Stouffer, she and her team have created their own search engine, termed a 'Google Simulator' which is really a composite model reverse-engineered from multiple top search engines, so that customers can safely test changes in a staged environment to model impact on rankings.
The self-funded company offers a monthly subscription model for the SEOEngine platform, which can be customized for the customer's industry or space.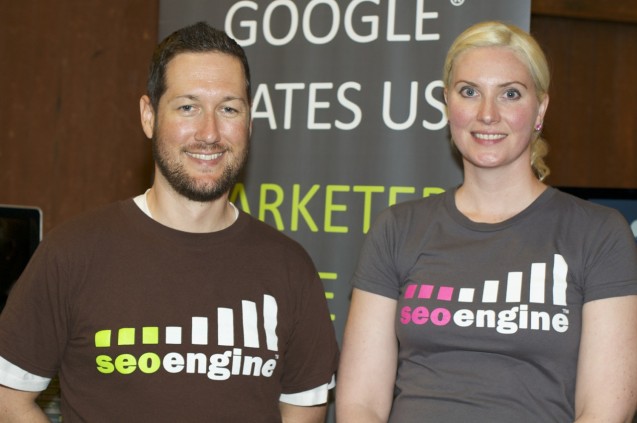 Conference Lineup
Today's lineup features Sarah Lacy @saracuda from PandoDaily and angel investor Cyan Banister at the judges' table, a keynote by designer Yves Béhar and 22 startups on stage, shooting for the stars.
Launch Festival runs February 24-26 at the San Francisco Design Center Concourse.
All images taken by author.