Click through rate (CTR) studies are an important source of data for marketers when forecasting results, projecting ROI, and building models for estimating the market size.
seoClarity took it upon themselves to take on what they say is the largest CTR study ever in an effort to better understand the current performance of organic search rankings on Desktop vs Mobile.
In this study seoClarity analyzed over 2 billion impressions and over 2.6 million clicks in 90 days, based on approximately 400 Google Webmaster Tools.
The results concluded that the mobile model is 3 times more valuable than desktop, and companies need to start optimizing for it. In fact, the study leads by saying "If you don't rank first on mobile you might as well be on the second page."
Results Of The Study
The results of the study performed by seoClarity aim to demonstrate how ranking first in the search results is more important than ever.
Ranking First On Desktop
The data shows a steady regression from position 1 at 19.3% to position 9 at 2%. Usability studies, like this one, have shown this is primarily because many users scan the top few rankings & then scroll to the bottom of the page
Ranking First on Mobile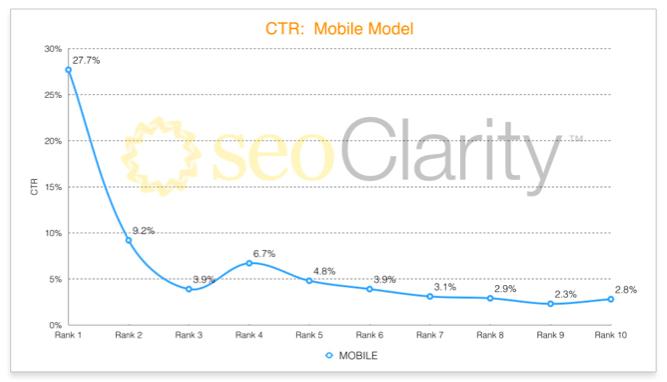 When studying mobile rankings, seoClarity used a comprehensive data set made up of purely mobile data taken from Google Webmaster Tools data. What that results show is a large CTR for position 1 – nearly 28% – and then a significant drop-off to about 9% for position 2.
seoClarity concludes that ranking first on mobile is for mobile is 3x more valuable than ranking in position 2. "If that doesn't give you a reason to get on the mobile bandwagon, I don't know what will," the company says.
Takeaways and Caveats
While this data is fascinating to look at an analyze, the company is careful to point out click through rates are near impossible to nail down. The issue with most CTR models is the lack of a large enough data set to make an actionable conclusion.
However, these studies are still important for projecting potential marketing opportunities and forecasting returns. One way to improve the results derived from these studies is to increase the amount of data that goes into them, which is what seoClarity was going for with this study.
It's also important to keep in mind that every company is different. These conclusions are likely not true for every industry, business size, country, language, or marketplace. It's still recommended that you do the research on your own Google Webmaster Tools data to gain a better understanding of your CTR.