This is a sponsored post written by SE Ranking. The opinions expressed in this article are the sponsor's own.
Keyword grouping has been around since the early days of SEO.
All seasoned SEO pros remember the days when they used good old Excel sheets to group relevant keywords into clusters.
These groups give your website a more categorized look and help SEO specialist to optimize the website for best performance.
So What Exactly Is Keyword Grouping?
Basically, keyword grouping (or keyword clustering) is a list of semantically related keywords that, once compiled, are distributed throughout pages in a manner that helps to drive paid or organic traffic.
For example, let's say you have two similar search queries – "sushi delivery" and "order sushi online". Will you use them on the same page or on different pages of the site?
In order to answer this question, you would need to analyze the competitors and figure out whether the pages that rank for those keywords are pretty much the same or similar.
This task takes hours, if not days, to complete manually (again tipping the hat to Excel files). And even then there is a big chance that the grouping is not done correctly.
Why Bother, You Might Ask?
There are a number of good reasons to actively use the keyword grouping approach.
Here are just a few:
Google is smart, so effective grouping helps your website appear more relevant to the search engine.
You can save money if you are running PPC campaigns to acquire paid traffic as compact ad groups can improve CTR and get higher Quality Scores.
Keyword grouping helps to enhance copywriting efforts and the quality of the content you are publishing on your site – both to attract visitors and robots.
Keyword grouping helps to avoid keyword cannibalization, structure the site correctly, and set the keywords you are using in your SEO efforts.
By automating keyword grouping you can save time – tremendously! What takes hours or even days can be done within minutes.
Keyword Grouping Principles
Like any SEO technique, keyword grouping is a sequence of steps that have to be followed in order to get the best results possible.
1. Do Keyword Research
Keyword grouping usually starts with collecting a large database of related keywords for a certain niche that also includes long-tail keywords.
Let's consider the same "order sushi online" that we used above. Take this phrase and run it through the Keyword research tool.
Use analytics or another resource that results with a list of hundreds of long-tail variations that you need to work on in order to decide how to optimize your content for the best chance of getting to the TOP.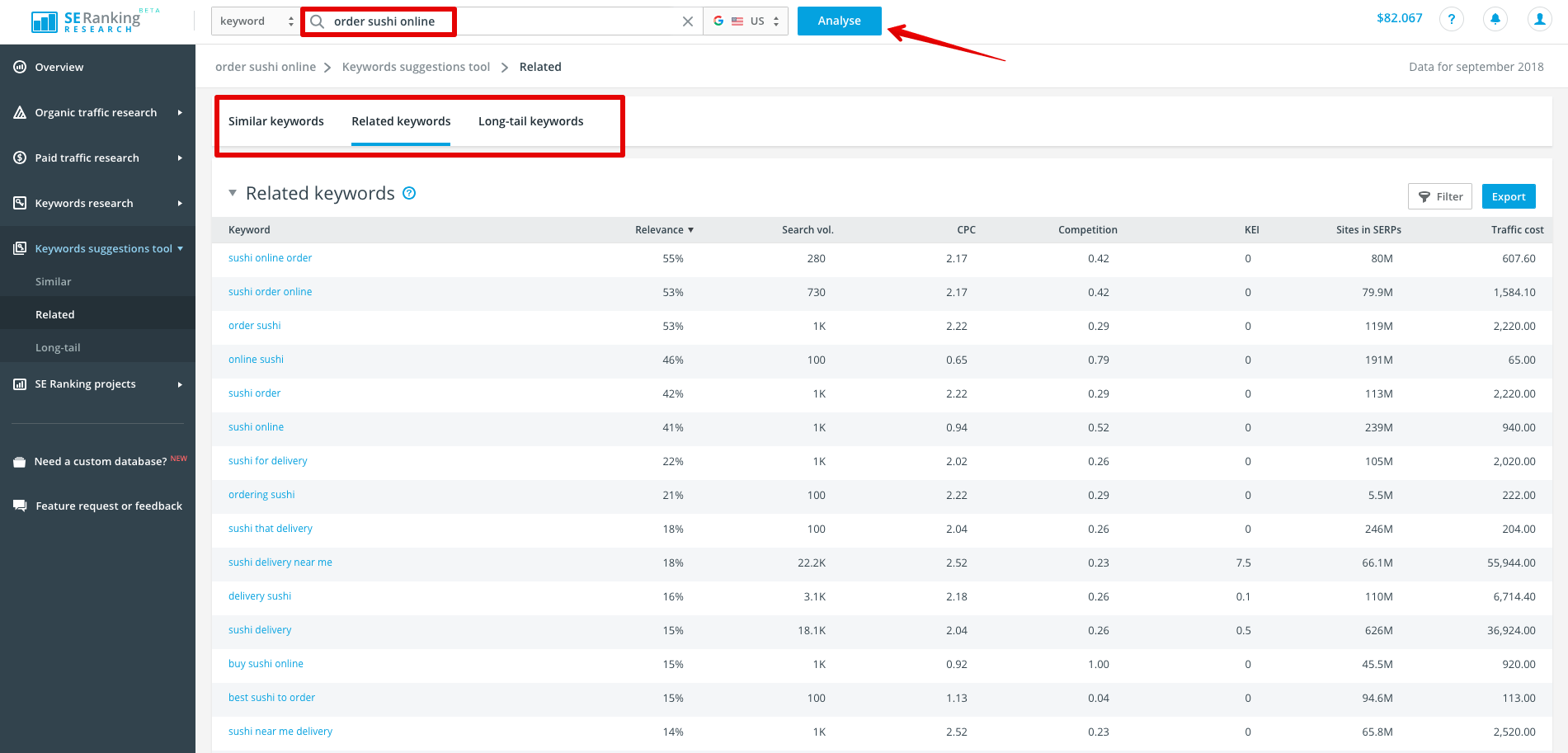 2. Create High-Level Keyword Groups
These groups have to be created around your main products or services.
If you make and sell Japanese food, your high-level groups will be based on queries like "order ramen online", "sushi delivery" and "japanese food delivery."
3. Make Sub-Groups
Divide the high-level groups into shorter clusters of keywords united by the same category.
The group "sushi delivery" might contain "eel sushi", "california roll", etc.
4. Work Through Sub-Groups Until They Are Targeted & Small
Continue working on the sub-groups until the list of keywords in those groups is narrow and closely related to each other.
All the steps listed above might sound scary if you are planning to do it manually. However, it can be effectively automated using tools like Keyword Grouper.
How the Keyword Grouper Tool Works
If you aren't using a tool that finds related and similar keywords and then groups them together, you should be!
Basically, then all you would need to do is get a list of your keywords and copy-paste it into the keyword grouping tool. Then the tool does its magic and groups the list for you.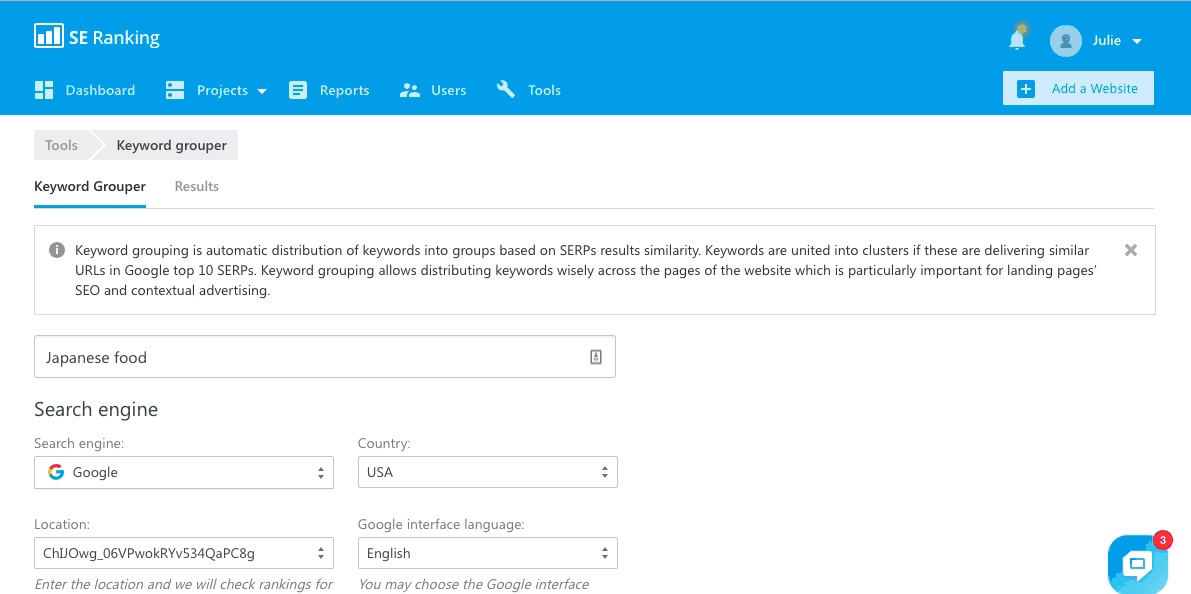 You can choose between soft and hard clustering to determine how closely related terms should be put within one group.
Soft Clustering
The tool picks the query with the largest search volume from the list. Then all other queries are compared against the picked one.
Specifically, the tool compares the top 10 search results for each one of these keywords.
If the number of matching URLs is equal to the set keyword grouping accuracy (from 1 to 9), the keywords are clustered into one group.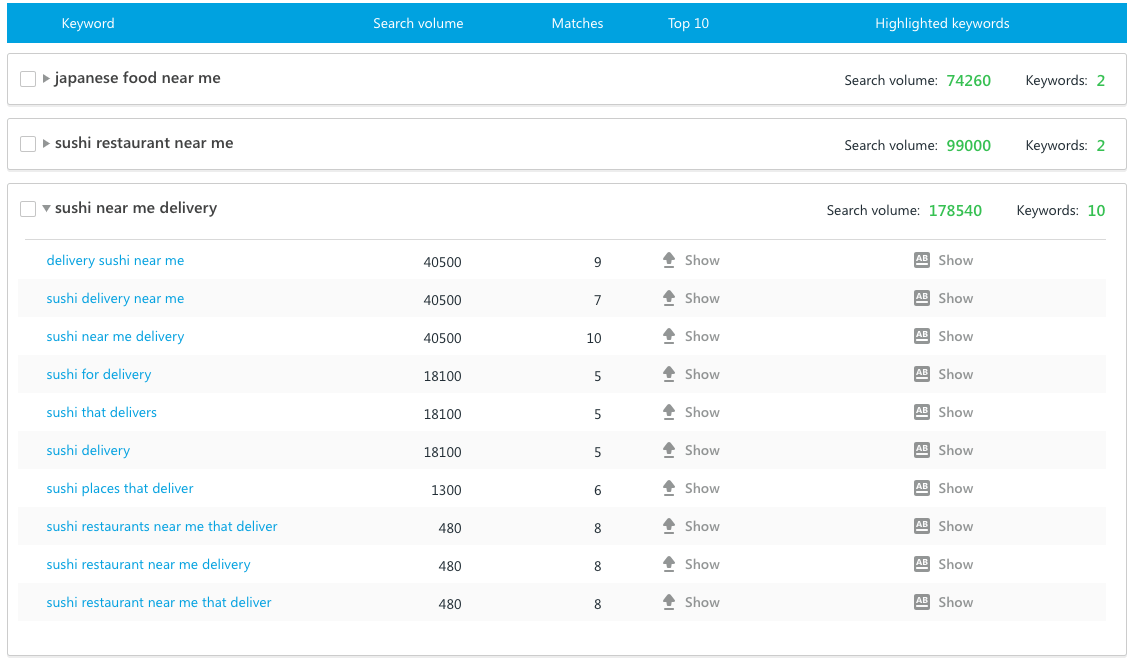 This approach is recommended for low-competitive niches as it allows you to cluster a larger number of queries. Nevertheless, it doesn't eliminate the chance of adding irrelevant queries to the cluster.
Hard Clustering
The service picks the query from the list and starts comparing all other queries to it.
If the number of matching URLs is equal to the set keyword grouping accuracy (from 1 to 9), the keywords are clustered into one group.
All the next queries will be compared to the ones that are already in the group and so on until all the queries in the group will have the matching URLs.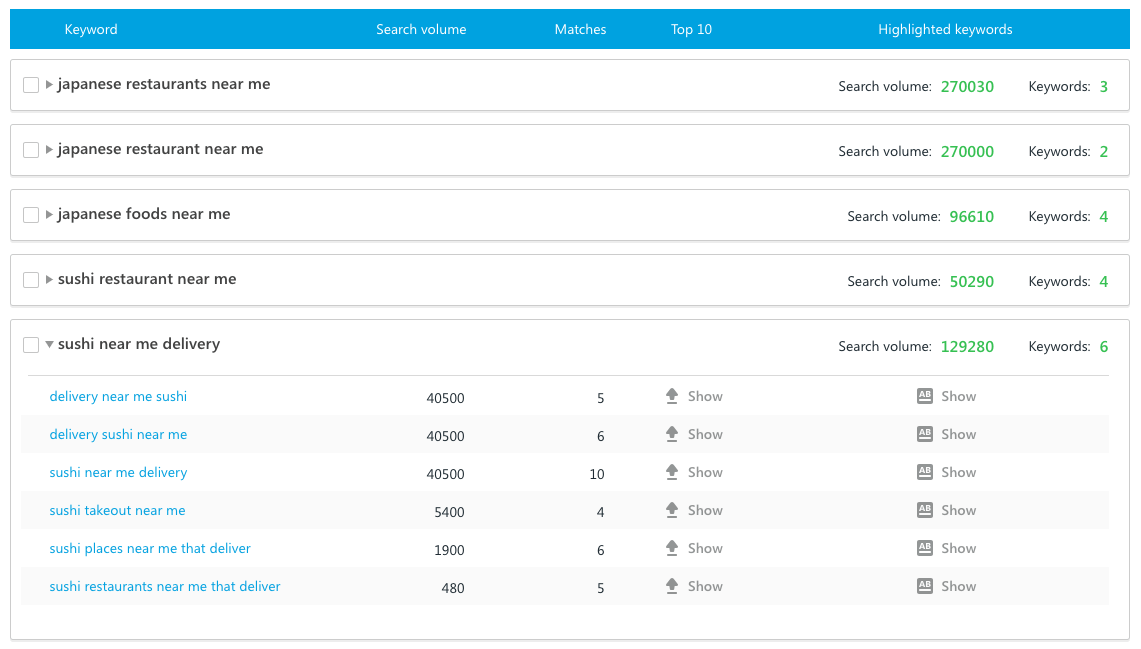 This approach is recommended for highly-competitive niches. It provides the highest level of accuracy and eliminates the chance of adding an irrelevant query to the cluster.
What's Unique About SE Ranking's Keyword Grouper
SE Ranking's Keyword grouper groups thousands of keywords within minutes with search volume checked on the fly.
The tool automatically analyzes TOP-10 results and groups the search queries that match the same website's URLs.
Unlike many competitors' solutions, SE Ranking compares the keywords in the same group against each other, which eliminates the irrelevant keywords grouping.
Moreover, the instrument also checks the keywords search volume that makes the distribution of the keywords across the website pages more effective while contributing to better website rankings in SERPs.
It also includes built-in keyword grouping options that allow you quickly break down a large database into keyword groups and subgroups.
All groups are structured in a hierarchy. If you add new search terms to your list, SE Ranking will process them within minutes with search volume to relevant groups.
Bottom Line
It's extremely important to group your semantic keywords correctly because it can tremendously affect the effectiveness and pace of your SEO efforts – now and in the future.
In order to avoid costly mistakes, we recommend manual and automated work as it comes to clustering – if your semantic core is not too large.
For the projects that count thousands of queries a use of an efficient keyword grouping tool is an absolute must.
You can try Keyword Grouper and other SEO tools from SE Ranking by signing up for a Free Trial.
The keyword grouping is charged separately at $0.0040/search request.
---
Image Credits
Featured Image: Image by SE Ranking. Used with permission.
In-Post Photos: Images by SE Ranking. Used with permission.