Besides Link Manager and Website Directory that allow to effectively manage your link building campaign, Raven tools have another cool feature to help you organize your link building contacts.
The Contact Manager is used to manage relationships with website owners and editors. Contact records not only contain relevant contact details, they also provide links to website records and link records that are related to the contact.
The tool is very useful for compiling and searching your valuable (link prospect) contacts and organizing them by target project or website.
To Add a Contact…
You will need to provide the following information:
The contact name, title and company;
Address;
Email address (you can add as many addresses as you need):

Social media contacts (you can add as many social media profiles as you need):

The actual websites these contact can manage (you can add as many social media profiles as you need):

The Table of Contacts
Now that you have added some valuable contacts you have come across while researching links, competitors or building links, you can access the database any time by hovering over LINKs menus and clicking "Contacts" there: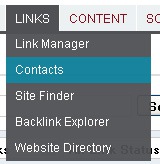 The table consists of the following columns:
Name;
Email address;
Associated websites;
Quantity of live links so far;
Type of relationships:
The table designed to make it easy for you to find your relevant contacts:
1. You can search the database using any keyword.
2. And / Or you can filter the table by:
Link statuses;
Raven tools profiles you have set up;
Link relationships: