We share dozens of links online: via social bookmarking tools, Twitter and many more social sharing sites. And naturally we have many tools that make that sharing easier and more fun.
Sharetivity can be a nice alternative to what you've been using until now: it's a browser-based tool that supports multiple social media sites and allows to share any link across any combination of them.
Let's have a quick test drive.
First of all, you will need to register at the site and confirm your account by clicking the link in the email message.
Now install the tool. The utility works via the browser bookarklet (which means easy and fast installation process). Supported browsers:
FireFox;
Safari;
Google Chrome;
Internet Explorer.
Immediately after the installation you can try it out. When on any page you feel like sharing, click the bookmarklet. You will see a small pop-up window containing three tabs:
"Email to a friend" form;
"My Sharetivity" listing your most recent shares;
"Post | Bookmark" – this one allows to post to a number of supported social media services:

Twitter;
Myspace;
Google Buzz;
Facebook;
Delicious;
Google Bookmarks;
Linkedin.
Select any of them you'd like to use and click "Post | Bookmark". New tabs will open for each of the selected services where you will need to confirm the submission.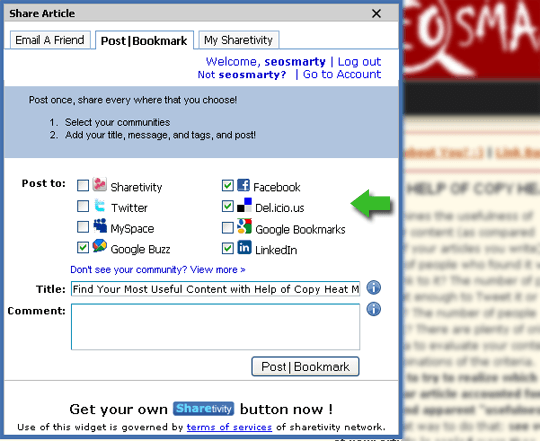 Note: The tool didn't seem to grab (or shorten) the page URL for Twitter but I was not planning to use it for Twitter anyway as I am pretty satisfied with my Bit.ly bookmarklet. For all the rest services the tool worked well.
Now, the best part of the tool is that you can access your social bookmarking aggregated history any time:
See what and when you shared online;
Search through all your social shares by a keyword: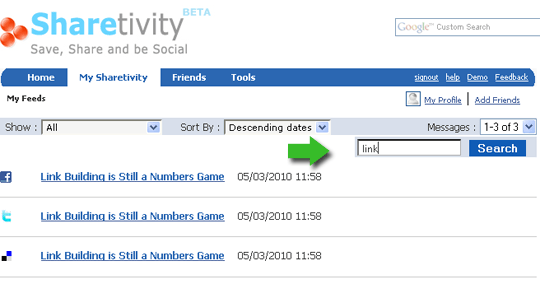 I am just starting to use it but I am curious to see how this social bookmarking archive and aggregator may turn useful.
The tool was found via MUO.