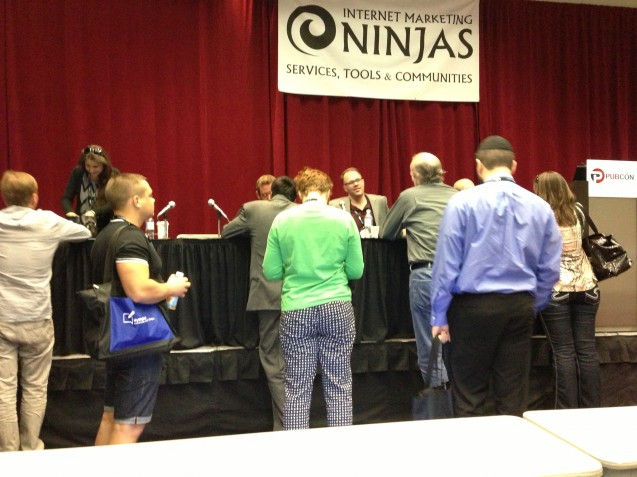 SEJ's #Pubcon event coverage is sponsored by CopyPress, "Centralize Your Content Performance."
Today's late morning session on the last day of Pubcon "Links with Maximum Juice and Minimum Risk" covered legit linkbuilding tactics with a panel that is well-known to the conference crowd:
Greg Boser kicked off the session with a choice observation that "getting links is almost a criminal activity in the eyes of Google" …yet linkbuilding is a requirement of any online marketing plan.
So what are the linkbuilding strategies that will keep you from going to search engine jail?
Jennifer Van Iderstyne went through the risks of linkbuilding: everything from manual penalties (such as a Google Webmaster Tools Warning) to search algorithm hits. Making the point that not all links or "link juice" is created equal, be sure to ask yourself: "Is the juice worth the squeeze?"
"Spiked Link Juice": Ideal target sites have the following attributes:
Authorship
Detailed articles and guides
Branding
Good neighborhood
Topical relevance
Page back links / domain back links
Age
Referrals
Inherent TLD value
Finding candidate sites from which to get links
Loren Baker had an interesting perspective as he has experience on both sides: the link seeker (agencies, webmasters) and the link giver (publishers, bloggers). In terms of what sites to target for links, he highlighted:
Relevance: Websites and content that support your product or service offering, and the niches that you market to
Audience & Engagement: Sites that have traffic in addition to onsite/offsite engagement including comments, social votes, email newsletters and other sharing capabilities
Authority & Trust: Sites and authors that have credibility in their networks, proper authorship
Loren also cautioned that there is always risk involved when reaching out to publishers.
NEVER offer money for links
Be transparent about what you what and what you're doing
Don't ask for exact match links.
Don't drop the client's name.
Lastly, warn if your site or product is NSFW!
Loren's linkbuilding Protip: Make sure you are aware of everything your client is doing WRT linkbuilding. If they are working with other companies, it could lead to conflicting strategies.
Kenny Hyder's presentation "Link Building by Hand: How to capture low hanging fruit" walked through an example from start to finish on how to methodically target, prepare and ask for links.
Keywords
Start with your keywords, and use tools such as RankChecker to figure out where those keywords are landing. Then ID the opportunity: what keywords could use improvement and would work well for us?
Prospecting
Brainstorm on what industries are related to yours. For a gifts site, think about candy retailers, craft blogs, flower delivery, card retailers.
Qualify: Ask yourself 'How likely is a link from xyz site actually going to send traffic?'
Search methods: advanced operators, blog directories, twitter search, paid tools
Other places to look:

Blogs, news sources, retailers, schools

Places NOT to look: forums, directories, lists, link pages
Prepare
Before you start, create a spreadsheet to track your contacts and status. Your target contacts should be the marketing director, webmaster, IT. To find email addresses for your targets, check the contact page or whois. In your emails, ask for the person in charge of the website. Reason for contacting? Think about what the contact wants: advertising, guest posts, reviews. Once you've reached out, be sure to follow up.
Kenny's linkbuilding protip: For your follow up, try a phone call instead of a second email. It's a novel approach (who calls anymore?) and adds a personal touch that can make it easier for the other party to say yes to your request.