In recent weeks, Google has made significant moves in preparation to disrupt an industry with some of the most lucrative content in the search results: job listings.
It's launched a private beta Applicant Tracking System, now appears to be supporting job-related schema markup, and is trialling a "job pack" in search results. Many people are suggesting that Google is poised for a recruitment takeover.
So should recruitment SEOs be worried? For sure!
Here, we'll explore the changes, the potential impact and how recruiters should respond if they want any chance of retaining their search visibility in the months to come.
Another Google Disruption?
It's no industry secret that Google has been investing in new search features to deliver more involved "walled garden" experiences in the results pages, causing disruption to established verticals.
Not all industry shakeups are permanent; for example, Google Compare was put to bed last year after providing comparisons for financial products like credit cards, but Google Flights and hotel listings are still going strong.
What's clear is that Google is persistent in its approach to improving the user journey – even if it's at the cost of an individual company's exposure in the short term.
Long gone are the days when our search results were simple lists of 10 blue links; more and more, searchers are met with content in a whole array of formats, designed to give them the information they need quickly and easily – and this innovation is only set to continue.
Is Google Going Head to Head With Recruitment Giants?
Google has moved into specific verticals before, so it should come as no surprise when we see it starting to move into new sectors, too – especially when you consider the competitive global recruitment industry is now worth more than €450.4 billion ($491 billion) per annum, growing at 8 percent per year (Alphabet doesn't get to report record turnover increases without this kind of commercial thinking!).
Recruitment giants like Indeed, Monster, Reed, Total Jobs, Jobs.com and even LinkedIn will certainly be concerned. Their previous domination of the jobs SERPs is under threat, and with Google steering this change, there's little they can do to stop it.
But, like many industries, recruitment isn't built solely on 'giants'. It's the smaller players who now, in theory, have the chance to be seen, by taking advantage of the new opportunities within Google's jobs layout and gain a competitive advantage.
For the end-user, Google has spotted its own opportunity to serve jobs data in a more streamlined manner, facilitating wider-spread search which doesn't require the searcher to move between aggregator sites, but pulls all their results together in one place. In theory if nothing else, this is a positive innovation for job seekers.
What Changes Can We Expect to See in the Jobs SERPs?
The biggest change we can expect to see in the jobs SERPs is the introduction of a "jobs pack". Google has been developing its ability to scrape or parse jobs data and pull it into its search results as it already does with the local pack.
As the image below shows, Google is trialling a jobs listing format which includes sector, location, jobs basis (full- or part-time) and the date it was posted (credit to Dan Shure who shared this on Twitter).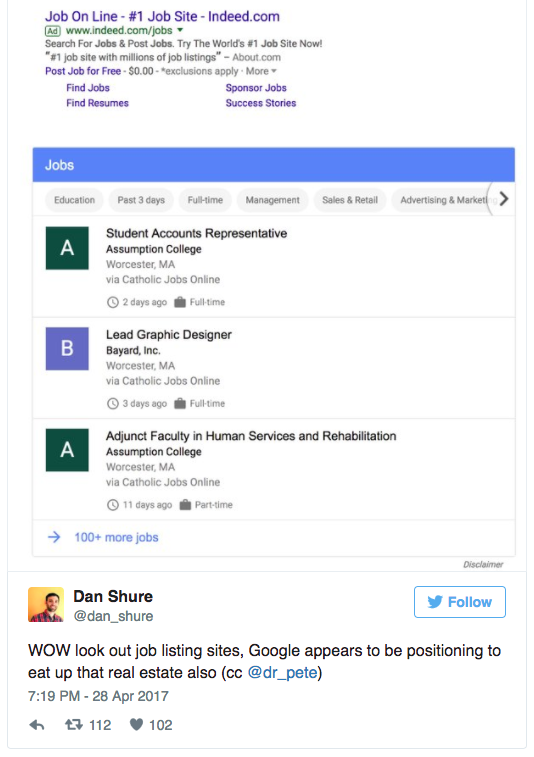 Much like a regular job site search experience, the jobs pack enables the user to browse the available positions all in one place and to eventually click through on any that take their fancy (which, coincidentally, also keeps them within the Google sphere by opening up an individual jobs profile, only sending them through to the job source when they're ready to apply).
The jobs pack means that organic listings will be driven ever further down the page, so it will be more difficult for recruitment agencies and jobs aggregators to be found by potential users.
Further to this, Hire with Google, which was released in mid April, appears to be an Applicant Tracking System that allows recruiters to manage job applicants' progression through the portal. It's unclear right now whether the two technologies will in any way be related, but again it's further proof of Google marking its territory in the industry.
Could a full 'Google Jobs' portal, similar to Google Flights, be on the cards?
What Does This Mean for the Recruitment Industry?
This is a question many SEOs for recruitment firms and job boards alike will be asking. With Google dominating the search landscape and now choosing to optimize its own ecosystem for job seekers, how can recruiters expect to compete and grow?
In essence, this latest update means that it will undoubtedly be more difficult for recruiters to be found off the back of general jobs queries and more specific job titles. The fact is that, when users can find the information they need within the SERPs, they simply don't need to go anywhere else.
We can go some way to predicting the future impact of Google Jobs by looking at Google Shopping as a previous example.
In its shopping carousels, Google showcased product information and that was useful to searchers who were able to browse multiple shops all in one place. Fast forward to today, and Google Shopping has been monetized off the back of that new format, meaning that Google has opened up a whole new revenue stream in the form of Shopping ads.
Extrapolate this out and it's not too big a step to suggest Google will do this with jobs in the not too distant future – especially given the financial size of the industry. This could mean recruiters are forced to invest in jobs advertising through the SERPs, potentially reopening the gap between the giants and the smaller players that could be closed by the new opportunities within organic listings (where budget, in theory, isn't a big factor).
What recruiters need to keep in mind too is that Google, regardless of whether you agree with their methods, is trying to surface the best content for the user performing the search. For this reason, it's still in recruiters' interests to keep their job listings to the highest standard possible and to use techniques such as schema markup to help Google identify their listings as the best ones to include in the jobs pack.
In their fight against Google, recruiters will need to adhere to Google best practice, which is likely to be a jarring prospect in the months to come.
What Should Recruitment SEOs Do?
So what can recruitment SEOs do in the wake of Google's latest tests?
Utilize Schema Markup in Your Jobs Listings
It's a classic example of "if you can't beat them, join them."
The fact is that if Google wants to surface it's own jobs data above that of other websites, it will. To be included in that new jobs pack, recruiters will need top notch schema markup that showcases their jobs listings at their best.
We prefer the JSON-LD method of inserting structured data, as it allows developers to keep the page's structured data completely separate from the HTML and styling of the page – something which previous formats (Microdata, RDFa) did not achieve. Schema.org is one repository of agreed schema standards.
In the coming months at least, it will be those recruiters/recruitment SEOs with the best schema implementation who may just win big – something which we think represents an even greater opportunity for smaller recruiters who currently struggle to rank against industry giants.
Create Content That Goes Beyond Job Listings
This may seem a little left-field, given that the product you are selling is a job, but like any other industry, this doesn't mean the only way to attract candidates is through jobs keywords.
Instead, invest in closely related content, such as category/taxonomy landing pages, or topics more removed from the jobs, such as interview tips and ways to bolster resumes – content which captures potential customers earlier in their search.
Margaret Magnarelli of Monster (a popular UK jobs listing site) explained their approach to content marketing, based on a framework of 'How, Now, Wow'. This framework is used by the recruitment giant to guide new content initiatives that go well beyond simple jobs listings. In her case study of the approach, Magnarelli cites impressive traffic levels (18 millions views) and conversion-to-candidate rates (28%) as proof of her approach's validity as a lead generation technique.
Be Prepared to Pay
Recruiters and job aggregators should be concerned. Google isn't small, and it has now come to compete with the industry at large, head on.
In spite of this, recruiters can take advantage of the potential new opportunities to appear in the jobs pack; this may in fact, in some ways, level the playing field for small and large websites, promoting quality over quantity.
The threat of this content type moving to "pay to play" is also very real given what happened with Google Shopping, and taking into consideration that Google has already invested in the applicant tracking system to give a more premium service to recruiters.
Recruiters should prepare to allocate some budget to paid advertising in this new jobs area too.
Is This it for Google's Structured Data Takeover?
This isn't the first, and it certainly won't be the last, time that Google takes on a massive industry. It's move into recruitment is a bold one, but one we should have been expecting given that JobPosting has been in agreed schema standards for some time.
Structured data has enabled Google to parse and surface all sorts of information, from reviews to pricing to stock levels and more. On a more advanced level, Google has used this information to expand on the idea of local packs and create gallery style information which surfaces products, recipes, cinema listings… the list goes on.
Quick answer boxes (a.k.a., featured snippets) are another, much simpler, example of Google's increasing use of structured data; ask Google a question – like [how to boil the perfect egg] – and you'll be met with a succinct answer that means you no longer need to even visit the original publisher's website.
Beyond this, Google's ability to understand information without necessarily using structured data has led to the development of Google Flights and Hotels, giving the user detailed information about these topics, pulled from their sources and showcased within the Google environment (still pushing the user to the origin when they want to book).
And why is it doing this?
My guess: voice search.
With the advent of large-scale voice and non-keyword search, Google is most likely going to continue to push forward its investments in understanding structured and unstructured data sets. Thanks to RankBrain, Google's ability to understand new queries is better than ever before and it is using this, in tandem with widespread take up of schema standards, to showcase information differently.
We should expect to see Google moving into more industry silos in the years to come.