After hearing good things from SEJ's founder, Loren Baker, and seeing others from aimClear speak, I know Dan Morrison, the Director of Client Services, will do a great job educating the crowd at our SEJ Summit marketing conference in Silicon Valley on July 22, 2015. We are pretty excited to have him!
Dan's SEJ Summit topic is 3 Red Hot Social Marketing Hacks To Crush in 2015, in which he will discuss "selling with first-touch social psychographic data: disciplined, high intent, active targeting, including owned-audience cookie pools for performance marketers to exploit."
I had the opportunity to ask Dan some questions
If you'd like to learn from Dan and our other great speakers, we still have some FREE tickets available for our Silicon Valley event.
The SEJ Summit series is possible courtesy of our partner, Searchmetrics. Their "search experience optimization" software makes digital marketing better, faster, and more profitable.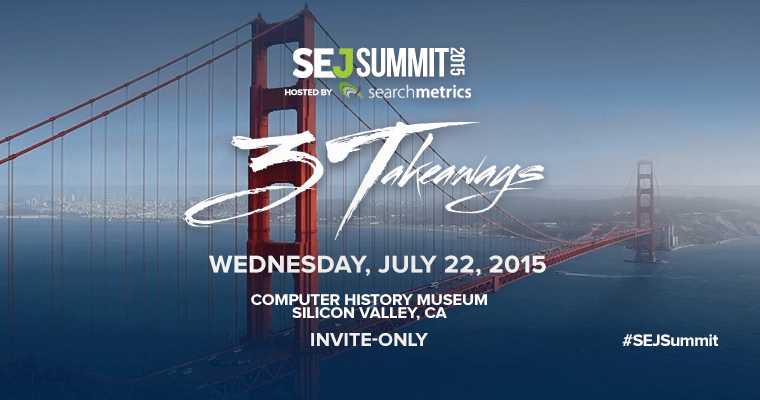 Without further ado, here's my interview with Dan.
1. Some digital marketers have suggested that organic social reach is all but dead. What is your perspective?
Organic reach isn't dead, but it is evolving. The power of social media lies in it's ability to reach users across a variety of channels with a variety of messages at different times of their engagement/buying cycle. Marketers have to understand the importance of using both paid and organic efforts to increase reach.
Paid efforts allow for more precision, tailored messaging, and delivers actionable insights that can drive your overall business decisions
2. What do you think is the biggest misconception large brands have about paid social?
Biggest misconception large brands have about paid social is that it does not influence their bottom line in a direct, powerful way.
3. From a user perspective, what would your ideal social media platform look like?
This is a tough question to answer because social media is not a one-size fits all medium. Users consume and share content in different ways depending on the platform. However, the core tenets of using social media are consistent: conversational, real-time, visual, informational, and proactive.
Users can leverage channels to shape the brands, products, and services with which they engage. Now more than ever, most brands have taken to different channels to "listen in" to their consumers in real-time and make adjustments accordingly.
4. Social data is playing an increasingly important role in SMM. Do you think this will put to rest the idea that social doesn't convert?
Yes! Brands and marketers can leverage the power of social media to create audiences of visitors based upon their behavioral activities on your website and third-party networks. In Facebook, you can segment lists of folks that watched your video offering 50% your next pair of shoes and then serve them an offer based upon their view. You can also build audiences based off of targeting segmentation.
For example, if you're targeting Directors and CMOs of large health care companies on LinkedIn, you can create lists in Google that will allow you to re-market to these folks through a variety of delivery methods (RLSA, display, YouTube etc)
5. What do you think is the biggest challenge enterprise level companies face when trying to make social work?
Aggregating and organizing the many different touch points from your consumers and planning a holistic marketing strategy to address these engagement points (no easy task!).
Relying solely on organic because they're a "big brand".
6. There has been a shift in digital marketing towards a focus on content. How has that changed how brands use social media?
Content development cannot be purely self-serving; it needs to provide information that is useful to the consumer. Engaging, entertaining, funny – all of these are great, but the content itself needs to offer up value for the consumer, not just the marketer.
Thanks so much Dan! That's some great insight on enterprise and social media.
Don't forget, you can request your free ticket for our SEJ Summit Silicon Valley/San Francisco marketing conference, taking place July 22nd at The Computer History Museum in Mountain View, California.
You can also come see us in NYC (where I'll be acting as host!) and Atlanta later this year.
Featured Image: niroworld via Shutterstock