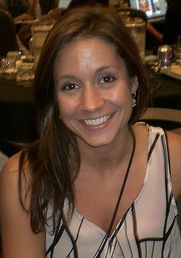 Joanna Lord is the Director of Customer Acquisition at SEOmoz.org, a leading SEO software company out of Seattle, WA. While she currently heads up SEOmoz's paid search, affiliate, and acquisition marketing efforts, she is also a well-known social media enthusiast and frequent conference speaker. Her diverse experience in data analysis, paid search marketing, search engine optimization and content creation enables her to provide tactical acquisition strategies that work.
On a personal note, if you ever get a chance to attend a conference where Joanna is speaking I highly suggest that you attend and make sure you do not miss her session. Joanna is this tiny, fairy-like person and then she speaks and your jaw drops. She is incredibly intelligent and has so much valuable information you can learn from. She also has the ability to speak faster than anyone on the planet. I suggest you video her session because unless you can type like Marty Weintraub taking notes will be difficult. Now on to the interview…
If someone wants to learn how to run their own ad campaigns how would you suggest they get started?
I usually give different advice depending on how much time they have to give PPC. For those that are really looking to make a go at it, and have enough time to get in there and test as a way of learning, I certainly suggest to just jump in. There is no better way to learn ad campaign management then to start tinkering on a small account and grow it as you learn more.
For those that can only give PPC a few hours a week I usually suggest they go through the Adwords training so they can become familiar with the different parts of a campaign, and then start a small test campaign.
It really comes down to how much time you have to catch errors. No one will nail PPC with their first bids, and changes. Optimization takes time, and that alone sets the course for how you should get started with PPC management.
What are your favorite websites, blogs and/or books on PPC?
A few blogs I always read:
Books:
Brad Geddes did a fantastic job with the "Advanced Google Adwords" book. Seriously awesome keyword research info in there.
David Szetela did "The Hour a Day" series justice on the PPC side with his "Adwords in an Hour a Day" book. This is great for those just getting started. I highly suggest this for those small business owners that know they should be doing some PPC to supplement other efforts.
Can you tell us three common mistakes beginners make?
To be honest there it's kind of hard to narrow it down to three. PPC has a an intense learning curve. Once you get into it you can learn fast, but that first hurdle involves so many pieces – keyword research, account organization, campaign set-up, settings, and more. I would say the three most common things I see:
Mistake #1:
They set up a campaign and set it to both search and display. This messes with your vital metrics drastically. You have to have search and display in separate campaigns. Just carbon copy them and set them to a network each.
Mistake #2:
They don't pay enough attention to the filters and settings. Simple things like – setting your ad copies to auto-optimize, having your serving settings to not serve to mobile unless you feel ready for it, and making sure that you have the right bidding settings in place. Far too often advertisers go with defaults and don't give their settings a critical eye.
Mistake #3:
Not having enough ad copies in rotation. Best practice is 3 or 4 ad copies per ad group. Advertisers should take the time to built out unique and relevant copies for the ad group, the subsequent keywords in that ad group, and the pages you are dropping them to. People find your copies at different points int he buying cycle and having a variety in rotation is key to understanding what is working for you. This should be a very time consuming piece of set-up. New advertisers tend to gloss over this, and don't realize how greatly this can affect their quality scores out of the gate.
Should businesses attempt to run ad campaigns on their own or hire someone?
I think there are PROs and CONs to both managing PPC in-house and outsourcing it. I usually try to gauge how much time and knowledge a business has before suggesting one or the other.
With that said, I think I probably skew a bit toward in-house but that's usually because managing PPC in house more deeply roots it into the larger goals of the company. You can share data, ideas, landing pages, etc. and silos get broken down.
Which PPC tools do you recommend for beginners?
Some tools I love – – SEMRush, SpyFu, and Wordstream. For management I like what Kenshoo is doing and we use Acquisio right now. I think there are a number of solutions out there really pushing the limits and I'm excited to see that evolve further in 2012.
Personal Questions
Mac or PC? Mac FTW!
iPhone or Droid? White iPhone, although I am not rocking Siri yet.
Tweetdeck or HootSuite? I am a Tweetdeck lady, although I find myself using the web interface sometimes for nostalgia sake.
Favorite Beer? Oh geezz this is embarrassing…I drink Mich Ultras. Stop laughing! I do like trying seasonal ales and have enjoyed some IPAs since moving up to Seattle, but usually the only beer I buy is that super light stuff.
Star Wars or Star Trek? Okay public confession time – I JUST watched my first Star Wars movie this past year so I'd have to say "Star Wars" because I finally get all the references people have been saying for years. I feel like I just joined the cool kids table at lunch back in grade school.
Thanks to Joanna and We Will be Interviewing Her Again
I want to thank Joanna for taking the time to answer some questions for us. We are going to be interviewing her again for those that are are more in an intermediate level of PPC and then again for those on an advanced level. You can find Joanna on Twitter, at work at SEOMoz and her blog is JoannaLord.com.
We also want to thanks Michael Dorausch for the use of the photo of Joanna Lord on our home page. He took it at Pubcon Vegas 2011.