If you're like me, you have a difficult time deciding which to focus your efforts on – a Facebook page or a Facebook group. I have found groups (especially new ones) work much better for interaction, whereas Facebook pages are easier to market. Hence my solution: I use pages to build a fan base and groups for open discussions on related matters.
However, trying to maintain both can be tough, and I've found integrating my blog with my page and group has proved to be a huge time saver.
WP Book is a plugin I discovered on Quora. Judging from some discussions on the WordPress forums, it's not easy to set up. However, it worked pretty smoothly when I tried it.
Features
Some of the awesome WP Book features include:
Automatic updates on your page and group once a new post is published on your blog
All comments posted on both your page and groups are automatically sent to your WordPress blog (Facebook comments are treated as native WordPress comments). Warning: I was having trouble with the comments posted when I had IntenseDebate powering the comments. Otherwise the feature has worked fine (I haven't tested Disqus).
Comments are shared – meaning comments made by users at your regular domain blog and comments made by users inside Facebook are collectively shown to all users in either content "view".
Other customizable features are facebook Avatar support for avatars, support for a view of your WordPress blog as a Facebook application, etc.
Setting up
To get started with the plugin setup, first copy the entire WPbook directory into your WordPress plugins folder and activate the plugin. Next, just follow these three steps:
1. Create a Facebook Application

Note: Remember that your app name cannot contain "Facebook" in its name.
Creating an app is relatively straightfoward: see the screenshot below. Other than the settings shown below, you're likely to never need to do anything. In the "Facebook Integration" tab be sure to set the callback url to your blog url, including a trailing slash (http://www.yourblogurl.com/). For a canvas url, you just need something in all lower case, unique, with no spaces, and no trailing slash. Be sure to memorize it.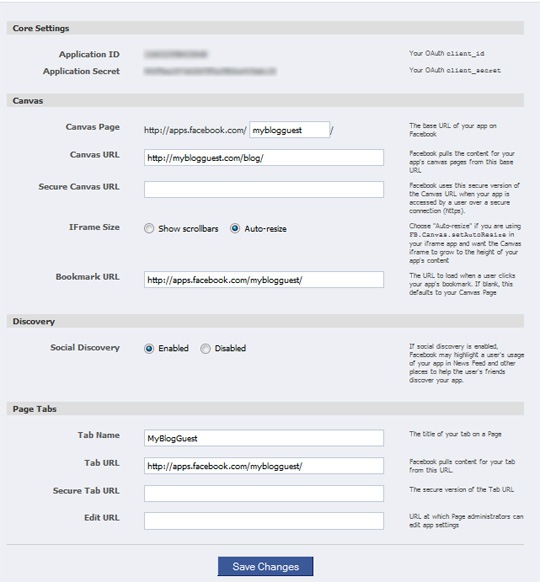 You may want to customize the app to feature an avatar that suits your taste.
2. Provide Your Facebook App Info
After you've obtained the necessary info, use the WPBook menu (Dashboard->Settings->WPBook) to fill in the appropriate information including a Facebook application secret and app ID, as well as your application canvas url.
TIP: If you don't know your ID, get it by visiting http://graph.facebook.com/YOUR_USERNAME. Replace "YOUR_USERNAME" with your Facebook login.
3. Customize the Settings
Now, using the same plugin menu page, set your plugin actions. Click "Stream/wall" options to:
Automatically publish to an Individual Wall or Page
Import comments from your Facebook walls: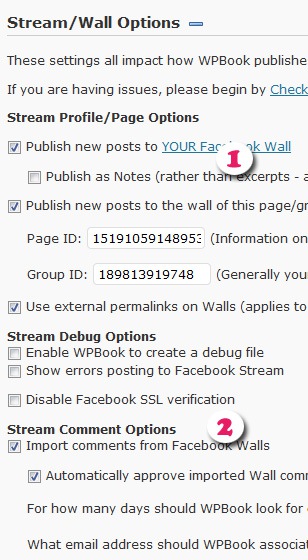 Now, whenever a new post goes live on your blog, your Page wall will be automatic updated as well: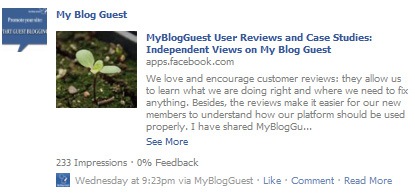 The same goes for your Group wall: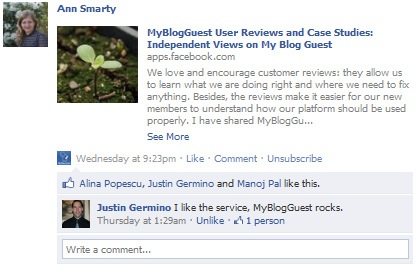 Moreover, all the comments will be integrated on your own blog. Have fun!