Instagram has a new effect for videos that could end up being one of its best original features since the Boomerang.
Those dramatic zooms you may see users adding to videos manually can now be done automatically, thanks to a new feature called 'Superzoom.'
When getting ready to record a video, right next to the Boomerang option will be Superzoom.
Long pressing the shutter button will create a dramatic zoom using either the rear or front camera.
Alternatively, simply tapping the shutter button can quickly create a 3-second video.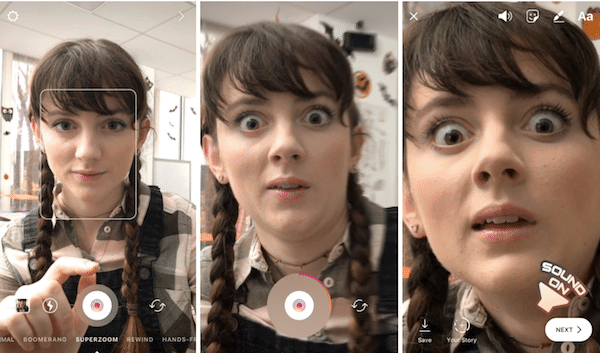 Along with the Superzoom itself, a selection of sound effects can be added to enhance the feature.
Once a Superzoom is created it can then be added to a user's story.
The intuitive UI, combined with a plethora of potential use cases, suggests this could be one of Instagram's most successful features since Boomerang.
Instagram, which has succeeded at copying many of Snapchat's key features, could use some original new features to set itself apart.
Another new feature that is reportedly in the works is stop motion video. With this feature users can take a series of photos and combine them into a GIF.
Stop Motion will be another effect, along with Boomerang and Superzoom, that can be applied to videos and then added to a user's story.
Superzoom is available now in the latest version of Instagram on iOS and Android. It's not known when, or if, Stop Motion will ever be rolled out on a wider scale.