Facebook announced ways for creators on Instagram and Facebook to earn money through affiliate relationships, from their fans, content and products. The goal is to create a lucrative platform for creators to make a career out of content posting on social media.
Some features are available to a select group of creators in the United States while others are available immediately.
Instagram and Facebook are Platforms for Creators
The goal of the initiatives announced by Facebook is to make it financially rewarding for creators to create content and promote products, to become a platform for creators.
The announcement explicitly makes reference to the new tools within the context of supporting the careers of creators.
The announcement stated:
"We want Instagram and Facebook to serve as a home base for creators to tell their story, grow and make a living.

…Today's updates are a big part of a broader effort to support creators as they build their careers. …we are committed to building the right mix of tools to help them accomplish their goals."
To think of Instagram and Facebook as just social networks is overlooking the evolution of Instagram and Facebook into a social marketplace of ideas, entertainment and products.
What Instagram and Facebook are doing is creating structure on which creators and consumers can interact.
Instagram Affiliate and Shops
Instagram announced that it is testing a "native affiliate tool" that gives creators the opportunity to drive sales and earn commissions to products they promote. The entire affiliate experience lives within the Instagram app.
Screenshot of Instagram Affiliate Signup Page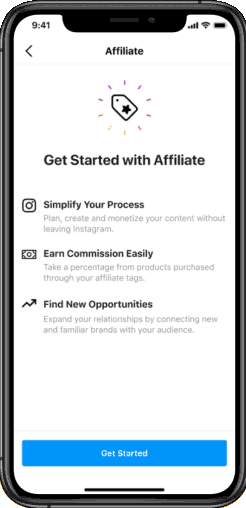 The announcement noted:
"When people come across an affiliate post from a creator featuring a tagged product, they will see "Eligible for commission" at the top of the post, so it's clear that their purchases help support that creator."
Example of Instagram Post with Affiliate Links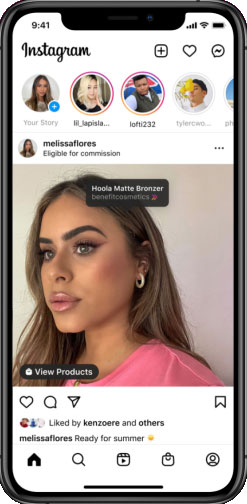 This feature is rolling out to a selected group of creators who will test it over the coming months.
"Affiliate will test with a small group of US-based creators and businesses including Benefit, Kopari, MAC, Pat McGrath Labs and Sephora, and will expand to more partners in the future."
Screenshot Showing Affiliate Earnings for a Single Post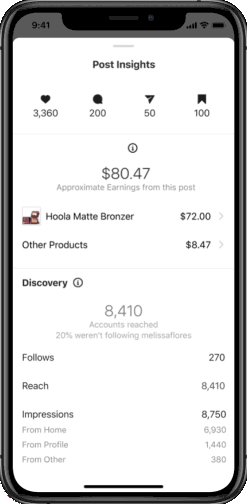 Easier to Open a Shop in Instagram
The announcement also revealed they will be making it easier for creators to open their own shops to sell their own merchandise and to link the shops from their own Instagram profile.
This is currently limited to creators in the United States and will fully roll out by the "end of the year," presumably before Christmas.
"For creators who already have their own product lines, they can now link their shop to their personal profile in addition to their business profile.

Creators will also be able to set up a new shop and drive excitement with exclusive product launches from the Instagram app by linking their account with one of our four merchandise partners: Bravado/UMG, Fanjoy, Represent, and Spring."
Screenshot of an Instagram Profile with a Shop Link
Earn More from Fans
Instagram and Facebook are creating more opportunities for creators to earn more directly from their fans.
These opportunities are going live this week.
For Instagram Live these opportunities are in the form of what they call Milestones that when achieved makes the creators eligible for more money.
"Starting this week, creators on Instagram are eligible to earn an extra payout when they meet certain milestones while using badges in Live, such as going Live with another account."
On Facebook these extra earning opportunities are called Challenges.
"Today Facebook is launching Stars Challenges. Creators in the program can earn payouts from Facebook in the form of free Stars if they meet certain milestones, such as broadcasting a certain number of hours or earning a set number of Stars within a designated time period."
Instagram and Facebook are Becoming Social Marketplaces
Instagram and Facebook are generally considered advertising supported social networks.
Increasingly, both Instagram and Facebook are evolving toward becoming social marketplaces for ideas, content, entertainment and products.
There are now multiple ways for creators to monetize their content and products.
Citation
Read the official announcement:
New Ways for Creators to Make a Living