In 1906, Italian economist Vilfredo Pareto observed that 20 percent of the people in Italy owned 80 percent of the land.
In later years, he went on to show how the 80/20 rule applied to many other areas of life.
This phenomenon later became known as the Pareto principle.
The Pareto principle (a.k.a., the 80/20 rule) also applies to marketing concepts like influence.
Thousands of marketers are blogging, doing public speaking, and trying to grow large social media followings.
But if you asked people who the best marketers are, you will probably hear the same handful of names.
What makes a small handful of people super successful while most other people struggle and fail?
One reason that influencers outperform others is that they are very focused and extremely productive.
In this article, I'll give a few examples of influencers using extreme productivity to grow their influence and how you can replicate their success.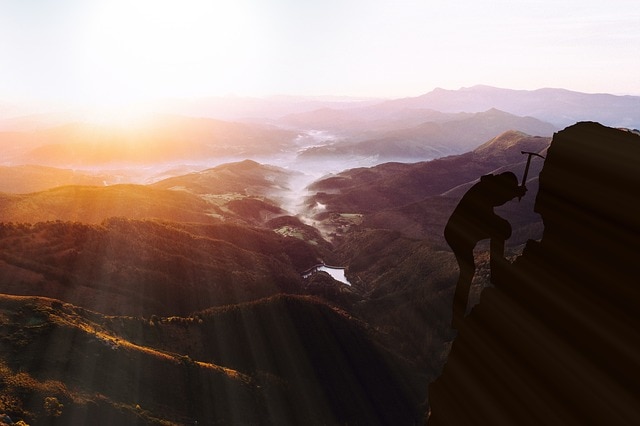 1. Guest Blogging
Guest blogging is one of the best ways to grow an audience and get SEO results at the same time. But for most people, achieving influence through guest blogging requires doing a lot of it.
Leo Widrich wrote 150 guest posts in just seven months to get Buffer's first 100,000 users. He mentioned that guest blogging hardly drove any traffic at the beginning, but it gradually got better after that. Another insight he provided was that it took him time to write guest posts initially, but he got better and faster at it. Eventually, he was able to create guest posts at a rate of 2-3 per day, but it took awhile to get to the point where he could create high-quality articles that quickly.
Brian Dean is known for being a master at email outreach. But Dean also used guest posting to grow his brand and published more than 200 guest posts.
Neil Patel published more than 300 guest posts, averaging a little over 100 guest posts per year. Patel also mentions that individually, each guest post doesn't drive that much traffic, but cumulatively, the referral traffic adds up and that guest posting is his best inbound marketing tactic.
A lot of people that have tried content marketing have attempted guest posting, but the people who really succeeded with it did a lot of it.
The key to succeeding with guest blogging is to be consistent and keep practicing until you become extremely productive at content creation.
2. Podcasting
John Lee Dumas launched his Entrepreneur on Fire podcast in 2012 and is one of the most well-known podcasters in the business and marketing space.
Although a lot of other podcasters started before him, Dumas quickly outperformed them to become the top authority on podcasting by publishing a daily podcast.
To achieve extreme productivity with podcasting, Dumas developed a systematic approach to podcasting that he executed consistently each week.
He scheduled and recorded an entire week's worth of podcasts in one day, which left the rest of the week open for other tasks.
It took some time for the podcast to grow and, according to his income report, Dumas only made $26,143 net income in his first year. But his podcast continued to grow and John's podcast is now a seven-figure business.
3. LinkedIn Pulse
When LinkedIn first launched its Pulse platform to the public, publishing articles on LinkedIn was a huge opportunity to generate leads as LinkedIn would promote interesting content to its readers. I saw articles from completely unknown authors getting more than 100,000 views within a day or two.
I published a few short-form articles myself and some of them got thousands of views and sent me over a hundred subscribers, which was great considering most of the articles took me less than an hour to write.
But one person I noticed that really focused on LinkedIn publishing was Brian de Haaff, founder of Aha.io.
De Haaff published a LinkedIn article daily and many of his articles got featured on the main Pulse page. As a result, he has grown his following to over 286,000 and the Aha blog has over 150,000 subscribers.
His following is larger than many other contributors, including people that were given the "influencer" tag by LinkedIn.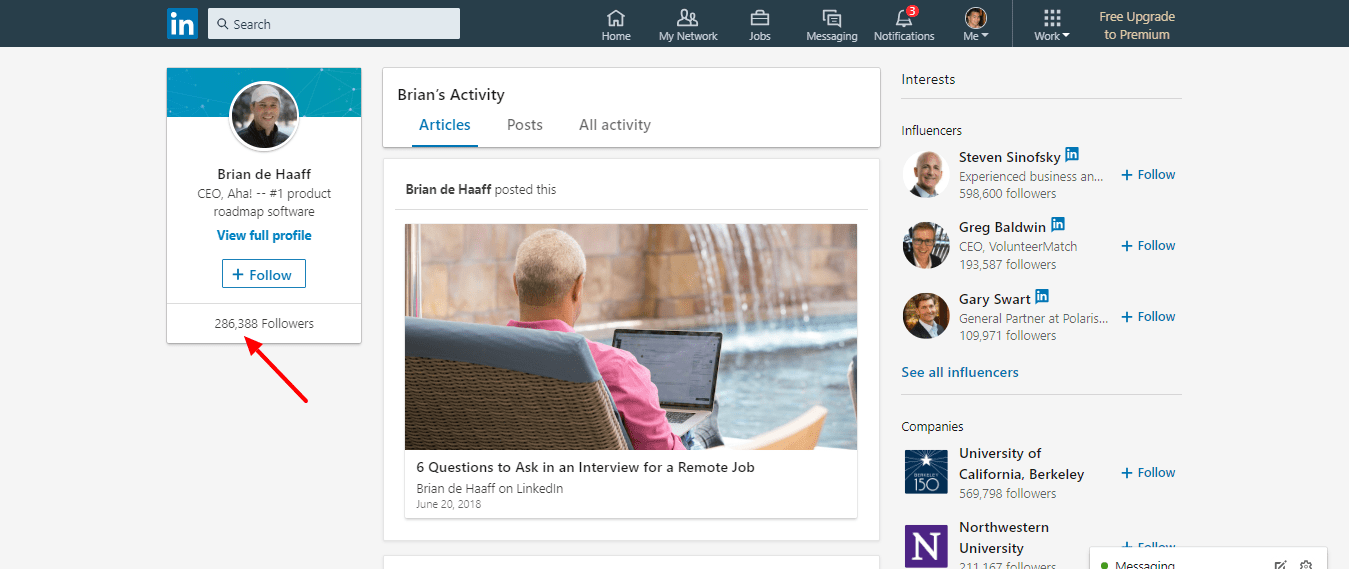 4. Relationship Building
When I started blogging, I asked more than 40 successful bloggers how they became successful.
The most popular answer I heard:
Focus on relationship building.
A lot of businesses don't focus on relationships because we rarely see case studies or data-driven content about it.
However, relationship building can be a powerful marketing activity. And it can be scaled with extreme productivity and the right systems.
One of my favorite examples of effective relationship building in marketing is how Alex Turnbull kickstarted Groove's content marketing.
Most people use email outreach to ask for links or to sell something. Turnball decided to focus on building relationships before he needed them.
He created an engagement schedule where he systematically engaged influencers that already spoke to his target audience. He started by building a large list of targeted influencers that he wanted to build a relationship with. He would then share their content, comment on their blogs, and finally, email them.
As a result, Groove was able to gain 1,000 subscribers within 24 hours of publishing their first blog post and more than 5,000 subscribers in five weeks. Groove's approach to content marketing allowed them to grow into an eight-figure business.
5. Video Marketing
In 2017, I had the opportunity to interview Amy Landino for my Traffic and Influence Summit. She has been video blogging since 2011 and one of the big tips she shared was to just be consistent with making videos.
She mentioned that a lot of people won't be great at video when they start and her early videos weren't that great either. But over time, she got better at video and her channel continued to grow.
I looked at how many videos she published on her YouTube channel after I interviewed her and it averaged to about three videos per week.
Landino's videos have over 10 million views in total and her channel has grown to over 200,000 subscribers.
She's made a great living as a consultant, public speaker, and through teaching video marketing to other entrepreneurs.
How to Adopt the Extreme Productivity Mindset
Lots of people are successful at marketing, but very few become influencers. To really win big, commit to these four steps to develop extreme productivity.
1. Adopt a Long-Term Mindset
Growth hacking became popular because people love the idea of being able to get really fast results.
However, in practice, the best results often come with consistent execution over a long period of time.
While progress may seem slow or even non-existent at the beginning, keep in mind that results will not only grow, but also accelerate over time.
Psychologist Hermann Ebbinghaus first presented the learning curve in 1885 showing that learning and results accelerate over time.
Even if you discover a way to grow quickly, develop the expectation that results may take longer than expected.
Having a long-term mindset is healthy if you want to achieve massive results.
2. Pick an Area to Focus on (And Ignore Everything Else)
Most really successful people are laser-focused on one or two things and are able to selectively ignore everything else.
It's easy for people to get tempted by new and exciting marketing tactics when the techniques they are currently using seems slow and ineffective at the beginning.
However, staying focused is critical to achieving extreme success.
Pick a proven tactic that others have used before, commit to getting really good at it and don't get distracted by "bright shiny objects."
3. Develop a Step-By-Step System
Once you know what tactics to use, break everything down into a step-by-step system.
Systematizing your marketing will simplify the process for you so that you know exactly what to do each day and when to do it.
4. Execute Consistently
Aside from creating a system, also use a calendar and schedule each task so that you are executing consistently.
Set goals and timelines to reach those goals.
Evaluate your progress over time and reflect on how you can continue to improve.
Key Takeaway
For most people, influence doesn't come easily or occur overnight. But with the right mindset, consistency, and focus, anyone can grow their influence.
More Marketing Career Resources:
---
Image Credits
Featured Image: Pixabay.com
In-post Photo: Pixabay.com
Screenshots taken by Brian Liang, June 2018