Google just rolled out industry benchmarking and data-sharing features for its web analytics tools.
Industry benchmarking lets analytics users compare their websites traffic data with other sites in the same industry that their site belongs to. This feature gives site owners insights on how traffic performances of their site compares to other sites' performance and whether traffic trends is peculiar to a site or is common industry-wide.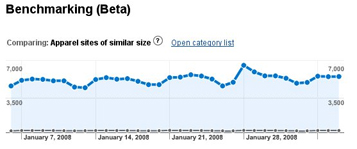 Aside from comparing traffic performance within the same industry, the industry benchmarking feature could also be used for comparing site performance against other sites in a different industry. This is useful when planning to employ cross promotional activities that would increase site traffic.
To make the industry benchmarking feature work, Google Analytics also introduced a new data-sharing feature. Some might find this new feature a bit off tangent and might think that traffic data maybe opened up to competitors. But don't worry, Analytics will only integrate site traffic data of those willing to share them, then anonymize it before aggregating the data and makes it available to other site owners via the Analytics tool.
Likewise Google Analytics is also giving site owners the option to share their site data with other Google services that would allow Google to provide them with additional advanced features as they become available.
Industry benchmarking and data-sharing feature should start appearing in users' Analytics account by now (on top of the visitors tab in the left navigation bar). But it doesn't appear yet in my Analytics dashboard.
For more details about these two new features, check out the industry benchmarking and data-sharing FAQs.