Tweets have returned to Google search on mobile devices as of today, the company stated in an announcement on its blog.
When searching on either the Google mobile app, or on a browser on your smartphone or tablet, you will now see tweets indexed in real-time right in the search results pages.
"Whether you're interested in the latest from Taylor Swift, news about the #MadMenFinale, or updates on the NBA playoffs, you'll have access to it directly from Google. Let's use NASA as an example—just ask the Google app about "NASA Twitter," and in the search results, you'll see Tweets from @NASA:"
Here is an example of what indexed tweets look like on mobile devices: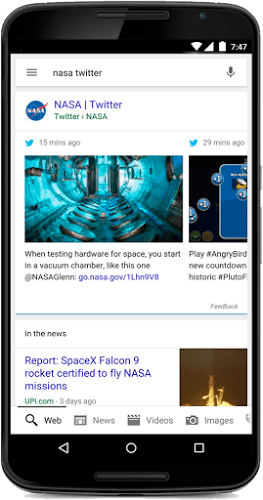 When and where indexed tweets show up in search results is said to vary from search to search. Since I reside in Canada I was not able to test out this new functionality for myself to see what may trigger tweets to appear in searches. At this time, Tweets are only showing up in US English searches.
Google's announcement suggests that indexed tweets are more likely to show up in search results when searching for information about something that's happening right now in real time.
Tapping on a tweet in Google's search results will open it in either the Twitter mobile app, provided you have the app installed, or in the web version of Twitter.
This could potentially have the benefit of driving new users to sign up to Twitter, or encourage current users to engage with the service more frequently. That's something the company needs at a time like this where the number of monthly active users is not meeting analyst expectations.
Google says its working on rolling this experience out to desktop devices, as well as to more countries in more languages. At this time it's only available for English queries on mobile devices in the United States.