Traffic is likely one of the key ingredients your bosses and clients use to judge your performance. The more traffic you get, the greater your chances of generating conversions and sales, right? And the greater your successes, the richer you get, right?
Not always.
But, as marketers we're always looking to increase traffic to our website and generate more sales. Which is why I've outlined some of the tactics I have been using successfully over the past couple of months. And, yes, that headline is true: I generated an extra 644,575 site visits in just one month.
In any marketing project, it's important to start with some clear objectives. Here are mine:
Objective #1: Improve The Site's SEO
Search engine optimization (SEO) isn't the be all, end all in itself. But, the site I was working on was poorly optimized. So, one of the objectives was to improve traffic levels, particularly traffic from Google. Improving the site's SEO gave me some quick wins – immediately increasing the site's rankings in Google, driving new traffic to the website.
The work I completed included improving the page titles, rewriting meta descriptions, implementing redirects, and changing the site structure. The changes were key to improving the site's performance in Google's organic results.
I won't go into any more detail here, as you'll find plenty of SEO advice and information on Search Engine Journal, or if you need professional help, you can always employ an SEO agency to help.
Recommendation: Before you start any promotional work, make sure you or your client's website is well-optimized. A site audit will help identify any obstacles that prevent the site from ranking well in Google's results.
Objective #2: Generate More Traffic Through PR and Social Media Campaigns
A well planned PR (public relations) campaign is one of the best and often the cheapest way of getting a large amount of attention for your brand. And, in this case, also attracted traffic to our website.
My plan was to create several pieces of content daily each month.
Focus was also on creating 'Linkbait'. Linkbait is content that aims to attract links. For us this included data, infographics, great written content, and videos.
Perhaps you have a low-budget client or are looking to increase your blog traffic – in that case you can look at places like Freelance.com, PeoplePerHour, and Fiverr to help you with creating apps, images or whatever content you are looking to create.
The content I created was all hosted on the website so that any links generated would come back to us. I see little point in promoting content on other sites, so don't post videos to YouTube or infographics to infographic websites.
A good example of Linkbait is OK Cupid's Experiment on Human Beings that currently has more than 1,000 domains pointing to it and over 10,000 Facebook shares.
Here's some other fun PR examples for you – Bathrooms.com created a $133,000, 9.4 million calorie bathroom made entirely of chocolate: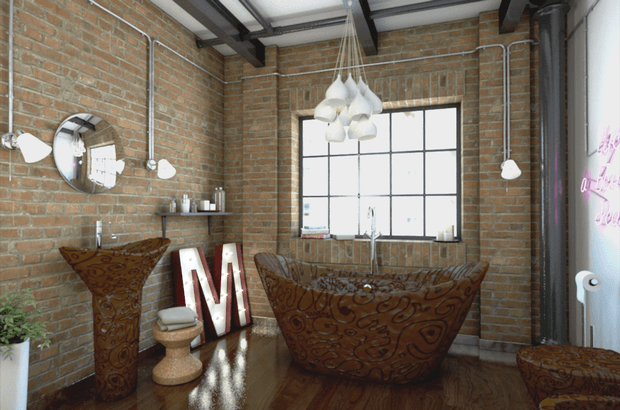 Ryanair's 'Standing Seats'; and Paddy Power's Sir Alex Ferguson statue all garnered a lot of attention – each of them picked up by newspapers and blogs.
In a similar vein, I created social bait – content that will become popular and spread on social media.
Recommendation: Create an editorial plan that lists the content you want to create, whether it's focused on PR, link building or social media.
Objective #3: Build Brand Credibility
One way to improve the return visitor percentage on your website is to build credibility. If you can become a trusted and reliable source in your niche this is certainly beneficial to your visitor levels.
Articles that reveal secret tips and tricks are a great way of helping customers to learn something new. Many business owners feel they don't have enough to write about, or time to crystallize their ideas. The fact is, if you're in business or operate your own site, you probably have a wealth of knowledge, experience, and insight many of your customers and prospects will find interesting.
For example, have a look at this article about job interviews on About.com written by Jeremy McCarthy, chief executive of VentureLoop, a company that helps create long-term relationships between venture capital firms and entrepreneurial individuals. McCarthy draws on his many years experience in recruitment to outline his interview tips.
Similarly, in this article about marketing attribution, Natalia Selby, marketing co-ordinator at Mediahawk, a call tracking company, explains how marketers can use call tracking and web analytics to improve the returns they get from their marketing budgets.
Other ways to build credibility can be to get a regular guest blogging spot on authoritative sites, or appearances on TV, radio and/or podcasts. Anything you can do to spread your message across a popular network gets a thumbs up from me.
Recommendation: When planning your editorial calendar, make sure to create opportunities to build your brand's credibility. Visitors search for trusted brands, and will come back to your site time and again.
Objective #4: Build an Email List
Collecting a list of interested names and email addresses of people who enjoy reading your content is a good way to go about increasing traffic to your website. And, once you have acquired your visitors' details you have the opportunity to send messages at a time of your choosing. What's more, email marketing provides some of the best conversion rates of any marketing activity.
Email addresses can be collected via a sign-up form on your blog (just be careful the pop-up doesn't annoy your audience to the point they swiftly exit).
Recommendation: Email marketing allows you to send regular emails to your interested audience to increase your traffic. If you don't already, incorporate regular emails into your marketing plan.
To meet my objectives, I tested a number of tactics. After all, PR wasn't going to happen by itself, websites weren't going to publicize us for no reason. I had to entice readers to subscribe to the mailing list and provide content that would enhance our brand's credibility.
Here are four tactics that worked really well:
Create Flagship Content
As Chris Garrett, Chief Digital Officer at Copyblogger, once coined, 'flagship content' is a great way to go about building your credibility. This is content that remains fresh and popular over a long period of time.
Content Idea #1: Demonstrate Your Knowledge
One way to create flagship content is to demonstrate your expert knowledge. Are there articles on your site that would benefit from an upgrade? Are there new topics you can cover? The aim is to make sure that your content is better than the competition, so that readers share and link to your site.
Flagship content can be articles, guides, PDFs, tables of data, infographics – any content that sticks in the minds of your visitors and wants them coming back for more. Content they are going to share, read again and refer to.
For an example, Mashable's Beginner's Guide to Twitter is pretty authoritative, has over 10,000 shares and ranks number one for 'Guide to Twitter', above Twitter's own help center.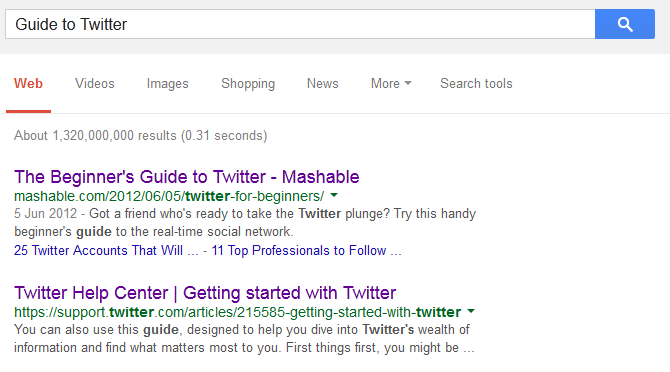 Result: 84% increase in organic traffic in first month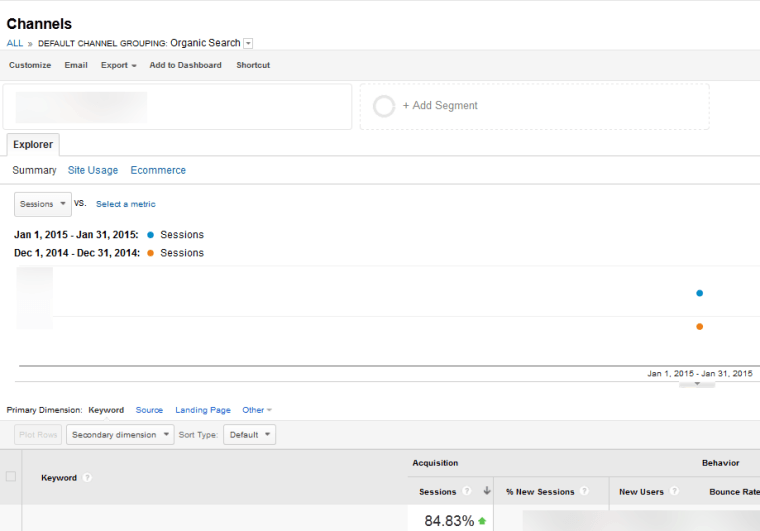 Content Idea #2: Invite Authoritative Figures to Write on Your Blog
What better way to build credibility than have credible people contributing to your website's content? Getting authoritative figures to contribute not only increases your credibility, but also helps you reach a new audience.
Getting these people to contribute to your blog can be challenging. After all, they're likely to be busy. So you'll need to be creative, and explain the benefits of contributing.
There are two main approaches you can take:
Ask the expert to contribute an article
Interview the expert and write up the result
A good example of the former is the Bleacher Report – a very popular sports website that invites bloggers to write for them. They have top name bloggers contributing and, as a result, this website has become an authority when it comes to football news and opinion.
Secure an interview with a respected personality in your industry and the resulting article is likely to attract great traffic and links to your site. You can write up your interview in a question and answer article, or as a structured narrative.
Your contributors don't necessarily have to be key figures in your industry. They could be up-and-coming bloggers, service providers, or consultants. You'll benefit from having of different people sharing their opinions.
Result: Traffic spikes on days when top bloggers poster and shared their content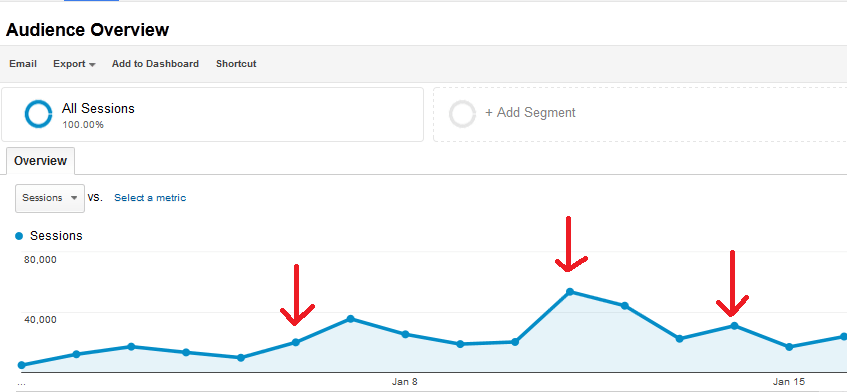 Content Idea #3: Make Predictions
Whether you're right or wrong, people engage with bold predictions. Ideally, though, you'd like to be 'right' as much as you can to avoid getting slack from your competitors or visitors!
People love to know what's going to happen. So if you can make solid predictions, or at least be trusted with your predictions, you can build your credibility and traffic by making them.
If you are already in an authoritative position this can be excellent for inheriting citations and being quoted elsewhere. This should be approached caution however, as it comes with as much risk as it does reward. There's the potential to lose credibility if your predictions are wrong, or at least perceived to be wrong, more often than right.
I'm a big football fan and one of my most popular blog posts on a site I write for, SoccerLens, happened to be a bold prediction I made, which got readers' attention.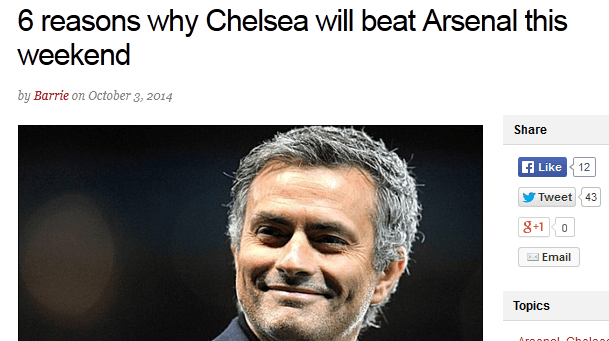 Result: Increase in traffic and social shares
Test Your Timing
A final thought: timing is key to marketers. It can be the difference between success and failure. Ever noticed game consoles are released in the final couple months of the year, in time for parents to buy for their children at Christmas?
Timing your marketing efforts will be similarly important when planning your blog content.
To find out what works best for your website you simply need to test, test, and test again. This is the only way you can find out which time and day of the week your articles have the best success.
Drayton Bird, a long-standing direct marketing expert, often emails his prospects on a Sunday afternoon. He reckons he gets great response rates at the time largely because there's less competition. It's worth testing.
If you're running paid search activity, you'll already have access to data that will tell you about your audience's behaviour. You'll have access to detailed reports that show when your clients are active. For example, we know that in the travel industry potential customers are often searching for holidays on the weekend. But often buying takes place during the week. If you're a travel marketer, this knowledge is likely to influence your editorial calendar.
Result: Working out the best time of day to get optimum traffic levels
What's Next?
This is only the start. Hopefully in 12 month's time, we'll be able to report a continued growth in the traffic and business. Until then, thanks for reading!
Image Credits
Featured Image: Google Analytics
Chocolate Bathroom: Bathrooms.com
Sir Alex Ferguson statue: Paddy Power
Chelsea to beat Arsenal prediction: Soccerlens