Editor note: This isn't a sponsored post, but the author is involved with OptinMonster and we do use it here on SEJ.
When you're building a business online, it's easy to get overwhelmed by numbers.
Twitter followers. Facebook fans. LinkedIn connections. RSS subscribers. Comments.
The good news is, there's one number that really matters. How many email subscribers do you have?
Rather than talking about a gazillion different tricks to increase your email subscribers (like creating a free incentive, or fiddling around with your landing page copy), I'm going to focus on one simple solution that you can get up and running today.
Search Engine Journal used this very tool to increase their subscribers by 170 percent.
One Simple Solution: OptinMonster
OptinMonster is a lead-generation plugin for WordPress that allows you to create high converting opt-in forms such as lightbox popups, floating footer bars, slide-ins, etc. Combine these forms with exit-intent, page-level targeting, and A/B testing, and you're sure to increase your email subscribers.
OptinMonster seamlessly integrates with all the major email service providers (like Aweber and MailChimp), and if you're using a more obscure provider, that's fine too–you can create a special Custom HTML Optin Form.
It's very easy to use and get started.
How Search Engine Journal Uses OptinMonster
You may have seen this popup on Search Engine Journal: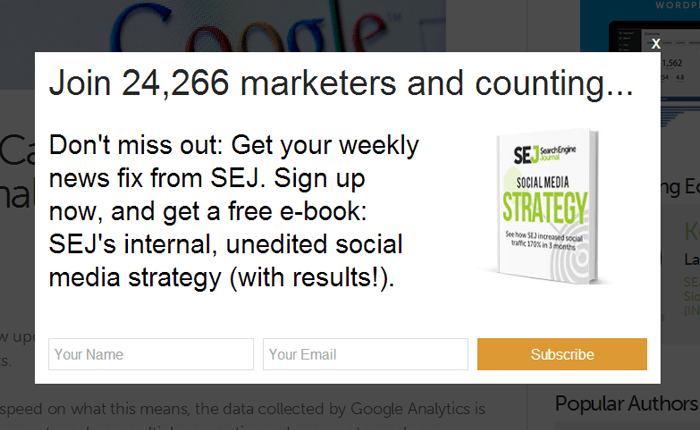 This is a straightforward, eye-catching popup that appears a couple of seconds after a visitor comes to the site. It's easy to close with the large X in the top right-hand corner – if a visitor wants to get straight to the content, they can.
And it's no coincidence that Search Engine Journal has a huge number of subscribers.
Going Further With OptinMonster
Of course, popups like this are far from the only way to get subscribers. Some visitors, for instance, may close them immediately – but then want to subscribe at a later stage.
OptinMonster has a bunch of different types of form you can easily create, including classics like a sidebar widget and more unusual ones like a floating footer bar.
Here are two I particularly want to highlight:
Slide-ins
A slide-in is a form that slides neatly up from the bottom right of your site. It's a smooth, professional way to draw attention without obscuring any of your great content. You can see one in action at iThemes.com: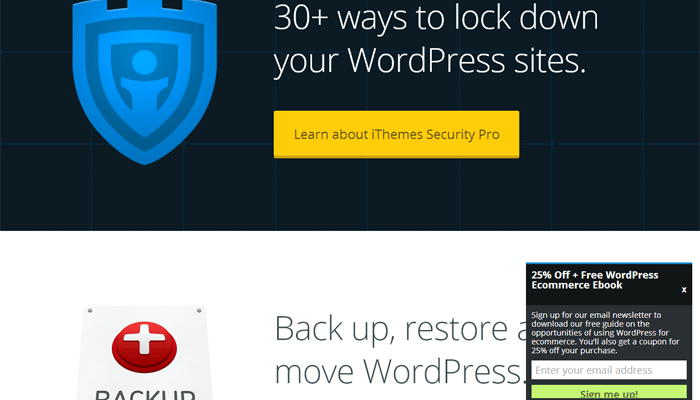 Targeted Popups
While a straightforward popup that every visitor sees can definitely boost your conversions, it's even better to create targeted popups that appear depending on what page that visitor is reading.
Brian Dean from Backlinko used this to give away different bonuses on different pages of his blog, and saw a 785 percent increase in conversions. He writes about this process, which he calls "The Content Upgrade", here, and includes examples of other sites with page-specific opt-in forms.
He then took this even further with OptinMonster, creating a page-specific popup for one of his top resources, the "Google Ranking Factors Checklist":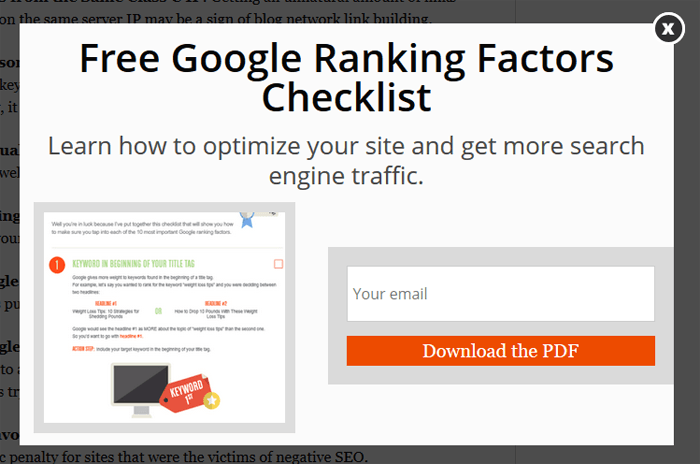 (Screenshot from Backlinko.)
The Importance of Hyper-Targeted Lists & How OptinMonster Can Help
Do all your email subscribers receive the exact same emails?
Obviously it's better to have an email list than no email list – but multiple lists are even better. By sub-dividing your whole list, you can easily target offers to specific groups of customers based on their interests and needs.
That might sound like magic, but it's straightforward with OptinMonster. You can create as many different forms as you like, and place them on different posts and pages. You could select individual posts manually, for instance, or choose a particular custom post type that will always display a specific opt-in.
So, using the Backlinko example above, it would be easy for them to specifically target people who have downloaded the Google Rankings Factor checklist and send them more information about ranking well in Google, or even promoting a particular product or service.
OptinMonster also integrates with the grouping or segmenting functionality of your email service provider: you can find out more about this here.
What type of OptinMonster form would you try out first? Leave a comment below to share your thoughts.
Image Credits
Featured Image: Created by author for SEJ
All screenshots taken August 2014