With ad-blocking the current hot topic in marketing and even general media, there is one event that is immune to ad blocking: the Super Bowl. For many non-football fans, the collections of expensive 15 and 30 second commercials are the main event of the day. There are even post-game analysis shows that discuss and gather highlight reels of what are at their core, slick marketing pitches designed to get people to buy a product.
Super Bowl Launches
The phenomenon of using the massive audiences tuned in to watch the big game as a base to pitch for sales is far from new and there are notable Super Bowl commercials going as far back as the 1960's. Throughout the last over fifty years, there have been many interesting marketing launches that happened during the Super Bowl ranging from the famous "1984" Mac to the downright ridiculous during the "Dotcom Super bowl." However, there was one ad that at the time was considered a huge success that now if viewed through the search marketing lens should be considered a horrendous waste of money. That honor goes to AT&T with their Mlife campaign in 2002.
What is Mlife?
For weeks before Super Bowl XXXVI AT&T ran a series of TV commercials and billboards revealing a new product called Mlife. Nowhere in the advertisements was the AT&T brand name or any details on what Mlife was supposed to be. During the Superbowl, there were a series of 15 seconds ads showing belly buttons with one simple call to action. Go to Mlife.com. Millions of people did just that (I was one of them) and the sheer onslaught of traffic brought AT&T to their knees. No one was even able to find anything more about Mlife since the website could not load.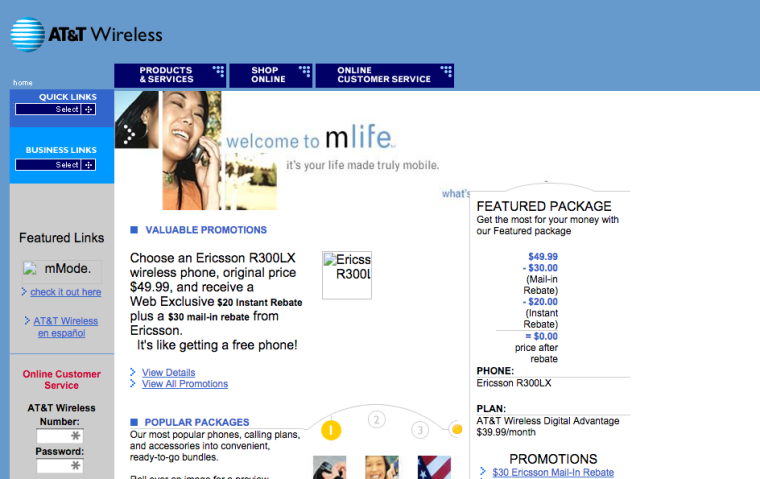 Luckily, there were other Mlife spots during that game and viewers were able to at least learn that AT&T was behind the campaign. (You can watch all of the commercials on this site that gathers all old Super Bowl ads.) The day after the Super Bowl, AT&T was considered the clear winner of the ad game and their commercials were the topic of discussion on all the morning shows. With a launch like that specifically calling out the web address during the early days of the Internet, it was bound to get lots and lots links.
It would be hard to nearly impossible to estimate the actual value of the links, but there's an easy way to understand the cost. In 2002, a 30 second Super Bowl ad cost an average of $2.3 million dollars. Ignoring all the production and other expenses, multiplying that price by the 5 commercials they ran, just the airtime cost around $10 million with the links a byproduct of that efforts.
The Intersection Between Mlife and SEO
I wasn't able to find a way to look at just the links collected during that time period, but searching Google for "Mlife + Att" yielded thousands of results. At the time, this was hailed as a very successful campaign by people in the ad industry as it piqued general interest and drove lots of people to their website. However, now with the benefit of 16 years of hindsight this campaign while successful at the time, it deserves the award for most wasted launch when long term SEO is taken into account, and here's why.
What is Mlife Today?
In business, brand and company names are always changing with mergers, acquisitions and just straight rebrands. Even a storied brand like AT&T has gone through its own brand name changes. (Remember American Phone & Telegraph or the more recent Cingular Wireless?)
The wireless industry – now called the mobile industry hardly resembles what existed in 2002, and the powers-that-be at AT&T decided that they no longer needed the Mlife brand, but they did something that should horrify every search marketer. They sold the domain and all the link equity acquired by launching the website during a Super Bowl. Today if you go to Mlife.com, it is the homepage for MGM Resorts' (the parent brand of casinos like Bellagio, Aria, and MGM Grand) loyalty program.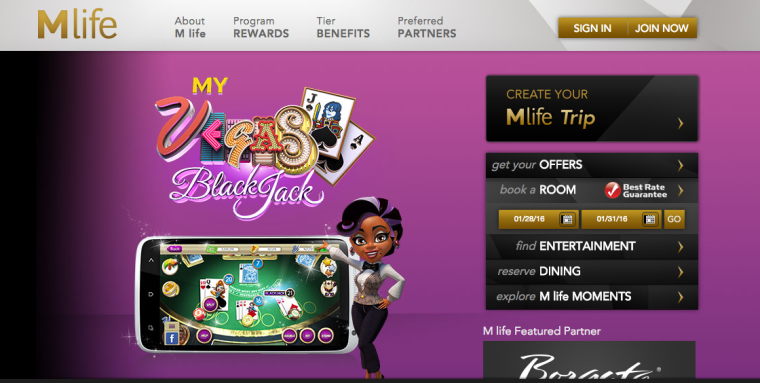 Without a website like Zillow for domains it is hard to know how much MGM paid AT&T for the domain name. In my best guess, it couldn't have possibly been too expensive, since there are a number of related names to Mlife that are owned and monetized by domain squatters. (I refuse to link, so just guess them yourself.) At the time they registered the domain in 2010 they didn't seem married to the name Mlife as their loyalty program's name as Facebook did not have custom URL's and their Mlife Twitter account was not opened until 2011. While the domain squatters wouldn't have let these other names go for a steal they would certainly have to be less costly than what AT&T should have priced the domain if they had valued it correctly.
Millions of Dollars in Earned Marketing Wasted
As with all assets, there are many ways to price a domain name, but one that should never be neglected is the value of the links pointing to the domain. Leaving aside the debate over the specific value of a link, the links directed at Mlife could be considered relevant and valuable if AT&T would have used the domain to redirect it to one of their latest mobile promotions. Even if by some weird algorithm twist the links had zero value whatsoever, there are possibly still users that click on the article links to a 16 year old mobile campaign that are not going to find the most recent mobile deals. Essentially, this means that the value of the domain is worth considerably more to AT&T than it would be to any other party that wanted to buy it.
A Lesson for All Marketers
Within this search marketing horror story there lies a key lesson for any marketer. When evaluating the book value of any marketing asset you need to consider the sum of all the history behind the asset before selling it off or relegating it to the trash. Every marketer is going to have a long list of failed projects and assets, and while they all might not have reached their desired potential this does not mean that the all of the efforts were for naught. Every social media fan, link, feedback review and even just access to a domain for SEO testing likely has a higher value to the company than just the street or market value of just that asset.
Every time I go to Las Vegas and see MGM billboards telling me to go to "Mlife.com" to sign up for their loyalty program, I remember the 2002 AT&T campaign that launched that domain and I shudder. To me, and hopefully to you too, AT&T's missed opportunity should serve as a stark reminder that in web marketing, everything counts.
Image Credits
Featured Image: Screenshot by Eli Schwartz. Taken January 2016.
All screenshots by Eli Schwartz. Taken January 2016.