Peter Shankman is an author, founder, professor, and one of the many great speakers we are welcoming at our 6th SEJ Summit this year, happening in the heart of New York City.
As the founder of HARO and author of four books on marketing and customer service, Peter has a lot of interesting insight on what's happening today. I asked him some questions about his life and thoughts on marketing below.
If you'd like to learn from Peter and our other amazing speakers, we still have some complimentary tickets available for our New York City marketing event. Anyone can request an invite to attend a SEJ Summit conference, but big-brand, enterprise marketers will get priority. Tickets can also be purchased here- https://sejsummit2015-nyctix.eventbrite.com.
The SEJ Summit series is possible courtesy of our partner, Searchmetrics. Their "search experience optimization" software makes digital marketing better, faster, and more profitable.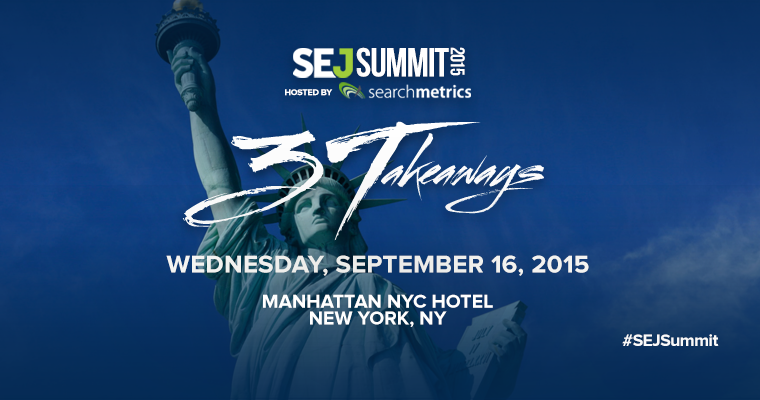 1. I am really excited for your presentation at SEJ Summit titled The Social Future, where you are going at to talk about what the future of social will look like. What aspect of social are you most confident will be in the future?
That Yelp and Trip Advisor will be dead. It'll be replaced by the simple act of the network sharing information based on your good and bad experiences automatically, so that customer service needs to be first and foremost.
2. Your agency has worked with some huge brand names. What do you think is the biggest struggle enterprise level brands have when trying to implement a social plan?
They don't look at it from the customer's experience, but rather from what they "believe will work". That's a mistake. It's ridiculously important to let the customer drive your business.
3. Five years ago you sold HARO (Help a Reporter Out), a company you built in a little over two years. What advice would you give to others who are considering selling a company they nurtured from the ground up?
The only reason to sell it is if you're not having fun anymore, or if it has to change into something that won't be as fun. For me, it became more about management, less about creating. That's when I knew I had to sell.
4. You have an impressive list of accomplishments, including completing an Ironman competition and being a licensed skydiver. Most people struggle to stay motivated, but that doesn't seem to hold you back. What advice would you give to someone who wants to stay motivated?
Work out, work out, work out. Working out changes the very chemicals in the brain, letting you do more.
5. Who influenced you most when you were first starting your career?
Steve Case, Ted Leonsis, and Lou Lamiorello. All amazing bosses, I am very fortunate to have worked for all of them.
6. Bonus Question: You are a 5th Element fan (yay!), so I want to ask you a sci-fi-ish question! Say you were given 10 minutes to talk to past Peter Shankman circa 2005. What would you tell yourself?
Get your ass overseas. Live there for at least a year. Immediately.
Thanks so much, Peter! That's some great insight on living big as an entrepreneur.
Don't forget, you can request your ticket for our SEJ Summit New York City marketing conference, taking place September 16th at the Manhattan NYC Hotel in Chelsea, NYC.
You can also come see us in Atlanta later this year.
Image Credits
Featured Image: solarseven/Shutterstock.com