Obtaining positive reviews and testimonials is an essential component of a customer acquisition and retention strategy. According to the most recent Local Consumer Review Survey, 76% of consumers regularly or occasionally use online reviews to determine which local business to use, and 52% of consumers trust online reviews just as much as personal recommendations (Source: HubSpot). From an SEO perspective, the good folks over at Bizible have found that having an average Google review of one star or less significantly hurts your business' ranking in the local listings (Source: Search Engine Land).
Clearly reviews are important, but actually getting existing customers to leave them is easier said than done.
That's where Foursquare comes in. Although the free check-in app is itself a great promotional and loyalty-building tool for brick-and-mortar businesses, for our purposes, it has two distinct benefits. First, because it's integrated with Twitter, it gives you direct access to your customers. Second, by nature of who's most likely to actually check in, it more specifically gives you access to your most loyal brand advocates. After all, if a customer goes as far as to publicly announce that he or she's visiting your storefront, it's pretty safe to assume that they had a positive experience. These are the people you want to leave reviews!
Let's get to the nitty-gritty. When a user checks in via Foursquare, they also have the option of announcing the check-in via their personal Facebook and/or Twitter profile. Most Facebook profiles are set to private, so let's focus on Twitter. Here's what the typical check-in looks like in a Twitter stream:



Ideally, we want to get a notification every time a customer check ins to your business using Foursquare and publishes the check-in on his or her Twitter account. That way, you can follow up with the customer to thank them for their visit and to ask them to leave a review while the experience's still fresh in their mind.
There are quite a few ways to set this up. If you can afford to monitor real-time notifications, consider signing up for a free HootSuite account and set up keyword monitoring for your business name. For optimal results, don't actually listen for exact matches. As an example, although the name of our company is St. Pete Bagel Co., very few people actually include the "Co.", hence we monitor for mentions of "Pete Bagel".
If you're a small business owner with limited time, daily email notifications may be a more realistic option. Again, lot of options here, but my personal favorite is Twilert. The setup is simple, and takes only a few seconds to configure – connect with your Twitter profile, enter your keyword(s), and designate when you'd like to receive notifications.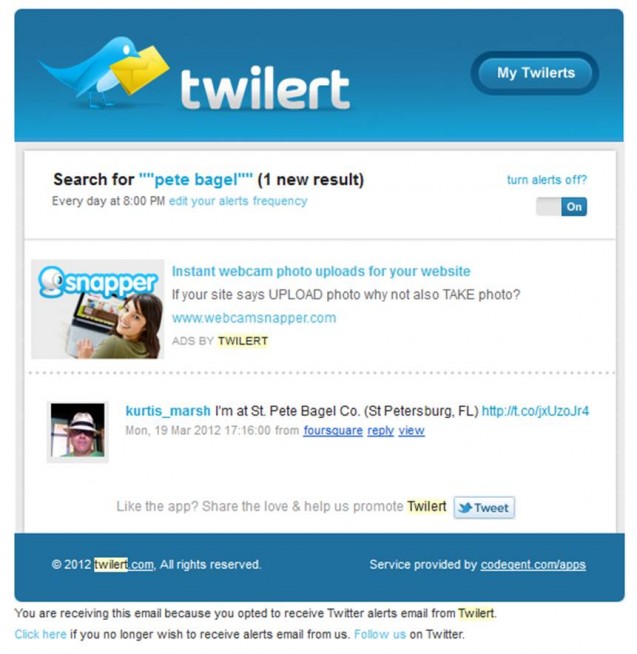 From there, the process is fairly self-explanatory. Watch for notifications that a customer has checked in to your business, and promptly respond with a sincere "thank you" along with an invitation for the customer to rate their experience. For extra impact, sign up for a bit.ly account and always use the same shortened review link so that you can monitor click, referral, and location data.
That it's, folks! A quick and painless process for using Foursquare to get more reviews for your brick-and-mortar business. If you have any questions or want more clarification, just leave a comment!