If you're looking for ways to grow your community, pitching yourself as an author is one of the most effective marketing and PR strategies. Introducing your expertise to your future audience on a blog they already trust will benefit both you and your brand. However, pitching your ideas to an editor can be intimidating and discouraging because most pitches will be ignored or rejected. Luckily, pitching is something you can get better at. In this post, I'm going to share with you three simple steps to pitching your post and getting a 'yes!'
Find the Right Person (& Their Email Address) To Pitch To
Warning! Avoid submitting pitches via contact forms, especially if you don't have a substantial portfolio in your niche. Your chances of being rejected are always much higher when you haven't yet established any personal contacts or when your name isn't recognizable enough for an editorial team.
But how can you find editors' email addresses?
Normally, blogs have a page called 'Our Team' where you can learn the editors' names and their roles. In case the blog of your choice doesn't have this page, you still can go to the company's LinkedIn page to find out more about the employees that are associated with this business. Then you can simply connect with people that hold the right positions.
However, if you don't have enough mutual connections, it might be tricky to connect with those people. Here's a small hack you can use. For instance, you want to connect with Nadya Khoja from Venngage. As you know, LinkedIn doesn't allow you to add people from the feed view, since the website warns against sending invitations to people you don't know.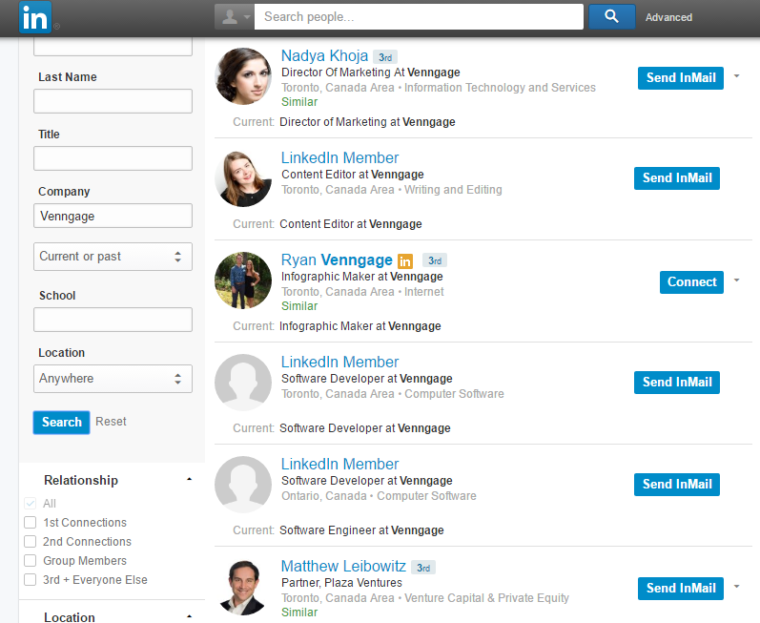 Yet, if you go to a user's LinkedIn page and click on the arrow near the Send Inmail button, you'll see a drop-down menu from which you can select 'Connect.'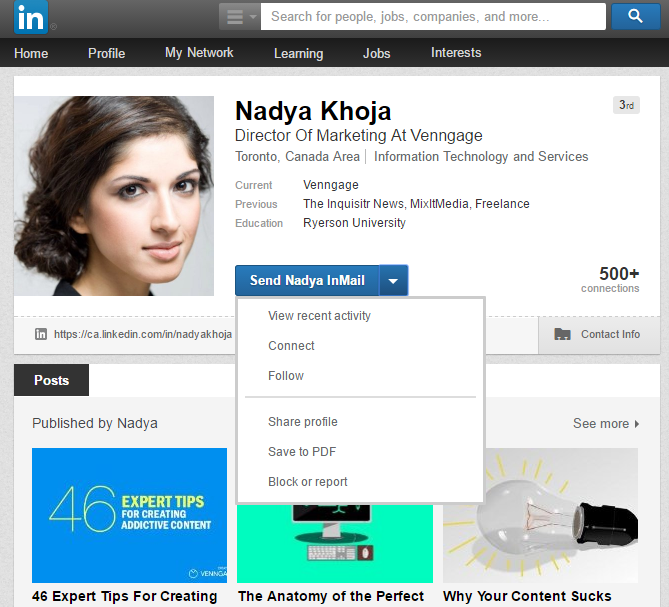 By playing around with LinkedIn, I've figured out that people tend to add you to their networks much faster if you go on Twitter first and retweet or like their recent tweets. Also, sometimes editors from well-known blogs have their own startups; if so, you can try promoting their startups across your channels, because that's exactly what they want to promote.
However, if you don't want to wait or spend time establishing relationships (because your content is simply awesome), here's the best way to get an editor's email address in only a few clicks: use tools like Hunter or Slik Prospector!
Hunter allows you to find email addresses that are associated with a particular domain. Slik Prospector is a Chrome extension that shows you the email address of a person on LinkedIn, even if you don't have them in your connections.
Research What Topics They Cover & What Subject Lines They Use
After you have the email address of the right person, it's time to ensure that your pitch is perfectly aligned with the range of topics they cover on their blog. Also, it's worth checking what kind of content they publish: for instance, they prefer posts that rely on numbers or maybe they're especially picky when it comes to design.
When you start analyzing content, I think the best tool you can use for this step is BuzzSumo. You just type in a URL that you want to analyze and you can check out the top viral posts on that website: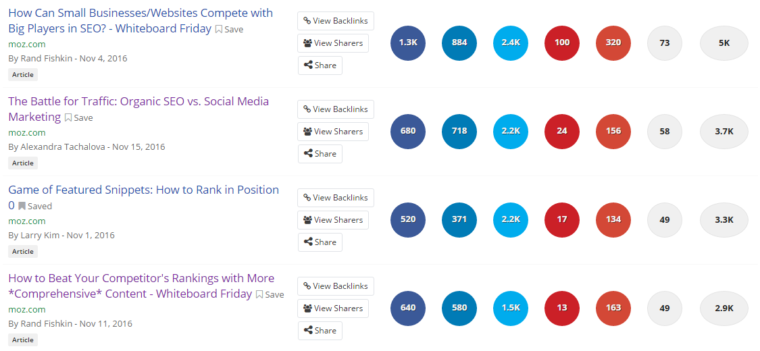 Even at first glance, it's obvious that Moz usually publishes actionable content and how-to's and covers topical questions for digital marketing folks (See Larry Kim's article 'What's the Real Relationship Between Organic Rankings & Social Shares?').
Here's another trick I want to share with you. It's a powerful technique that will make your subject line match any blog's style! To begin, you need to know what kind of words and phrases the blog writers use most frequently in their posts' titles. To get a list of these words, you need to take the following steps:
Export a list of articles from the blog of your choice (use BuzzSumo).
Enter the titles of those articles into a Keyword Density tool (you can try this one).
Create your own subject based on the result you get.
Here are some examples of the most common words that appear in titles on Moz's blog: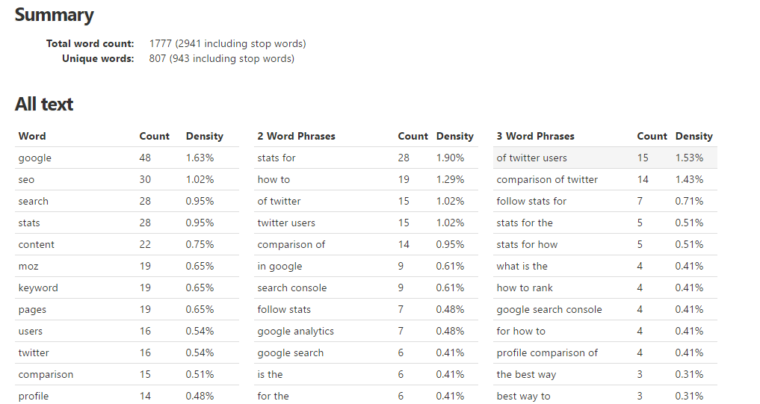 Go ahead and try to come up with your own title based on the data you have now!
Use These Four Proven Strategies to Get Your Post Accepted
Even if you take all the steps I've already described above, there's still a chance you'll receive a no. So here are a couple of ways to minimize that risk. These strategies won't guarantee 100 percent success, but still, I've found the following details play a significant role in the effectiveness of your pitch.
1. Highlight your pitch by adding links to your previous posts
If you haven't submitted an article to a blog before, your chances of receiving a no from blogs like Entrepreneur, Forbes, Business2Community, Outbrain, Inc. Magazine, and the like are quite high. Therefore, I highly recommend that you write a couple of posts for blogs in your industry that don't ask for content that features comprehensive research, case studies, etc. To find these blogs, you can try a tool called GuestPostTracker.com. It shows you a variety of blogs that accept guest posts within any industry.
But, if you're searching for such blogs in the digital marketing niche, here are a couple of options:
SEMrush accepts guest posts and allows you to simply add them without spending hours coordinating with someone from their editorial team.
Write a story for Medium.com which you can do without waiting for approval.
Submit your post to the DigitalOlympus.net blog and it'll be published within a couple of days.
2. Show in your pitch that you've spent time analyzing their posts
You need to show an editorial team the top viral posts as well as the most linkable posts on their blog. To get these two metrics, go to Ahrefs and export a list of their most linkable pages. After doing that, you will need to get a list of the viral articles from BuzzSumo.
This will give you a list of the top ten pieces according to links and virality. You can then suggest two different topics that are based on those from the 'top ten' list you created with the help of BuzzSumo and provide a short overview of your research.
3. Invest time into building relationships
Any blog or community is struggling with getting enough comments that bring an interesting perspective to a post. Even Moz's blog has received a lot of non-relevant and spammy comments (there's a great post written by Felicia Crawford, the Moz blog editor, on the subject).
So, if you start commenting on a regular basis, then you'll become recognizable to a blog editor. And by doing this, you'll be able to establish relationships that will allow you to pitch your future blog post.
4. Find a broken link
Reporting a broken link will prevent your email from remaining ignored for ages. This works simply because it offers blog editors value. In order to detect a few broken links within a minute, go to Ahrefs report and send one or two examples from this report to an editor. It might be especially appreciated if you're lucky enough to find a broken link on a page that is ranking pretty high in Google and gets a lot of traffic.
Try these steps and let me know if you find them helpful in the comments section!
Image Credits
Featured Image: Pixabay
In-post Images: Screenshots by Alex Tachalova. Taken November 2016.