Are you a frequent speaker at search conferences? Getting prepared for the search conference must take plenty of time and effort. Well, here is a great tip how you can drive another benefit from your conference presentation: turn your PowerPoint presentation into the video file, record your speech and here you go: you have some great video content to promote and generate additional leads!
Here is a quick guide on how you can convert your PowerPoint presentation into a video:
Use a screen recording application to record your slideshow as it plays on your screen:
ScreenToaster is a free web-based tool that captures the screen and creates a movie. It requires registration (with email confirmation) after which you will be able to start recording immediately:
Using the shortcut (Alt+S) you'll be able to start and pause recording any time.
Upload the video directly to Youtube or download it to your computer.
It currently doesn't allow to add audio (the feature is promised to be coming soon) but you can add subtitles though.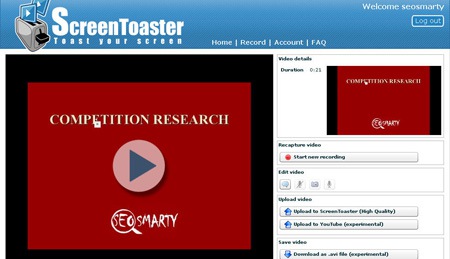 CamStudio (Windows only, use Copernicus for Mac) is a nice free desktop capture program that records all screen and audio activity and creates standard .avi files.
Use a specialized application converting any PPT into the video file
PPT To Video Scout 1.57 (cost: USD 58.85 with 30-day free trial available) is a very easy-to-use reliable desktop application that converts your PowerPoint file into the video and adds sound:
The utility converts PowerPoint presentations into AVI or MPEG video with sound;

Supported video formats: MPEG, AVI, DivX, xDIV, DVD, VideoCD

The program integrates itself into PowerPoint: you can use "Convert To AVI" command in File menu to launch conversion.
You can choose the capture format: normal (as viewed by F5 in PowerPoint), automatic slide show, manual mode (i.e. you click over the slides). You can also set the video quality and resolution:
After a very self-explanatory wizard you'll be able to click over your PowerPoint slides while commenting on each of them; the utility will be capturing the screen while you are clicking and talking and turning into the video of the format you have set previously.
PPTmovie ($39.95 for personal edition with free trial available) is the cheapest yet very handy desktop application that not only can convert .ppt files to .avi, .mpeg, .mp4, .mov, .flv files but also add narrations or music background while converting:
Trial limitations: watermark ("to remove this message, buy PPTMovie");
Requirements: MS Windows 2000/XP, MS PowerPoint installed, DirectX 9.0 or above.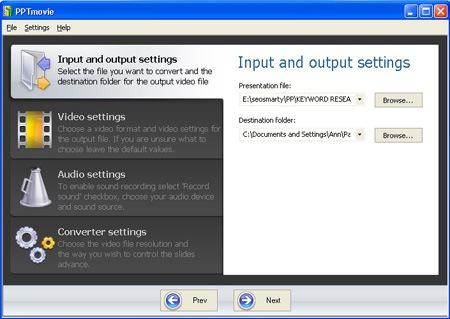 To record the music you just need to turn the favorite track on and PPTmovie will record it from your speakers without any noise while converting. Or you can record your comments to any slide you would like by using your microphone.