Content marketing is much more than just publishing a corporate blog. It has both external and internal elements:
Internal content marketing includes your blog, social media, and newsletter promotions.
External content marketing deals with the placement of your products on various websites.
Before doing anything, you need a plan. And when creating your own content marketing strategy, you can't ignore your competitors or their strategies.
Without considering their actions, you can't achieve advantageous results. All your actions can be easily countered by the actions of your competitors, so you need to stay one step ahead of them.
Once you understand what these folks are trying to achieve (mainly, by means of backlink research), you will learn how to benefit from this intel for your own business.
How It Works
External content marketers strive to create an active online presence. Their responsibilities also include:
Placement of articles about the product on external sites.
Issuing press releases, infographics, and information about the company.
Handling comments under relevant publications.
The purpose of these actions is to:
Make customers aware of your company and its products.
Ensure that everyone knows how your product is used.
Educate about why your product is better than your competitors'.
Garner support from bloggers, authorities, and influencers.
Content marketers should be experienced in:
Finding the best platforms to place content.
Evaluating the quality of external resources.
Preparing quality content for large platforms.
Creating targeted and triggered emails.
Soliciting cooperation and good communication with niche specialists.
Checking results of article placements.
Gathering intel about the competitor's external content strategies.
Where to Begin?
It's helpful to know what methods and techniques your competitors use to get traffic. You can even learn from the things they stopped doing.
Your competitors' bad experiences can lend valuable insight into their mistakes, so you don't repeat them. Try to understand their strong and weak points to improve your own strategy.
To gather this information, you can use a backlink analysis modules (e.g., Ahrefs, SEMrush, Serpstat, or Moz). For instance, Ahrefs is known for its large index of backlinks and is a useful tool for finding out how your competitors and partners promote.
Essay writing services provide the most compelling illustration of this highly competitive environment. Let's look at how to conduct a good analysis that will help to improve your strategy. (Please note that although we'll be looking at the essay writing niche for the purposes of this article, you can use the same approach to analyze any niche you want.)
Competitors' Backlink Analysis
Backlink analysis is incredibly useful for finding strong and weak points in the promotion strategies of your competitors. I used Serpstat to gather the data for this article.
Step 1: Create a Spreadsheet
Your spreadsheet should include the following columns:
Number of backlinks
Number of referring domains
Anchor
Link quality
Step 2: Assess the Backlink Volume & Choose Average Numbers for the Analysis
Go to Serpstat and enter your competitor's domain into the search bar. Then hit backlink analysis > backlinks > new backlinks, and choose backlink per domain — 1.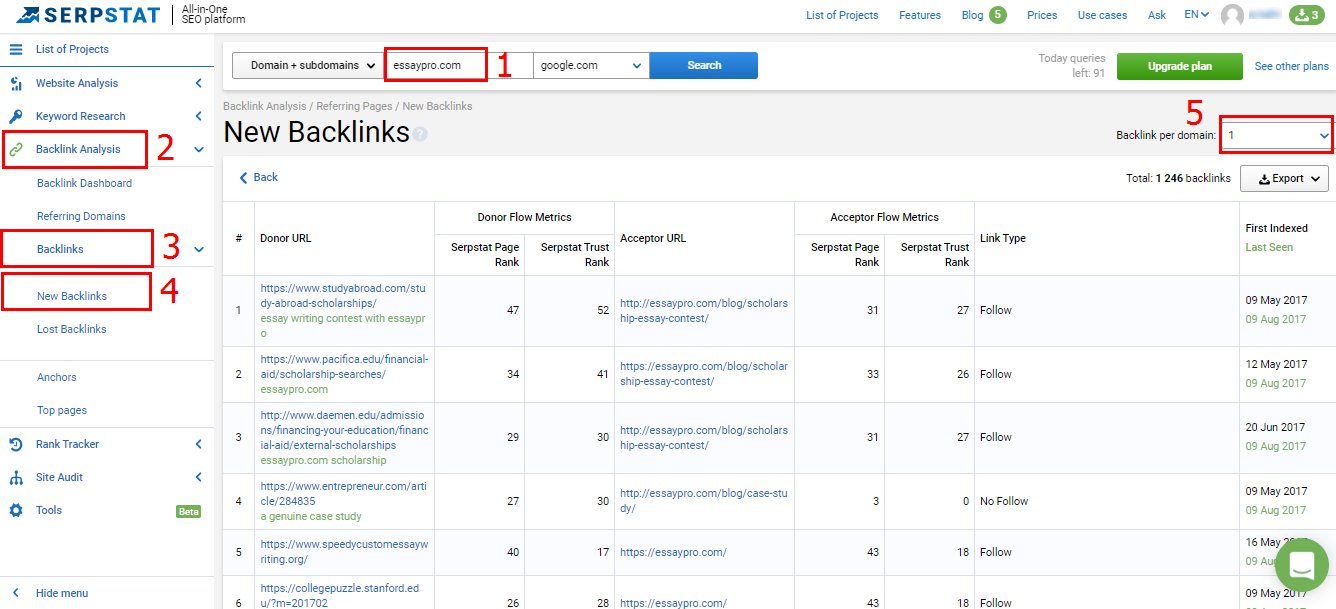 You should choose a minimum of 500 backlinks. For my example, I will use only 100.
Step 3: Check Each Link and Evaluate the Quality
Export and download the report:

Then shift source_url and anchor the column to the spreadsheet you have created.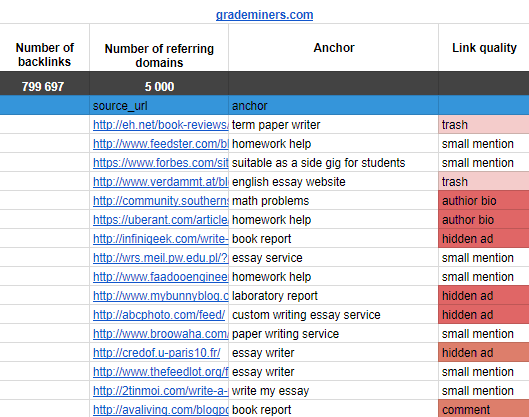 Now check your results one by one. Use the "anchor" column and use Ctrl+F to find the needed link. You can use your own notes or mine. Either way, you will get the results you need.
Step 4: Sum up Your Findings on Each Competitor
Evaluating each competitor is the most interesting part of this article, especially considering the niche we've chosen. When making your analysis, you should create your own document to enter your conclusions. It will help you to keep all your information organized.
Website #1: Grademiners
They have the most active content marketing in this niche, but it is also quite messy compared to others.
It appears they don't use purely ethical methods of content marketing. So we have found a significant weak point in their strategy that we can use to our own advantage.
Their most frequent use of external resources for promotion is via out-of-context links that appear in the middle of the text. It can be on a relevant website or on a completely unrelated subject. They have obviously paid for these links, most likely $1 per link, judging from the quality.
Our analysis reveals their unfair methods. They bought a lot of links and they use them in the middle of the text. Some of their links are embedded in the text that is absolutely unrelated to essay writing. It's a cheap and ineffective strategy to promote their service. Look at the screenshot to see what I found: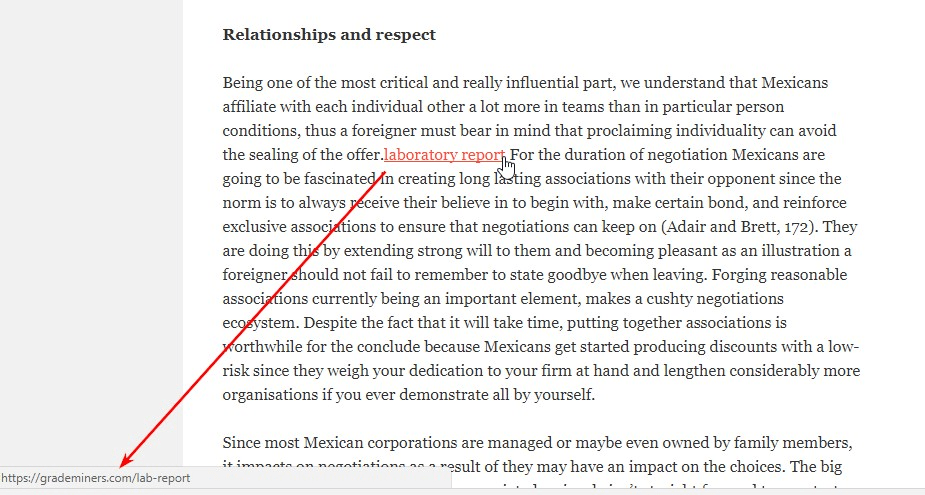 The text is about a Mexican corporation with a completely senseless link to a page where you can buy laboratory reports.There is even a link placed on the page of a vegan restaurant in Seattle!
Any chance of someone finding these links to get to the site is a long shot. This is clearly done just for SEO.
Why is this a weak point? They may get a slight increase in position, however, they may also attract Google's or any other search engine's attention for spamming links on one or several domains.

And nothing is sacred when it comes to SEO:
Here's an attempt to make such a link look more natural, and it is not really successful: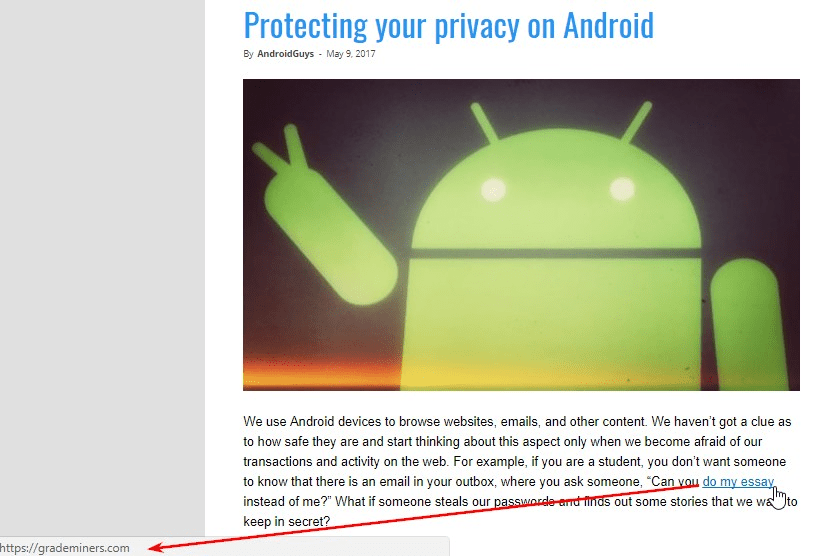 I found a lot of other methods of hidden advertising (forum discussions, comments), but the strangest was this one: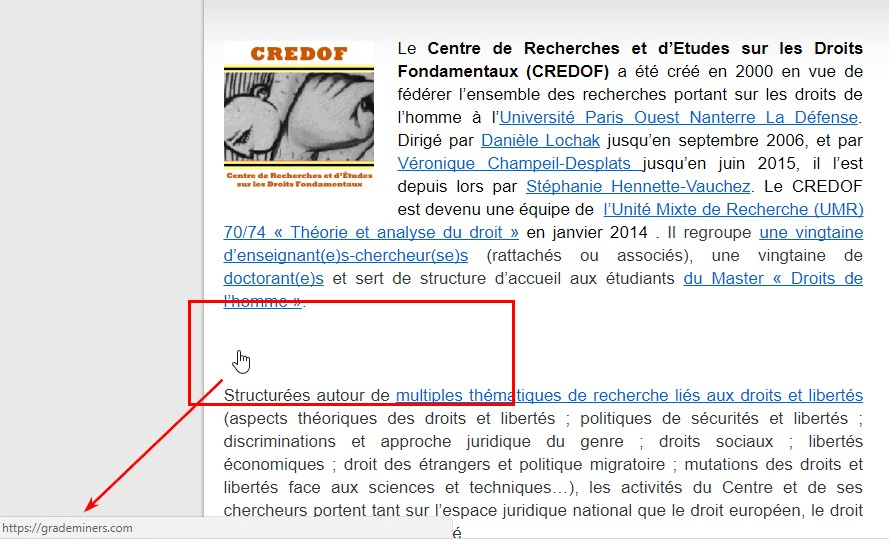 You can't see the link on the page, but if you use Ctrl+F, you will see: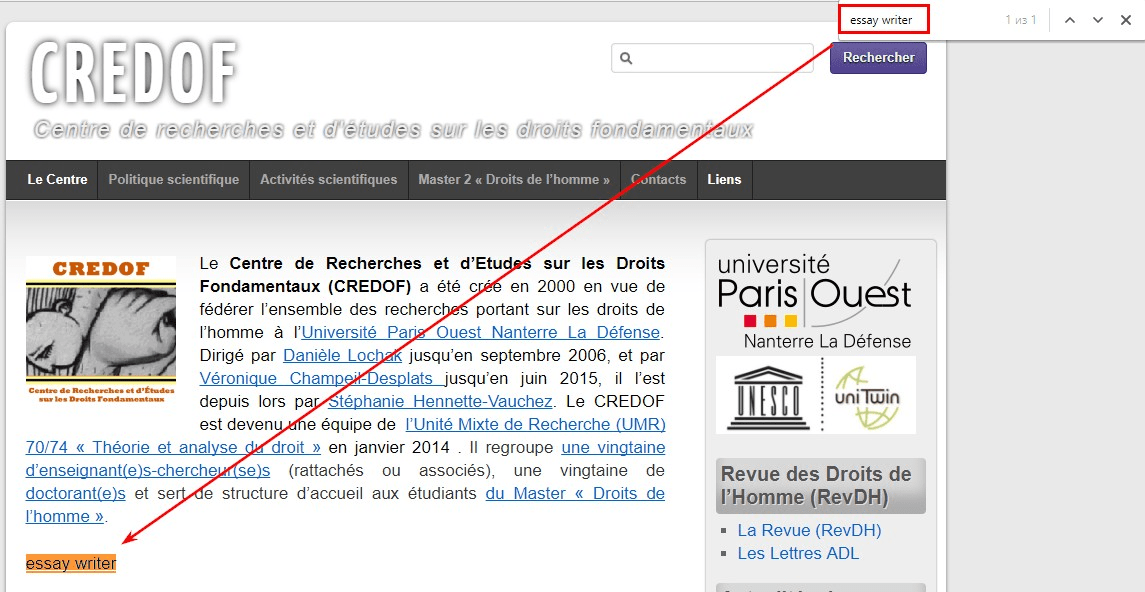 Their strategy can hardly be called "content marketing." It is just spammy link building. Weak!
Website #2: Grabmyessay
Grabmyessay uses a much better strategy. It promotes its services through articles written on related topics. It's good for promotion, and it can even lead some traffic to their page.
Another interesting approach — promotion via forums. And again, they don't write about their service, they just leave the links:

The third tactic they use — spam in the comments. They hide the link in the name of the user. Quite good, but they won't see much traffic through such links.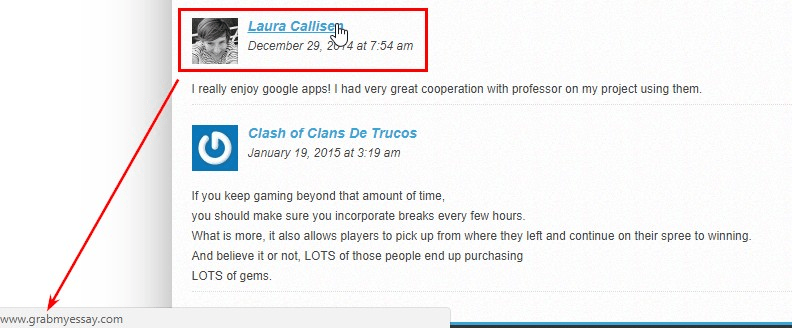 Of course, there were also some irrelevant publications: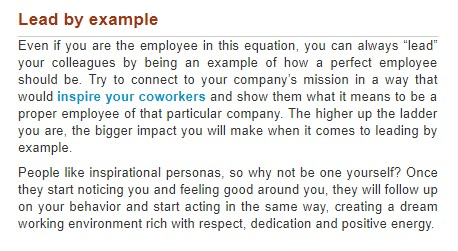 However, unlike the previous service, they also use articles on relevant websites and they occasionally produce service reviews.
Website #3: Essaypro
This company wins the title of the fairest content marketing strategy. They publish a lot of review content and many relevant articles.
They have even organized their own writing contest and provide scholarships for students:

Even if it's just for link building, they are still trying to hide it naturally:

Infographics are another great way to promote your product with content marketing and not be intrusive.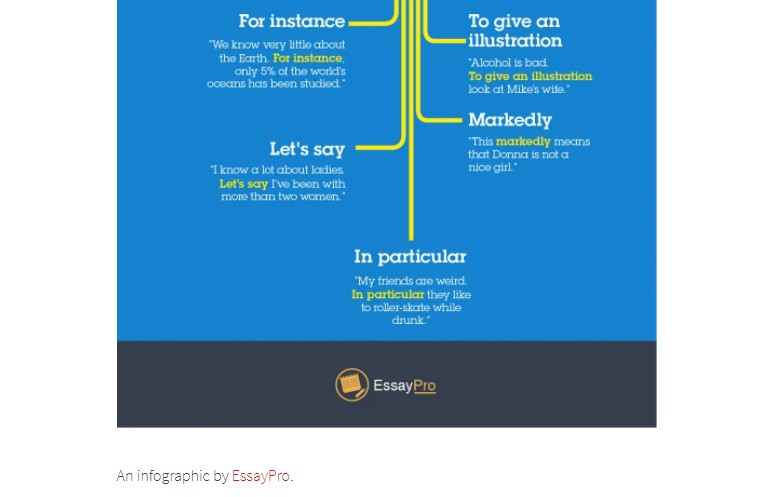 People love interesting statistics. A perfectly designed data visualization can go viral and it can lead to the success of your company.
This service often appears on the platforms of educational institutions (.edu) because of their scholarships and contests. It's always better to publish your links on trusted sites.
Even such a fair company has a fly in the ointment. Look how they used their forum and comments links:

Step 5: Analyze the Information
As we see:
All of these companies use hidden methods of advertising.
Two of them buy links on irrelevant platforms.
Only one of them actively publishes articles about their services on relevant resources and uses interesting "fair" methods like contests, scholarships, and infographics.
None of them write comprehensive articles for established resources.
All of them missed a promotion opportunity through opinion leaders. It's a missed opportunity that a competitor could use to get large numbers of customers.
This information is enough to start creating your own strategy.
Analyze how your competitor's strategy has changed and what brings them the most traffic. Ask someone who has used their services to say a word about the quality of their articles.
What's Next?
Collect all the information about your competitors in one document and keep it up to date. Think what you can get from this investigation:
If your competitors publish their articles on trusted sites, use the same sites to promote your services.
Rather than using spammy promotions, use good and relevant articles.
Make a complete list of ideas which have failed and which will likely fail for you as well.
Apart from collecting the aforementioned data, find the best platforms used by your competitors and discuss ways in which you can get the same placement. Consider the number of comments, quality of content, and level of trust for each site.
Content Marketing vs. Buying Links
When looking at how both sites are working, you can see that the one using purchased links has the lowest amount of traffic. Make no mistake, they have lower conversion rates as well. The strategy may be good for short-term promotion, but from a long-term perspective, it backfires with low positions and low conversion rates.
As opposed to intensive link building, content marketing accomplishes two tasks:
It wins a new audience, and more people hear about your product.
You get a link from an authoritative source.
Also:
Don't play around with risky tactics that can risk your search engines visibility and your brand reputation.
Manually choose each site you use for placement of your article.
All of your sources should be natural and relevant.
There are even free ways to share articles and links. You just need a few negotiating skills.
Buying links can damage your site and ruin your reputation since you don't know where your link will appear. On the other hand, when sending your article to some reliable site, you can negotiate where and how your link will appear on their site.
Final Thoughts
External content marketing is a complex interaction with the target audience through content. It is done to increase brand awareness and customer loyalty.
By analyzing competitors' backlinks, you will discover:
Who speaks about your competitors (large platforms, experts, specialists, bloggers).
What they like to discuss (what kind of content usually causes a hype in the comments).
How competitors interact with the audience.
What kinds of content they distribute.
All their strong and weak points.
Learn from your competitors' mistakes, take their interesting ideas, improve them, adapt them to your site, and create a reasonable content marketing strategy. You now have a strong instrument to gather intel about your rivals through backlink research, so you can outperform them in fair competition. Or maybe not so fair, there are always some casualties when you are struggling in business.
---
Image Credits
Screenshots taken by Sergey Grybniak, September 2017