Interlinking your sub pages is a great way to both improve your rankings by using keyword-targeted anchor texts and also increase the crawl rate and depth (as well as click-through).
While linking to your older articles when writing the post manually is a must, taking advantage of some smart automation is also a good idea.
The best WordPress plugin I have ever seen that does smart, automated and highly customizable interlinking is called SEO Smart Links.
SEO Smart Links can automatically link keywords and phrases in your posts and comments with corresponding posts, pages, categories and tags on your blog…

SEO Smart Links looks for keyword phrases that match the titles of your posts and pages (as well as categories and tags). These phrases are then turned into the links.
Let's see it in action. The site that I've used it for is DailySEOTip because it has a lot of content from guest contributors which naturally should be properly inter-linked. You are welcome to browse the site and see how the pages are interlinked.
Now, let's see all the options and features.
Option 1: Set Types of Pages to Interlink
First off, you can change if you want to link from posts or if you want to include pages as well (I chose posts).
Then you can set which types of pages you want to link to:
Posts;
Pages;
Categories;
Tags.
For tags and categories you can also select how many times they were used to be included in the interlinking scheme.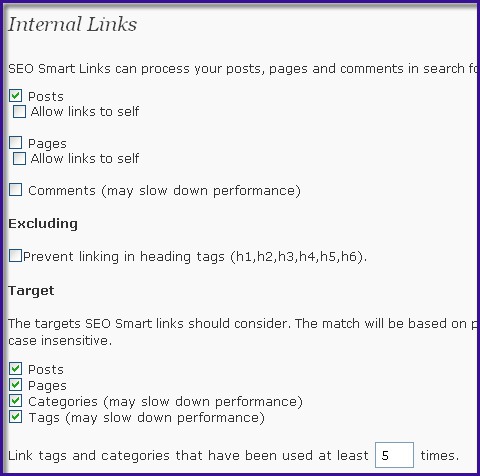 Option 2: Ignore Keywords, Posts and Pages
You can exclude any keywords or pages from being interlinked:
Provide page IDs, slugs or names of the pages to be excluded;
Provide keywords you don't want to be turned into internal links;
Provide direct URLs of the pages you don't want to include: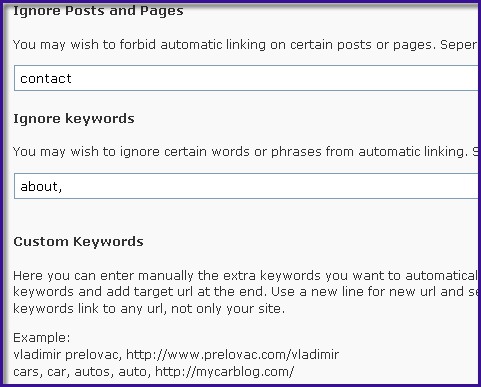 Option 3: Set Limits of Links
To make sure there are not too many linked content on each page, it is a good idea to set the limits of links per page:
You can limit the maximum number of links SEO Smart Links will generate per post.
You can also limit maximum number of links created with the same keyword. Set to 0 for no limit.

You are done! Now, just hit save and go browse your site to see what has changed!

So simple, absolutely free and the whole process (from downloading to running the plugin) will take you no more than 10 minutes! No excuse for not trying it!