Microblogging has been a hot topic recently. It has become a major source of news, a great way to find help and one of the new tactics to promote your business.
While I can find time for only Twitter, I know many people who are quite active at a number of micro-blogging platforms. How they manage to do that is up to them but if you want to spread your word throughout several services here is a cool desktop tool for you: Posty.
Posty let's you micro-blog simultaneously at a number of platforms: Twitter, Jaiku, Pownce, Tumblr, Friendfeed and Identi.ca.
Of course, if you are followed by one and the same person throughout a number of microblogging sites, this can be disturbing for him but you can still use the tool from time to time to alert all your followers of some really important news.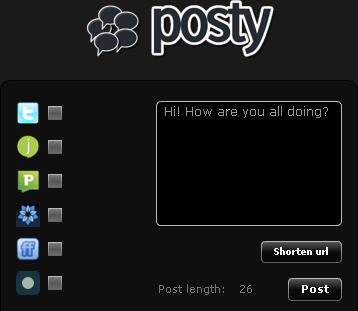 "Posty is an Adobe Air application which runs on Windows (2000/XP/Vista), MacOsx (10.4.9 or more). Apart from some feature not yet implemented by Adobe, Posty is claimed to run also on Linux"
FireStatus is a new experimental (i.e. you will have to login at Mozilla to install it) FireFox addon that lets you easily post simaltenuously to Twitter, Facebook and Friendfeed. It also displays updates from these services in notification popups, for a more "live" communication with your friends.
That's an easily customized handy "status update utility" located at the bottom of your FireFox: