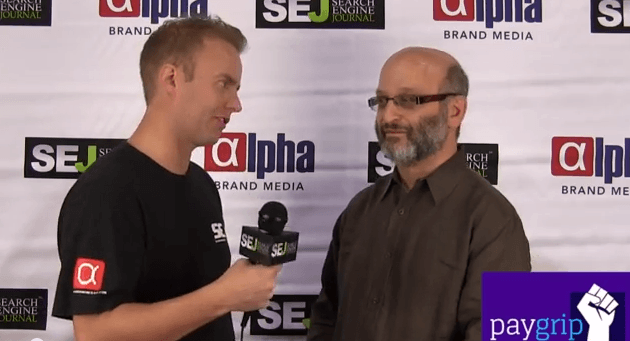 A big thanks to our Pubcon 2013 SEJ Lounge sponsor, Paygrip: "the most powerful payment processing platform in the world."
In an interview conducted at Pubcon 2013 in Las Vegas, Alan K'necht of Digital Always Media gives some helpful tips for measuring your success on social media.
With the amount of time we all spend on social media, how do we know what we're doing is effective? I began the interview by asking Alan to share some of his advice for us. Hear what he has to say in the video below:
Here are some key takeaways from the video:
Social media is more of a long-term strategy compared to other things that are measured quickly and easily like PPC advertising.
Alan describes four steps for connecting with customers on social media. First they have to know you exist, then you have to encourage them to take some kind of action such as visiting your website. When they're on your website you're going to want to add them to your e-mail list with a free offer, then sometime down the line you entice them with an e-mail that leads to a purchase.
The hardest thing for businesses to understand, Alan says, is with social media you're investing in people. Not instant results.
Any type of business can benefit from social media, as Alan suggests, because it leads to quicker interactions with customers that could lead to conversions.
Businesses shouldn't be shy to promote their social media pages during face-to-face interactions with customers. There's no better time to ask customers to like your page, or even better, leave a recommendation.
The amount of customers you get from friends of people who have liked or recommended your Facebook business page is one of the best ways to measure social media success.
If you have any questions after watching the video, for either myself or Alan, ask them in the comments section and we will do our best to respond to everyone! Please visit SEJ's YouTube page for more video interviews from Pubcon 2013.