This is a story for the 'Seed Man'. I do not know, nor do I have any affiliation with, the aforementioned 'Man of Seeds'. However, if you read this Mr. Seedman, please feel free to use this strategy and profit from your increased traffic.
Would Senor Seedman rather see a ranking like this (I know, #1, pretty good)? Keep in mind that the arrow pointing to 'Results 1-10' does have a purpose to be revealed shortly.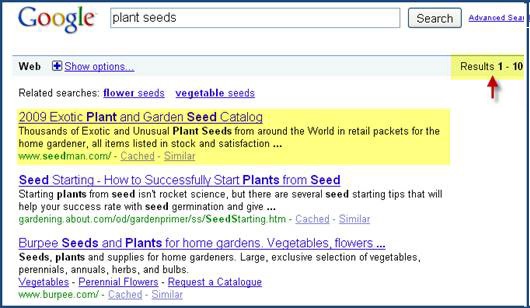 Or would our seed selling friend rather see a ranking like this? Also, notice that little red arrow now points to 'Results 1-20'.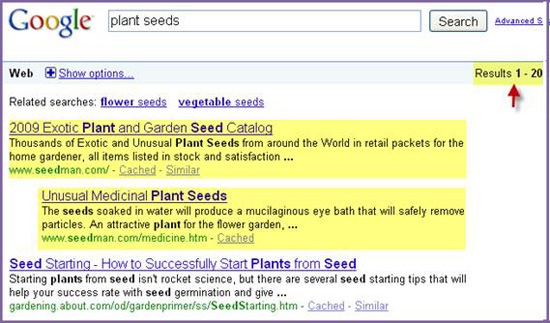 All things considered, I'd say he'll get more seed buying folk to come visit his site with the #1 and #2 (or #1, #1A) ranking than with the standalone #1.
Note: It is for example purposes only that I'm going to say Slim Seedy wants the second listing to be 'Unusual Medicinal Plant Seeds' (as seen above). I would probably not think this is the real world case. He more than likely would want a different page to appear.
How did I get the indented listing to appear in the SERP?
As it turns out, Google likes to combine results from the same site (sub-domains are treated differently) that rank on the same page.
Meaning: If you rank #1 and #10, you will appear #1 and #2 when Google combines the two.
The reason the first example only has 1 Seedman.com result is that I used a standard search query (seen in the top right of the page) showing only results 1-10. In other words, I searched for 'plant seeds' the way anyone would.
However, I wanted to see if there was an opportunity to plant more seeds on Page 1.
To do this, I need to see if there is another Seedman.com page liked by Google in the vicinity of Page 1 (or just get one there, but that's another post).
So, I appended '&num=20' to the search string causing my Page 1 to now display 20 results. If Seedman.com has a second listing, which he does in the second photo, I know that he must have a result on Page 2 since Google has now combined the two (Note: Any number can be appended to see as many or as few results as you'd like).
google.com/search?hl=en&q=plant+seeds&sourceid=navclient-ff&rlz=1B3GGGL_enUS345US345&ie=UTF-8&num=20
Aside from this little trick, I would highly suggest using some of the more sophisticated free for 30 day SEJ Tools to help identify areas of opportunity.
Matt Leonard currently directs SEO, SEM and Revenue Management for Cruise Critic, the world's largest cruise site and part of the Trip Advisor Media Group. You can follow Matt Leonard on Twitter to keep up with his updates. Feel free to ask about his latest charity project, 'Tweet for the Cure', to benefit Susan G. Komen for the Cure. The opinions expressed are that of Matt Leonard and not necessarily those of Expedia, Trip Advisor or Cruise Critic.