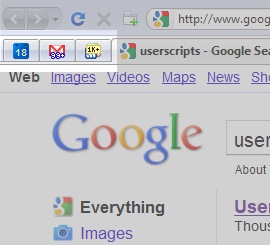 I love tabs and have played with multiple addons to make the most of tabs in FireFox. One of my best discoveries ever was a handy little addon with a very basic but ingenius functionality: Faviconize Tab helps to manage a tab jam by adding an option to minimize each tab to its favicon (and thus keeps it always in front of your eyes).
The addon turned out to be an awesome task management tool: I use it to sort and organize urgent tasks, create daily reading lists, etc. (Note: Google Chrome has this functionality by default and FireFox 4 calls it "App tabs")
And recently I have discovered another great way to supercharge that tiny favicon area by adding more information to it.
Today's post is about using favicons to update you on essential information from your Google Mail, Google Calendar and Google Reader accounts.
1. Add Unread Message Count to your Gmail Tab Favicon
1. Gmail Unread Message Count in Favicon is a cool, simple userscript that allows you to easily see how many unread messages you have without the need to switch back to the Gmail tab. The count updates in real time: as the number of unread messages changes, the favicon in your Firefox tab will change accordingly.
The maximum number displayed is 99. If you have more messages, it'll show "99+"
Additional fun:
Color of the unread message number in the icon glows brighter as number increases: "0" is green, "1" to "99+" gets brighter.
Envelope icon flashes orange when you have a new chat message.
There are different Gmail icon colors for different Gmail account types (with the options to customize the icon): a red envelope icon by default, blue envelope icon for hosted (Google Apps) email accounts.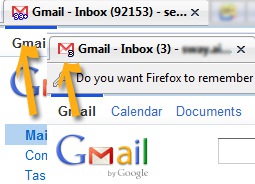 2. "Gmail Favicon Alerts 3" is another userscript that adds "distinctive" numbers to your tab:
A blue icon lets you know you have unread mail. Numbers in the foreground indicate how many;
A red icon means you have no unread email;
A Speech Bubble icon means someone has sent you a chat message.
A really distinctive feature of this script is that it shows the actual number of messages no matter how many you have: no maximum number here (a good feature for those that have inboxes with gazillions of unread messages):

Supported browser: FireFox
Bonus! (not a user script): Unread message icon is a new Google Labs Project that does the same thing for all browsers.
The maximum number of messages it will count to is 100. Beyond that will be reflected as "100+".

2. Add Current Date to Google Calendar Page Favicon
A lot of people like the new Google Calendar favicon but yet some wonder why it always shows "31" instead of the current date. Now, here's a reason for you to always keep your Google Calendar tab open and / or faviconized:
Google Calendar Dynamic Icon changes the number on the Google Calendar favicon to reflect the current date.
Simply awesome!
Before:

After:

3. Unread Items in Your Google Reader
GReader Favicon Alerts is a cool simplistic user script that does just that: it updates you on the number of unread items in Google Reader.
The maximum number shown is 999; higher numbers are reflected as "1K+":

Note: most of this userscript functionality is available in a Google Chrome extension called Favicon Alerts.
Do you have any other great favicon-related user scripts to share? Please let us know!