Writing for blogs lends itself to many useful possibilities. You're regularly updating them with fun and informative content, which makes for a fantastic resource for anyone who comes across it. However, if you've been thinking about creating an ebook from the same kind of niche, you may be lost as where to start. Well, the best place to begin, ironically, is your blog – you can easily turn it into an ebook without emptying your pockets. In fact, you can technically do it for free!
There are many possibilities as to what you can create and what your goals could be. You might want to produce a mass market read for purchase or a free ebook that any of your readers can download. Or a piece that is formatted for a portable e-book reader may best suit your audience, or even something light enough to be sent as an e-mail attachement.
Optimize your content for offline reading (let your readers take your content with them while traveling, having a vacation, etc);
Repurpose your content for more exposure!
Whatever you want, these tools can help you to get it.
Anthologize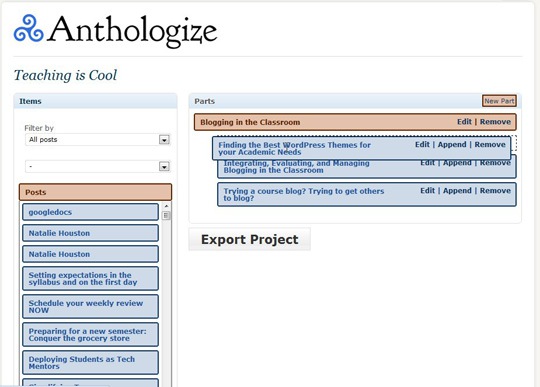 Anthologize is one of the most popular tools for online blog conversion on the web. That's because it's a WordPress plugin, and WordPress remains the format of choice for most blog owners due to its ease of use and heavy options features for extras.
You can download the plugin directly to your blog, and to activate it just upload the zip file to your plugins folder from the main dashboard.
You will see two new sets of categories. The one on top is the 'Imported Items', where you can import data from other sites through an RSS feed. This makes it easy to compress more than one blog into your converted ebook.
The second tab is 'Anthologize,' with the options 'My Projects,' 'New Project,' 'Export Project' and 'Import Content.' You can filter all content using tags and then sort it into categories, which will help with the formatting when the time comes for the ebook conversion.
Once you've decided what content you want to use, you can start creating 'Parts' or chapters. First, create a new part, then drag and drop the posts that you want to include. Any images in your posts will be included as they appeared in the post.
Personalization is easy to do. You can create a dedication page, which can be handy for mentioning affiliates, other websites or even your readers. You can change the font sizes and do any final edits, and then select what format you want it in (such as a PDF or ePub). Unfortunately, this will end up with a copyright notice showing that it was created using Anthologize. Some bloggers don't like this, but it's a minor concession for using a free program.
Zinepal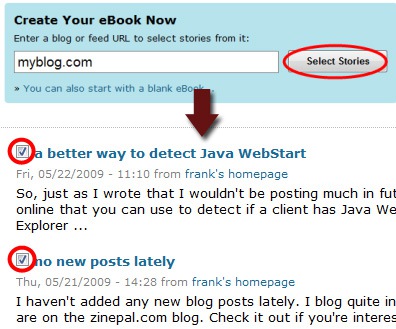 Zinepal is a program that was created for those who want to convert a site into an ebook, but don't have a WordPress blog. It works as a website-based uploading dock, where you can enter the URL and browse through which posts you want used for your ebook. You can also start with an ebook that is blank and can be filled in with doc files and text.
Once you select an URL and are able to sift through the posts, you will notice that only the most recent posts are listed as available for you to choose from. This may pose as a bit of a hindrance for some people, as there are less posts in your immediate selection. But never fear, you can bypass this by using the bookmarking tool which enables you to choose from older posts that you can then add in. This skips the whole RSS feed method and just gives you a more direct line to all posts on your blog.
There are three formats you can convert the ebook into: PDS, ePUB, and Kindle. You can preview in any of these and change the formatting accordingly.
Customization is pretty simple. You can change fonts, size, columns and numbering. You can also add in any logos and special items to advertise your company or blog.
Suggest Your Own!
Obviously, these are only two of many products that are out there for ebook conversion. I chose the two I have found easiest to use for both WordPress and non-Wordpress bloggers. Do you have one of your own you would recommend? Suggest it in the comments!