Blogs are different from static sites: they are more complex living organisms – communities of people who share thoughts – in contrast to a static source of information. Therefore it actually isn't that easy to measure a blog's popularity and power. Plenty of factors may come into play:
overall traffic;
sites linking in;
pages/ individual posts citing it;
the level of readers' participation (i.e. comments);
regular readers (i.e. subscribers);
rate of growth;
content quality and freshness; etc.
All these factors should of course be measured based on the niche the particular blog is set up in.
I am going to look into 3 popular web-based tools to learn which factors the take into consideration when measuring blog power and comparing it:
1. Trifecta estimates the average of the following scores: Yahoo! Explorer backlinks, site Alexa rank, Technorati rank, Google BlogSearch Links, Google URL mentions, Technorati authority, Home page PR, Domain PR, Compete Rank and Quantcast Rank. You can compare your score to prominent blogs in any category and find the resources to improve your blog's power.
2. Blog Juice looks into 4 sources of data:
Bloglines subscribers (accounts for 40% of the overall score);
Alexa rank (accounts for 15% of the overall score);
Technorati rank (accounts for 30% of the overall score);
Technorati links (accounts for 15% of the overall score).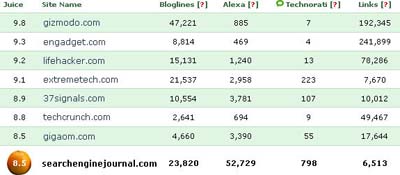 3. Adage.com Power150 list is not a tool but deserves attention due to the fact that it includes rather a subjective metric into its algorithm (that demonstrates the blog can't be evaluated by mere numbers): Todd's rank – the score given by the list creator by reviewing "frequent, relevant, creative and high-quality content" plus "the use of audio, video and graphics".
Apart from the creator's rank, the list also evaluates Yahoo! inbound links, Technorati rank, Technorati inbound links, Technorati inbound blogs, Collective Intellect rank, Alexa rank, Bloglines subscribers and Google PR. What's more, the list will also show you the ranking change (if any) next to the blog that has changed position: