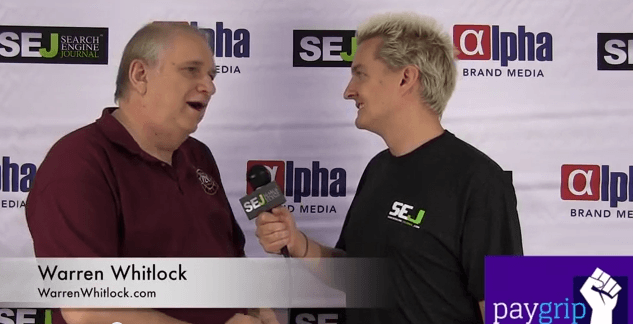 A big thanks to our Pubcon 2013 SEJ Lounge sponsor, Paygrip: "the most powerful payment processing platform in the world."
In an interview conducted at Pubcon 2013 in Las Vegas, Warren Whitlock discusses how he built his personal brand and how others can do the same
Warren and I discussed everything from how he built his name up as an authority in online marketing, to how to get publicity, to how to create quality content that people will want to keep coming back to you for.
Hear Warren's valuable advice in the video below:
Here are some key takeaways from the video:
Warren started building his personal brand by writing a book so he would become known as an authority. As he says in the video, it worked.
Getting publicity for a book is a lot like creating content that ranks well in search engines. You have to write for people first and people can understand the difference between good quality content and spam, so write a good book.
Before writing a book, Warren says you should build up a following of people who believe in you and what you're saying. One way to do that is by publishing a blog with good content.
Warren describes good quality content as being something that isn't packed with keywords. Relevance and authenticity is key.
If you have any questions after watching the video, for either myself or Warren, ask them in the comments section and we will do our best to respond to everyone! Please visit SEJ's YouTube page for more video interviews from Pubcon 2013.