The SEM Expert's Guide To Google Display Ad Builder
Maybe you've taken Google's Display Ad Builder for a test drive. It's a handy tool with a few quirks, somewhat limiting, but at the end of the day, it can be hacked to your great advantage if you're a search engine marketer with sparse access to design resources. In this post, we're going to explore ways to build really solid ad creative, 100% designer-free.
How does Display Ad Builder work?
If you've never run across the tool before, you'll want to find it under the "Ads" tab in a given campaign, as you expand the "New ad" drop down Check out the screenshot below and identify the "Display ad builder" link in the menu.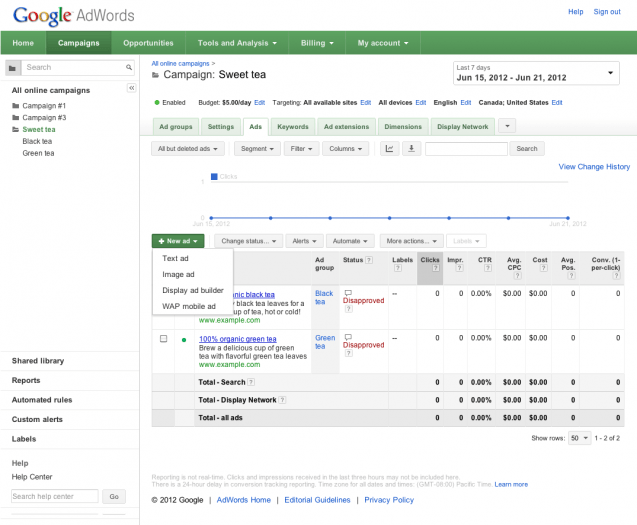 The creation screen looks like this: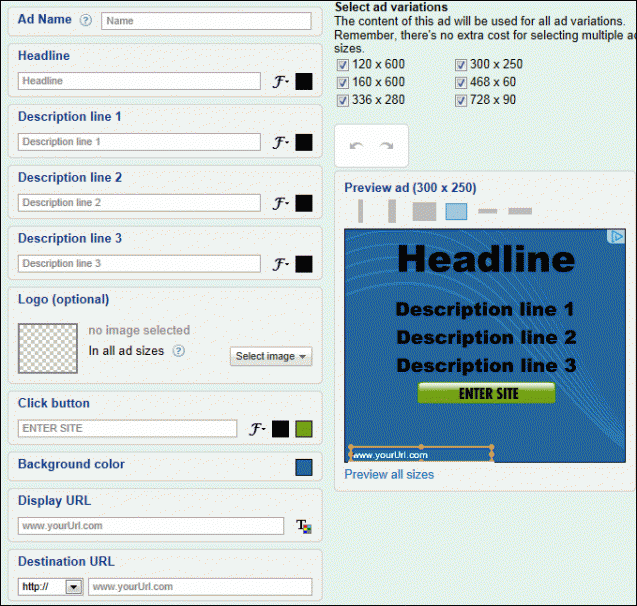 All that's left for you to do is to choose a template, pop in some ad copy and text for your call to action, put in a display and destination URL, and you're off to the races.
Which templates should I use?
There are hundreds of templates, but if you're not selling electronics, or flowers, or something else very popular in the e-commerce / retail world, you can scratch a slew of them off the list. The images pre-built into some of the templates will be too specific to those markets (e.g. cell phones, laptops and the like).
If you're in e-commerce and have product images to share, there are many templates that are handy for dropping in several product images and focusing the creative around those.
If you're in a niche market and don't find relevant imagery, your best bet is the category called "All purpose" where you'll just need to put a few lines of ad copy against a generic pre-designed background and drop in a logo or an image or two.
How do I make my ads awesome?
Write smart copy.

Don't stress over the template, as there aren't as many designs as you'd like. Pick something simple and overcompensate by writing a few powerful words.
Bad: We can help you get your campaigns performing 300% better. How, you ask? It's easy! [Click here]
Better: 3x ROI with one simple trick. [Learn the trick]
Don't try to do too much.

You only have a few words to work with. Display ads are small. Be sure it's clear exactly what's being advertised.
Bad: No closing cost refi! No SSN, No Closing Cost Loan. [Call now]
Better: We help 1st time home buyers get a fair mortgage loan. [Compare rates]
Vary the call to action. Do some testing. Be playful. Calls to action should be short, punchy and compelling.
Learn more
Get started
Talk to us
Check it out
Hook me up!
Browse styles
[Phone number directly on the button]
Tweak colors to match your branding.

You have all the tools to mix up the background color, call to action button, etc. Use them!

Test animated ads against static ones.

There are a few animated templates that are generic enough to fit your brand. Peg them against static ads and measure click through rates a few weeks in.
There are a few best practices to think about. The Google team has written up some of them on the AdWords blog, which you can check out here.

Typically it's best to have campaigns that are targeted to the display network only, and within them, to run display ads in their own

adgroup

, and text ads in a separate

adgroup

Transparent .

png

files are a nice touch if you have time to build them, so you don't get the big awkward white border around your image if the background is a solid color
Tip: if you have Photoshop, learn to create a transparent .png here. If you don't have Photoshop, and you want to do this for free, check out this video on how to do it using Paint.net, which is freeware.
Don't forget that images you upload into the ads have to be 50k or under in file size
Now go make some killer ads and impress the too-busy-to-give-you-the-time-of-day designer in the next cube.