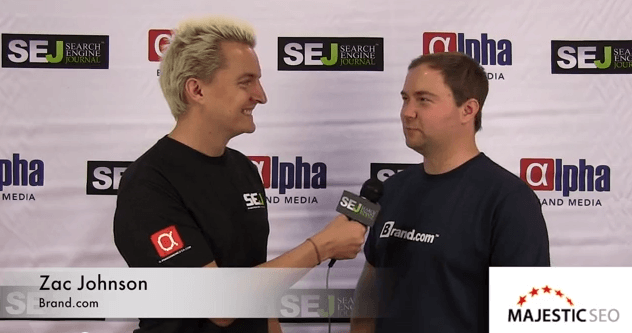 Sponsored by Majestic SEO, "Bigger, Better, Faster."
In an interview conducted at Pubcon 2013 in Las Vegas, Zac Johnson of Brand.com discusses how to build a brand and effectively manage its reputation.
I began the interview by asking Zac to provide some tips on how to build a great brand online. Hear his advice in the video below:
Here are some key takeaways from the video:
Zac recommends to start building your brand by identifying the top people in your industry and reaching out to them to see if you can write for their website. With this strategy you have a built-in audience already interested in what you're writing about, which means they may go ahead and visit your website.
The bottom line, according to Zac, is building a brand is all about becoming the authority in what you're good at.
If someone is hating on you online Zac recommends to get all the good publicity about you to rank higher in the search engines. As the positive content about you ranks higher it will push down all the negative content.
Brand.com provides you with tools to track mentions of your brand along with helpful tips on how to manage your reputation based on those mentions.
If you have any questions after watching the video, for either myself or Zac, ask them in the comments section and we will do our best to respond to everyone! Please visit SEJ's YouTube page for more video interviews from Pubcon 2013.