The easiest way to lose a prospect or customer is to provide a poor customer experience. Even when it is unintentional, making someone feel unwelcome will leave a bad taste in anyone's mouth.
In the digital age, we are faced with more competition than ever before. Our customers and clients have plenty of other options, and they will move on if you don't meet their needs or expectations.
When your business is online (and it should be), the opportunity to lose or upset a customer increases, because your perceived availability increases as well. The internet never sleeps, but you do – and your competitors might have arranged for around-the-clock sales and support coverage. So how do you keep from losing or upsetting people when you aren't around? There are plenty of ways to make your website more service-centric.
Here are a few examples of how to do it:
Use Your Customers' Information to Benefit Their Experience
If a customer has visited your site more than once, given their email, or even purchased something, you can use browser cookies, account login data in a CRM and marketing automation tool like GetResponse or Marketo to ensure you're collecting data on them. This will increase the impact of your personalization efforts and reduce friction in the long run.
Make sure your customer service team has your audience members' information readily available and can easily help answer their questions by knowing about their purchase history, pages viewed, geo-location, past support queries and so forth.
You can also use these tools to serve up targeted product recommendations, to send event-triggered messages and to auto-fill forms when they want to check out or contact you. At the very least, your content pages should stop encouraging people who have already subscribed to opt-in to your email list. Little things like this can make a huge difference when trying to make and keep customers happy.
Here you can see example of tagging and scoring previous visitors to help your sales team better understand their potential need through marketing automation: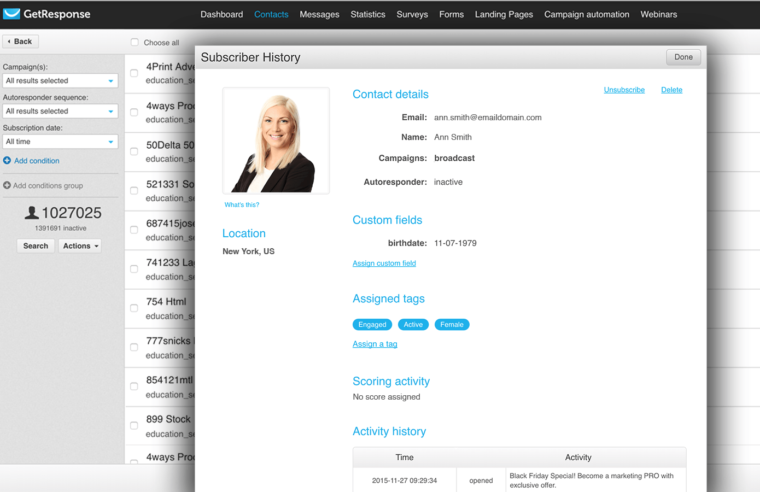 Make it Easy for People to Reach You
This may be the most important thing you can do to improve your website's customer service. If your customers are unable to easily connect with you via your website, they won't bother to reach out to you, and that can lead to a loss in business. The first thing to do is make sure that your company's contact email, address and phone number are displayed prominently on every page of your site. This not only helps with customer service but in local search as well. Let Google and your customers know that you are a real business with everything that a real business comes with, like an address.
If you want to step up your game, you can add chat function to your website. Tools like Bontact allow your customers to connect with you instantly via their multi-channel chat solution. The customer can initiate live chat and they will even have the option to migrate their chat from your site to a communication channel that is better for them, like Facebook Messenger, Skype, phone, SMS, or email. The chat box is easy to install into many types of CMSs, including WordPress, Wix, and Shopify.
Other tools enable marketers to set up rules for automated live chat responses.
Have a Mobile-Friendly Website Design
There may be nothing more frustrating to a user than landing on a website from their mobile device and finding the site is optimized for desktop only.
This makes the site hard to navigate, and will instantly increase your bounce rate. With mobile traffic now exceeding desktop and tablet combined at 51% of all traffic, if you aren't mobile friendly, you are alienating and delivering a poor experience to over half of your visitors.
If you don't have the resources to hire a professional to build or rebuild your website, you can use tools like Duda or Squarespace to easily create responsive or otherwise mobile-friendly websites. Ideally, you should have a WordPress site that is responsive, but if that isn't possible, the templates offered by these site building tools will work fine.
Here is an example of how Weebly allows users to see the mobile version of their site in real-time: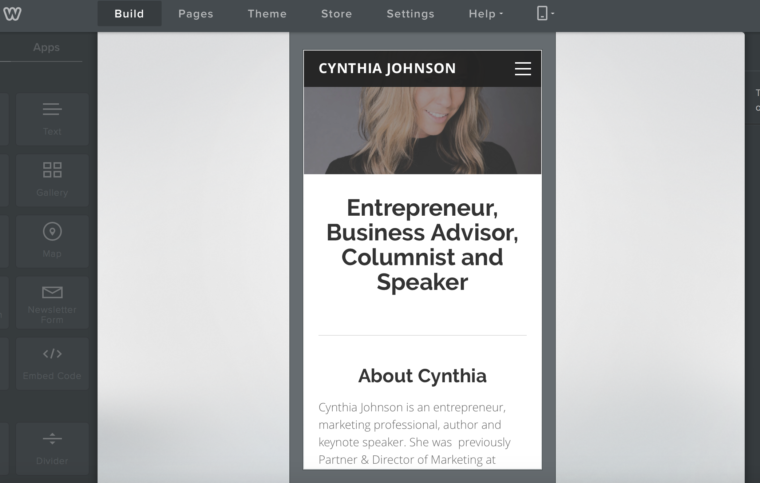 Pay Attention to Reviews and Rants on Social Media
It can be so frustrating when the social media and reputation management teams are not in sync with a company's customer service team. Many people these days like to post reviews, comments, customer service issues, and mentions of businesses on social media. It is imperative that customer service teams monitor this social chatter and review sites to ensure that all inquiries are being handled in a timely and helpful manner.
There are also several listening tools that a team can use to receive alerts when there are comments, reviews, and inquiries. These tools range from advanced technology that helps users identify the type of inquiry and will suggest a response, to simpler tools that will simply alert your teams that the review exists.
A few listening tools that are extremely useful in this regard include Sprout Social and Hootsuite. Of course, as I previously mentioned, there are also more sophisticated tools for larger organizations.
Above All Else, Listen and Respond
It doesn't matter what you do to improve your customer service if you aren't really listening to your customers to begin with. Make sure that your customer service teams are trained, available, and that they always follow up.
Image Credits
Featured Image: coolfonk/DepositPhotos.com
All screenshots by Cynthia Johnson. Taken September 2016.