Obviously there are plenty of occasions where you would want to analyze your (or your competitor's) internal pages strength. Most often these include:
you want to deeply analyze how strong your competitor is;
you plan to get a backlink to your site (note: I didn't say 'buy' – how you are going to get it is up to you ;)) and want this backlink to be placed on the most powerful subpage;
you want to find a page on your own site with the largest potential to make the most of it.
A website internal power analysis may include two approaches: taking only external factors into consideration (number of backlinks, page age/freshness, Google PR) and focusing on internal site factor – i.e. a page relevance.
Finding the site most powerful page (relevance factor put aside):
1. SEOQuake SEObar Internal links option – examines all internal links of a page by fetching Google PR and Yahoo backlinks data. You can sort the links by any of the parameters and see which page is the strongest based on this info: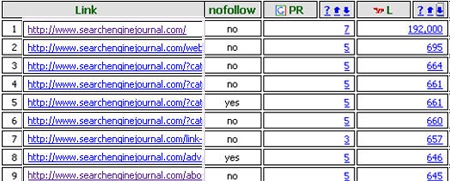 2. BlogStorm backlink tool analyzes a blog internal links by exploring its sitemap.
Unlike the SEOQuake SEObar it will find all site subpages (not only those that are linked from the current page) but it lacks sorting feature – that would make life much easier if you are working with a huge site).
Finding the site most powerful page (relevance factor included):
Search [site:yoursite.com keyword] in Google and Yahoo and compare the results.
While I tend to recommend focusing on Yahoo! view of the site subpages; that's always good to check what other SEs think about the site internal power. Per my observations, Google tends to rank newer pages higher (even if they are not completely relevant), while Yahoo focuses on highly relevant established subpages (that's where you probably would want to place your backlink).
By the way you can enhance this type of research by taking advantage of either SEOQuake or SEO for Firefox plugins that will show you each subpage backlinks (and their quality), age, Google PR, etc.