Since the time I bought iPhone and started spending more time outside with my daughter, I have found that having an audio version of a blog post may actually be really, really useful! Just think about that: users may be given an opportunity to listen to your content while on their way to the office, while jogging, while in an air plane, you name it!
Thus I decided to find some way to create an audio version of my own blog. My first impression was that there were quite a few of tools allowing to do that. But some of them turned out to be paid, others seemed broken – so in the end I was left with only one option: Odiogo. So I am sharing the whole process here:
Go to Odiogo and sign up by providing your email and blog RSS feed URL (note: your feed needs to retrieve full posts, Odiogo won't work with extracts). For information on how to activate RSS full text option on various platforms, refer to Odiogo FAQ) . After this step your podcast feed is already created.Your blog dedicated page looks as follows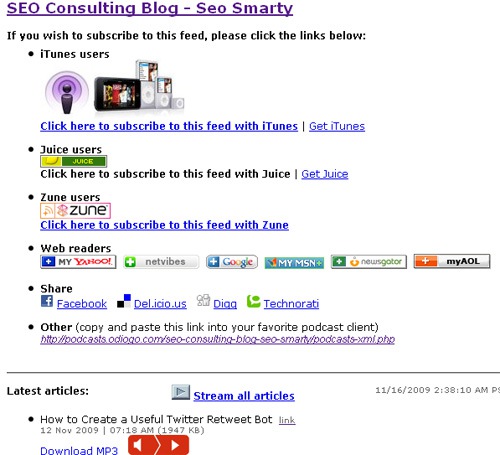 whereas your blog feed that can be integrated in any podcast client looks like this: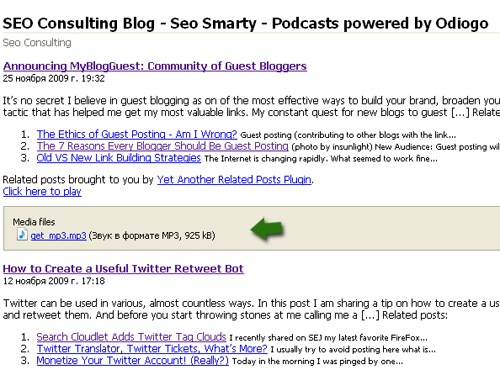 To integrate it to your blog, you'll need to take the following steps:
1. Wait for the confirmation email which looks as follows: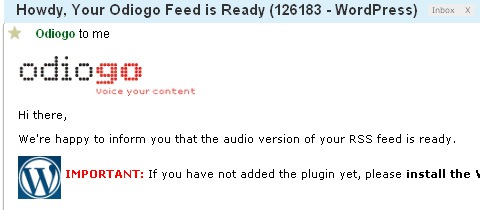 2. Install the plugin (with new WordPress versions you can do it right from the WP-admin panel) and activate it.
3. Go to Settings > Odiogo Listen Button and activate your account by providing your feed ID you received in an email message:

4. Now you should see a "Listen" button underneath the title of each post on your blog. When you click the button, the text is shifted a few lines down and a control bar appears from which the MP3 file can be played/paused.

Warning: the player may not always be available (especially for older posts) but the mp3 and iTunes downloads will always be there.
Link under the player provide with a few more options
Grabbing iTunes download;
Streaming the MP3 files
Subscribing to the podcast version of the blog
Listening to older posts MP3 files, etc.
5. You may also want to add a subscription link to your blog sidebar (ala feedburner), to do that: go to Widgets and drag the "Odiogo Subscribe Button" to your sidebar: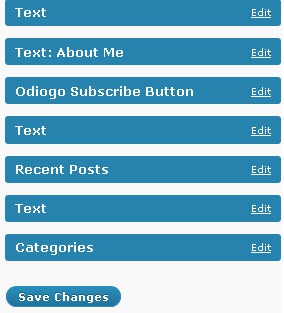 After that the button looks like this: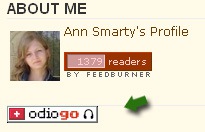 Odiogo also supports two more blogging platforms:
Are you aware of any other similar tool as (being nice tool overall) Odiogo not always behaves the way it is supposed to, so I'd love to try another alternative.