Let's face it, the more people you follow, the more challenging it gets to notice all important updates on Twitter.
To me, following fewer people is not an option because I think this is anti-social. I follow back every single Twitter profile that seems valid and is related to one of the topics I love (like search, social media, blogging, etc).
This way, as of today, I am close to following 3300 people which makes it really hard to really "follow" what everyone says.
The clutter is enormous. All of my Twitter friends (as well as myself) retweet each other multiple times which makes the clutter even heavier.
So how do you make sure you are properly updated of news coming from your Twitter friends?
I am aware of two tools that seem cool for that (please add yours in the comments!).
Cadmus
Cadmus is the web based tool that claims to group your friends' Tweets to help you focus on what's important. I do wish it had some desktop application but the online version works pretty well to make it worth having the site bookmarked and checking it a few times a day.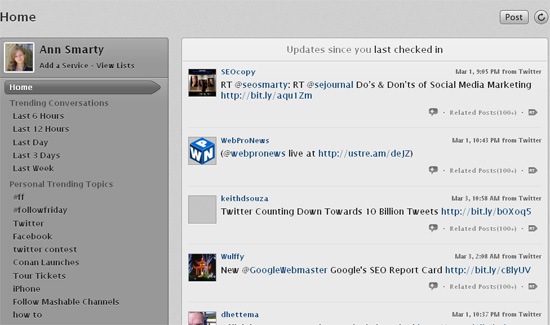 Each unique entry has "Related" tweets section containing similar conversations (those containing similar keywords). So if you get interested in more details, you can click on "Related posts" link: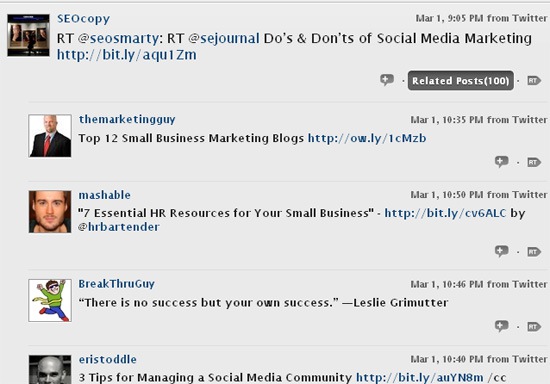 Here's my stats for example:
Cadmus has analyzed 108,411 of your updates and grouped 32,892 related ones, around 30% of all your updates.
Another great feature is "Personal trending topics" which are like the trending topics in Twitter but it is just from the people you follow. This seemed like a great way to find out what your friends are buzzing about.
ReadTwit
ReadTwit, the tool I previously covered, allows to subscribe to your friends' updates using Google Reader. The best thing about the tool is that it:
Filters repeated links in ReTweets;
Allows to exclude any user or hashtag from your feed (I wish there were also an option to follow only selected users).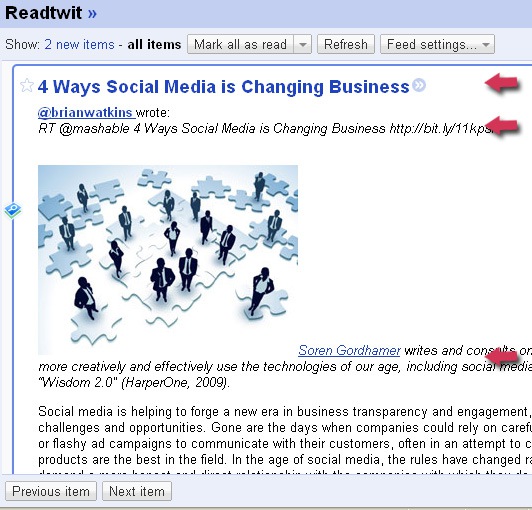 So how do you manage to keep an eye on what your friends are tweeting about?