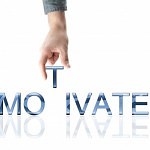 Successful SEO is all about leveraging the right amount of motivation. There are a lot of technical aspects of SEO. But really, take all the techno-mumbo-jumbo away and what you're left with is concepts of how to motivate search engines to pay attention to your site and apply the right amount of "value" to it so that you rank better for your keywords.
SEO is almost that simple. Just apply the right amount of persuasion and you get the results you want. But like most things, persuasion is an art that relies on timing, concern and demonstrating the value in the desired action to the persuadee.
In short, if you want to motivate a search engine to rank your website, focus on persuading your customers. Search engines only want to give their searchers what they want, and if they want you, then you've done your job!
How to Motivate Your Customers (and Search Engines)
Motivation is a funny thing. You can try to encourage people to do something by telling them the features and benefits of what you are offering, but sometimes it's just not enough. Talking is just talking. People talk all the time, but they feel even more.
Most of us can write pages of content about our business. But shoppers want more than content. They want to feel what is behind the content. There is something that motivates you as the seller, and that information is important to convey if you want to motivate your audience. If you craft your message right, you can convey your feelings using words. Poets, songwriters and authors do it all the time.
Let's look at a few examples.
Fast food restaurants use words (and pictures) to make you feel hungry. Rarely do you see a sign that says "eat" with a picture of some random burger in the display window. No, instead, you learn about the burger through the words and pictures. And it's not some random picture, it's the perfect picture, the one most likely to stir your stomach!
Non-profits raise money by making you feel sad, important, angry, helpful and a whole host of other valuable emotions that get you to take action. And it's almost all done with words (and, again, some pictures). But it has to be the right words, because, "Hey dude, like, would you donate to my charity. Please?" doesn't really motivate anyone.
Employers motivate by making their employees feel valuable and important. Good bosses give their team a sense of control over the direction of the department or company, all because of the work they do. Is this all just lip service? It shouldn't be. Feelings only last so long as the actions behind them support it.
In advertising, online marketing and SEO you can create powerful words and pictures that make people feel what you feel.
You can create feelings of pain, anger, relief, desire, attraction, want, hope, satisfaction, love, etc. If you really want to close the sale, make people feel like what you are selling is important in meeting their wants and needs. When your words convey feeling, then you are motivating readers to take the action you desire. Essentially you're helping them make a decision they'll feel good about, because, ultimately, it is going to help them do succeed at something. You're also helping them feel good about the result because they are confident it is the right solution. People love making right decisions, and you just helped them do that!
We all know search engines don't have feelings, but they have an amazing way of knowing what people are passionate about. You're not the only one that reads Twitter, Facebook or Google+. The search engines do, too! They know what people are talking about and linking to.
The more passionate you can make your customers through your words, the more you motivate them to talk about you. The more they talk, the more the search engines listen. And, to a search engine, there is no greater motivation for wanting to deliver traffic to your site than what you are saying about you!