AI search results that users can interact with it are a certainty. Search marketers can either get mad about it and do nothing or they can survey what's coming and prepare.
Google SGE and Bing offer fairly similar approaches to AI that's a hybrid of traditional search and a chatbot.
But that's not necessarily what AI search results looks like in AI search startups today.
What's experimental now may become the norm within the next year or two.
How To Prepare For AI Search
There are multiple AI search engines that are offering new ways to search that go way beyond both Google SGE and Bing, so it's worthwhile to review what they're doing as well.
One AI search engine that has good technology and could cause a disruption in search is Perplexity AI.
At the time of writing, the search query "Crocs cowboy boot" was going viral and trending per Google's Daily Trends dashboard.
I did a search on Perplexity AI to see how it handles a trending search query.
Screenshot of Perplexity AI SERPs: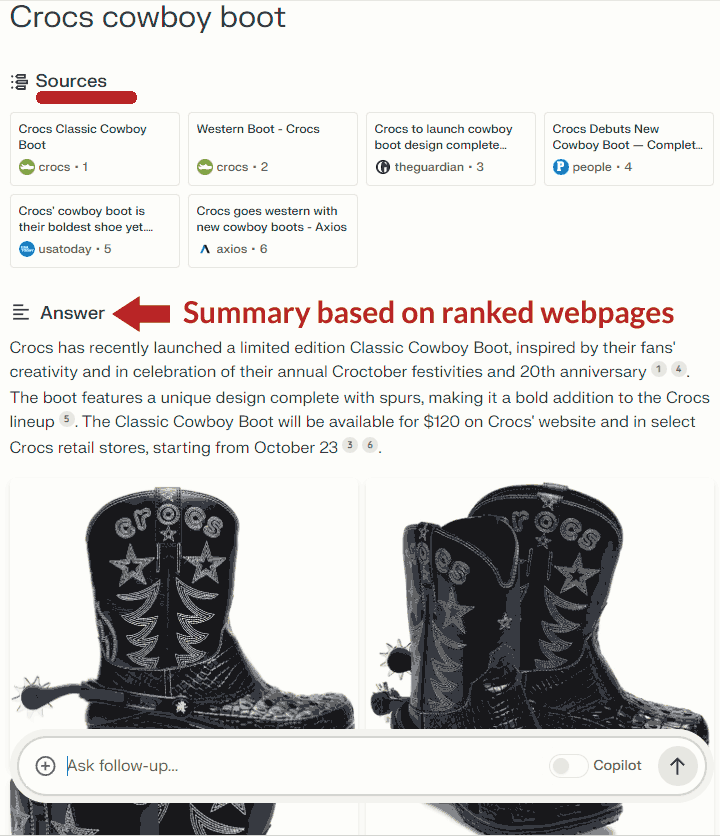 As can be seen above, a descriptive title is important in a chatbot style AI search engine.
A query for "What's the best way to build links to a website" shows this result: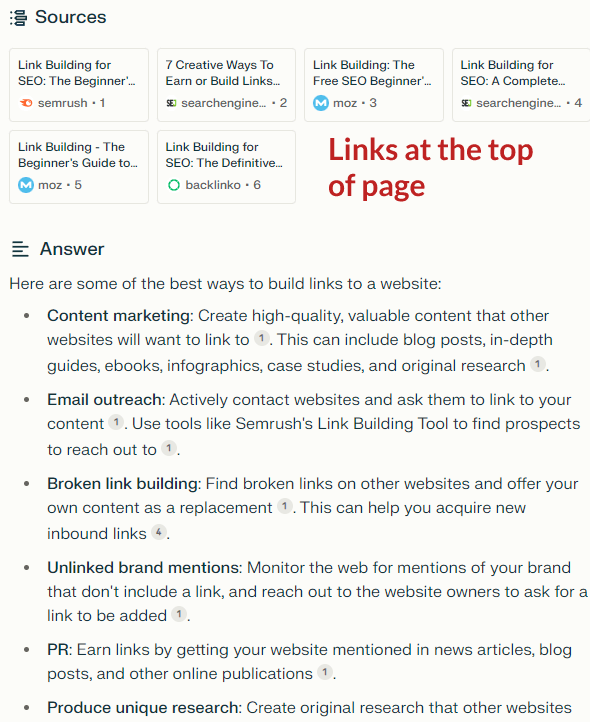 If Perplexity AI is the future of SERPs, then the title is important for attracting clicks. But also, the website favicon gains importance as well.
Moz's icon stands out. Looking at the SERPs and figuring out which sites stand out the most is something we're going to have to get used to.
Rather than panic and get mad, take a look at what the AI search engine is doing and identify what a site can do to perform better and attract more clicks.
SEO For Google Search Generative Experience
It's commonly observed that SGE may reduce clicks to websites.
After considering it thoughtfully, I disagree.
The first thing that's wrong with the idea that Google is going to destroy website traffic is that the concept of the SERPs as ten blue links does not exist.
One can say that the paradigm of ten organic links began disappearing with the introduction of Google Local Search in 2004.
In 2005 Google started showing fast facts, quick answers to questions about celebrities, science and other fact-based queries.
The ten blue links paradigm essentially disappeared in 2014 after Google introduced Featured Snippets and Local Packs in 2014, as well as many other search features.
We as an industry need to stop thinking in terms of position five, positive eight, position ten.
The only SERP position that has mattered for the past nine years (longer than that, actually) is the top three positions.
So let's stop saying that SGE will disrupt traffic from the organic SERPs because that's not a thing anymore.
Here's what we should consider:
In general, the top three search results consistently account for the most clicks.
Ads and the top three dominate.
Everything beneath those positions might as well not exist.
For vague search queries the top three themselves sometimes aren't a thing anymore because Google's refining those queries with things like People Also Ask, videos, and featured links to news.
The important point to consider is that the top three positions of the search results matter the most and anything beneath that, realistically, pretty much have stopped mattering years and years ago.
The Organic Top Three
What's interesting about Google SGE, and I don't think it's a coincidence, is that it shows three search results.
Considering that the top three are what have always been the most clicked, it makes sense that Google carries this over to Search Generative Experience.
Just taking a moment to consider things thoughtfully, the whole idea that the AI apocalypse is coming to destroy the SERPs turns out to be poorly considered and wildly overblown.
Screenshot Of Google SGE SERP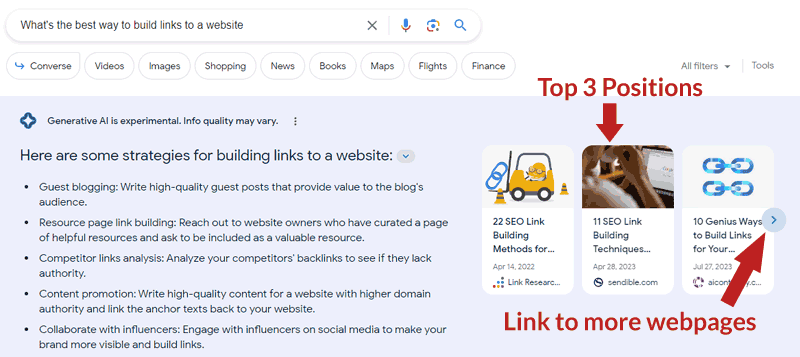 Closeup Screenshot Of SGE SERP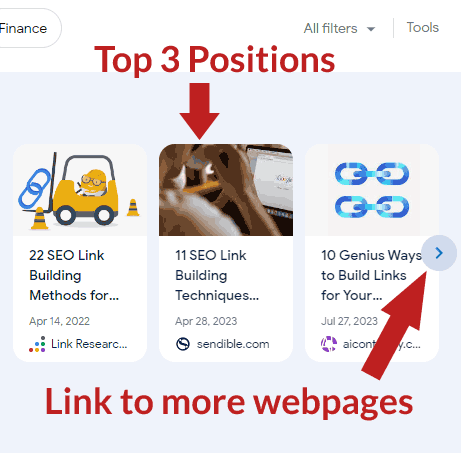 So, the top three are still there, plus a link to more webpages.
My guess is that the appearance of the top three in SGE is a decision by Google to continue showing the most clicked webpages in the SERPs, the top three, because those are the webpages that have always mattered most.
But as can be seen in the screenshot above, there is a link to more search results.
There are some experimental SGE SERPs where Google embeds contextual links within the generated summary.
Contextual links can be considered a win for sites linked within a summary because in general those kinds of links tend to get more clicks than image type links that look like ads.
SEO For Google SGE
Google has for years aimed to become a natural language search engine that doesn't rely on keywords. That's basically a reality now.
BERT and other technologies transformed how webpages are understood and subsequently ranked.
The SEO paradigm of writing content that makes sense, is helpful, useful, of appropriate length is likely going to remain important.
However, getting clicks from the current style of SGE SERPs may call for thinking deeply about how to select a featured image that pops out and communicates what the topic is about.
Google Search Generative Experience may one day become the default method of search so it's a good idea to keep an eye on how SGE lists websites.
Thinking clearly about featured images is probably a good thing to do right now because it's important for Google Discover traffic in terms of attracting attention.
Knowing how to SEO for Google AI Search is not a trivial question.
Generative AI search the way it's currently deployed uses a combination of generative search and traditional ranking algorithms.
That may change. Startup search engines are already deploying search results that lean more heavily on AI.
But let's cross that bridge when we get to it.
There are a lot of bridges coming up.
Featured image by Shutterstock/Eviart