Christmastime can be the most profitable time of year for some businesses, but with the influx of big marketing budgets, it can be challenging to compete with other campaigns.
Social media has become one of the most prevalent forms of interaction, news and information gathering, and sharing today.
So it comes as no surprise that social media marketing has rapidly grown to be one of the most operative tools for businesses, with 73% of marketers believing it has been "somewhat effective" or "very effective" for their growth. This is especially impactful during the holiday season.
Influencers, particularly those on Instagram, have become invaluable to brands as they work to keep up with the trends.
Instagram influences 72% of user purchase decisions, with the most purchased retail being clothing, makeup, shoes, and jewelry. That's a lot of influence if you ask me!
Working with an influencer is an excellent way to (re)introduce your business to your target audience and stay top-of-mind when the holidays roll around, regardless of marketing budget size.
Why Work with Influencers?
Influencer marketing is unique in that it allows consumers to see products in action – by real people.
Rather than hoping that your target customers will be able to visualize themselves wearing your new line of handbags, why not show them exactly how it looks on one of their favorite Instagram fashionistas?
Social media personalities (non-celebrities who are basically celebrities) have earned the trust of their followers, so when they recommend a product or service in their niche, their audience is more likely to convert to a new customer.
Utilizing an influential figure rather than dumping money into an expensive advertising campaign can help you avoid problematic social media algorithms and an upsurge in ad costs over the holidays.
Instead, let's increase your exposure to niche audiences who are more likely to spend their money using influencer holiday marketing.
How Can You Work with Influencers This Holiday Season?
Let the Influencer Take the Wheel
Influencer marketing is not about creating a new narrative; it's about how your business fits into the influencer's existing narrative. Their followers follow them for a reason.
Finding unique ways to apply sponsored content to their messaging is a powerful way to get your products in front of potential buyers, but let them do the messaging.
The best influencers are popular because they are creative. They know how to produce aesthetically pleasing photos, and they know how to integrate and promote products in a way that their audience will enjoy.
They know exactly who their audience is and what they like to see. And, they're usually way better at this then businesses are.
Rather than agonizing over how you're going to create a new holiday marketing campaign that stands out from the rest, simply give your influencer your product and a few message ideas, and they'll do the rest.
In fact, the fewer guidelines they have, the more creative they are likely to be when it comes to creating their content to their specific audience.
In return, your business will get an authentic message that promotes engagement and resonates with your future buyers. This is way less of an #ad feel and increases the chance for conversions.
Choose Influencers that Embody Your Brand
An influencer marketing campaign is dropping a new set of wireless headphones on a beauty tutorial page.
While the influencer may reach some people who would be interested in the product, because hey, we all love music, it would be pretty limited.
This type of influencer is very niche and has a following largely consisting of people who want to learn makeup and skincare tips and tricks.
They aren't following this influencer for music advice, though they may listen, it's a stretch.
If the influencer suddenly posts a picture of themselves wearing these wireless headphones in a blatant #ad, it may be a bit off-putting and confusing.
There's no strategy there. What are they going to say about them?
"I love wearing these headphones while I wash my face?"
No.
On the contrary, dropping a new line of activewear on a popular yogi's social media page is the perfect way for a retailer to get the word out about their brand.
The influencer could talk about the quality of the materials, breathability, the selection, and the fit, helping their following understand if the clothing would work for them.
Those who practice yoga, or those who know someone who practices yoga, may think "What a cute workout set! This is the perfect Christmas present for so-and-so [or me]!"
As opposed to "why the hell is she promoting headphones? I came here to learn how to make my eyebrows on fleek. Unfollow."
Choosing personalities that already embody your brand is essential in influencer marketing. Otherwise, you'll be wasting your time and sponsored content dollars. But how can you find the right people?
Use explore tools to search hashtags that are relevant to your niche. Rather than browsing 'Recent,' select 'Top,' and you will dive into a wormhole of content posted by potential partners.
Because platforms like Instagram are visual engines, it should be easy to find someone who speaks to your brand and imaging.
You can even browse their content to see if they've done sponsored content before to get an idea of what you would be getting.
These days, followers are quite vocal when influencers become "sell-outs," and this is often when their content and messaging do not align with their existing narrative. Find the right influencer, and you will be more successful.
Think Small
The best influencer(s) for your brand doesn't have to have a huge following (100,000+); micro-influencers (somewhere between 1,000 and 50,000 followers) are an excellent and more affordable way to reach the right people when you are just dipping your toes into influencer marketing, especially if you have a smaller budget.
Micro-influencers are the "average Joes or Janes" of social media; they are everyday people who don't charge an arm and a leg for sponsored content. Plus, they tend to have a higher engagement rate than influencers with large followings.
They also often have a very specific audience, which is ideal for businesses looking to access a small niche group of people.
Because of the relevance and higher engagement rates, you could theoretically reach more people by working with several micro-influencers instead of working with just a couple of the big dogs.
And it would cost you less.
Way less.
Select a Focus for the Holiday Gift Guide
One of the biggest mistakes companies make is trying to promote all of their products at once.
We get it, you have a lot to offer! But the more you try to market, the more difficult it will be to sell in large quantities.
An effective influencer marketing campaign will focus on seasonal items or your best sellers. Put together a gift set or select a limited time product.
The more universal product selection, the better. This way, potential buyers don't have to think too hard about which item to get. Instead, they know exactly what they want to get.
For example, if you sell skincare or beauty products, package up the top five customer favorites and sell them as a gift bundle.
Find a selection of highly engaging beauty influencers and have them promote the set to their followers as the "perfect gift" for the beauty enthusiast.
Use Hashtags
Hashtags are one of the best ways for users to find new content that they know they will be interested in.
In conjunction with your holiday campaign, create a unique, catchy, and relevant hashtags to be used by all involved influencers. This is usually just 1-2 hashtags, not 10.
For example, popular sunscreen brand Bare Republic uses their domain name as a hashtag for multiple purposes.
On Instagram, #GoBareOutside will show you several posts, all of which are directly associated with their branding.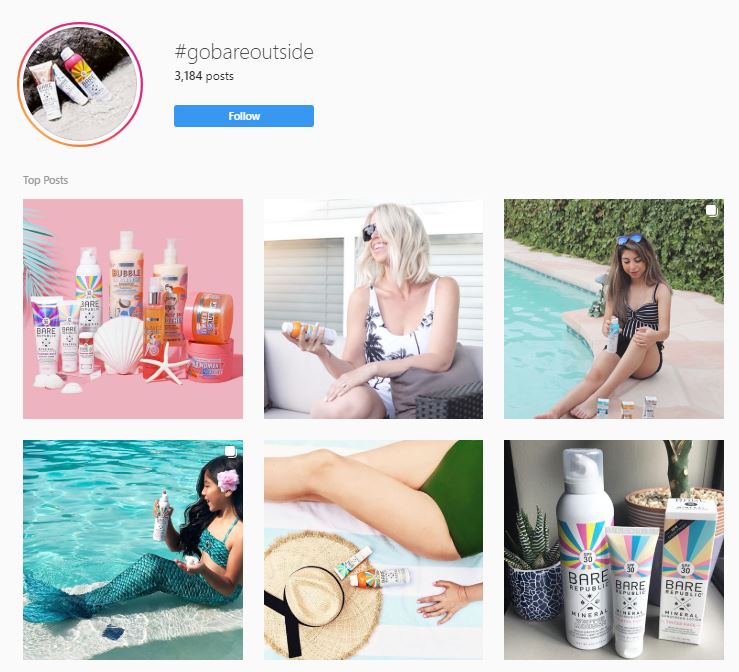 Visiting any of these posts will tell you if the content was posted at an influencer's own free will, or if they were working in collaboration with a brand.
A post by @parks.and.co shows us that this influencer not only used #GoBareOutside, but also #ad, which indicates that they were paid to promote this product.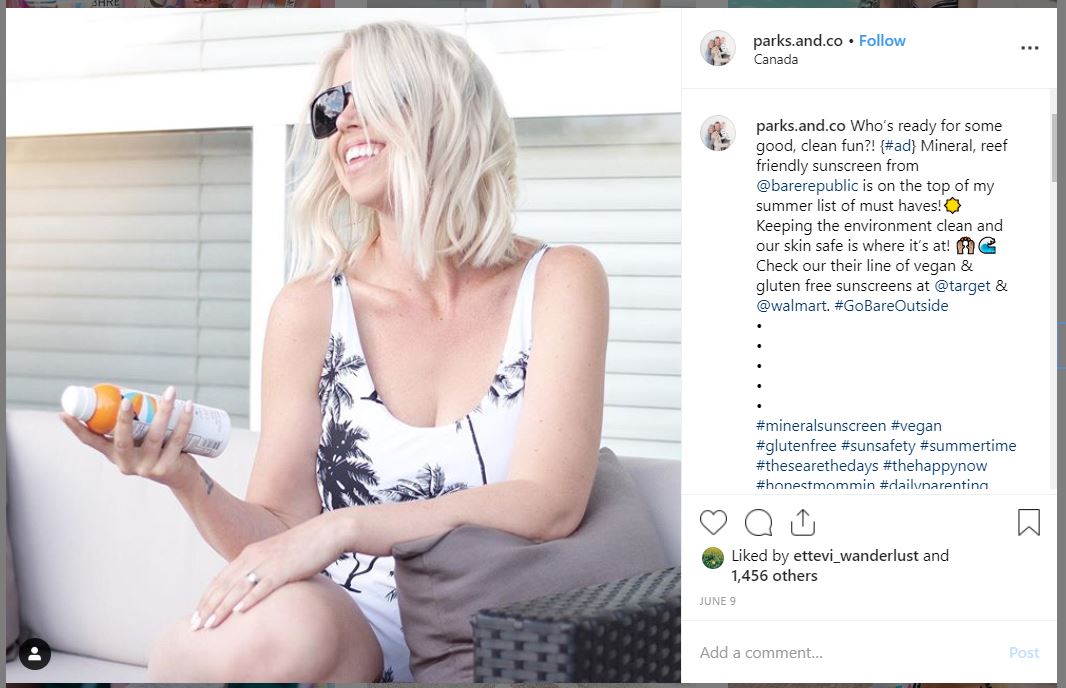 Bare Republic also uses this hashtag to gain permission to share other influencer's content on their own feed.
Here, Ulta Beauty made a post about Bare Republic being available in their store, and the brand liked the content enough that they wanted to post it, too. So, they asked Ulta to hashtag #GoBareOutside.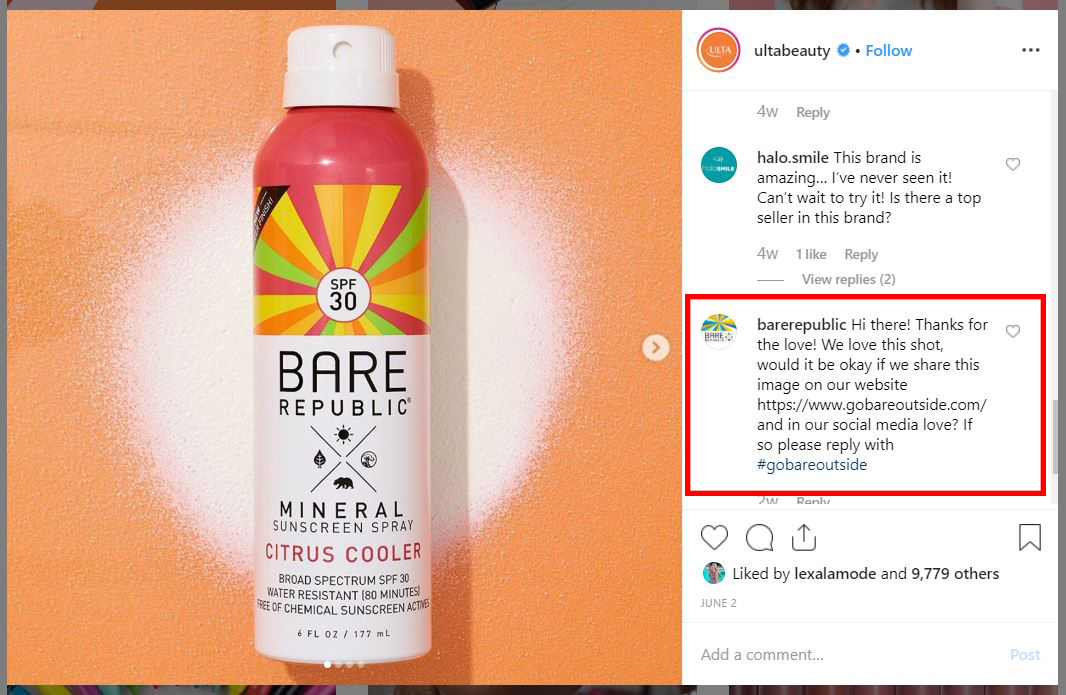 Hashtags are an extremely useful way to batch up content related to your campaigns and direct potential buyers to more information related to your brand.
Include an Urgent Call-to-Action
All holiday marketing campaigns should include a clear call-to-action, and sponsored influencer campaigns are no exception.
When it comes to the Instagram influencer, this can come in many forms.
If they are promoting your content in their Instagram stories, they may prompt viewers to "swipe up" to visit your website or landing page.
If they are promoting a product in a post, they may say to "tap" the photo for shoppable products, or to "click the link in bio" to access more information.
They may even ask that followers participate in a holiday giveaway by following your brand's page and engaging with a post.
No matter what you want your influencer to do, be sure to track any and all links to measure the effectiveness of your campaign. Some brands even use influencer-specific hashtags to help track the incoming traffic.
In short, one of the best ways to maximize your business profits this holiday season is by partnering with influencers.
What better way to target your preferred customer than by promoting your products or services through a popular social media figure?
---
Image Credits
Featured Image: Paulo Bobita
All screenshots taken by author