Google is at it again. The search engine giant is exploring a new way to display search results that could have a significant impact on local search. This new update is widely being called "Google Local Business Cards", although that name is unofficial.
Earlier in the year, Google introduced candidate cards for U.S. presidential hopefuls to enable searchers to quickly find out what candidates represent and get updates on primary results. At the time, who knew Google had something much bigger up their ever surprise-filled sleeve? Keep reading to find out more.
Keep reading to find out more.
Here's What We Know so Far About Google Local Business Cards
Over the last month, Google has been testing this feature, similar to the candidate cards, in SERPs (Search Engine Result Pages).
This is part of Google Posts, currently in testing. Businesses can request an invitation, but approval is up to Google. I have submitted a request for an invitation, but at the time this was published, I have not received a reply.
The Local Business Card feature allows local businesses to promote certain services and content in a card carousel, at the top of the SERPs, along with visual previews and promotional information.
The Local Business Cards are scrollable, allowing searchers to scroll horizontally to see other posts centered on the keyword phrases that were searched.
Normally SERP results include the three-pack feature, the three most popular local businesses related to the search term entered. With Google continuing to move toward a preference for AMP, HTML, and now, the addition of Google Local Business Cards, the local search industry is in for quite a shake-up.
How Google Local Business Cards are Displayed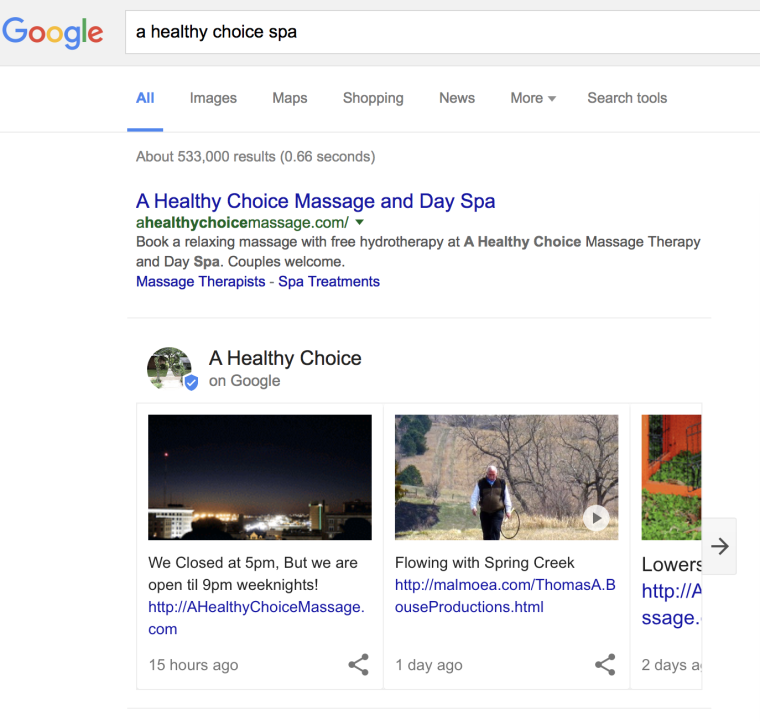 The new Local Business Cards will seem quite familiar, even intuitive, to searchers because it visually resembles the related-images carousel. Couple this with the fact searchers already expect to see answers displayed in search results because of the knowledge graph, and most probably won't even notice the change.
Google's new Local Business Cards may not look much different, but this update implements a new method for indexing. Unlike traditional methods, which take into account factors such as link authority, domain authority, website content, and, in the case of local businesses, NAP citations, Google's Local Business Cards are displayed solely based on popularity. Similar to the way previews of Wikipedia articles appear at the top for broad search queries, indexing for Local Businesses Cards will display the most popular venues, with the best reviews toward the top of search results.
It seems this latest development is yet another sign from Google that they are continuing to decrease the influence of backlinks when it comes to what is displayed in search results.
Industry Speculation
According to Andrew Shotland, there will be both winners and losers thanks to the new display formats, as is often the case with any major Google algorithm or SERP update. For now, these changes only apply to local businesses, meaning web-based businesses, such as e-commerce stores, could find themselves losing a significant amount of search traffic to websites that have brick-and-mortar locations.
Businesses with larger service areas, but no traditional storefronts, may also struggle to get recognition, making it more important than ever to have optimized service-area pages on their websites. Another observation is that smaller local businesses, particularly those without a dedicated digital marketing team or agency to represent them, may struggle to keep up with what is necessary to be displayed on the first page of search.
Local businesses, particularly brick-and-mortar locations, should not be adversely affected by the changes. After all, Google continues to make a strong connection between local businesses and mobile usage, and many of their changes, to date, have been aimed at satisfying local intent.
As is often the case with any major Google change, the most prolific beneficiaries will be local SEO agencies and digital marketing teams. Many businesses will need to review their online presence and make necessary changes to maintain their current placement in search results. It will be interesting to see how some will attempt to exploit this change over the coming months, until Google gains balance and removes abusers from the system.
Have you signed up for your invitation yet? What other observations do you have about Google Local Business Cards? Comment below and let's discuss.
Image Credits
Featured Image: rvisoft/Shutterstock.com
Screenshot taken by Bernadette Coleman. Taken March 2016.