I got a question from SEJ reader and couldn't come up with any answer. Thus I decided to discuss it in public.
Our reader was confused by backlink data provided by Google Webmaster Tools. Here are the details:
Site URL: http://www.uman.be/
The site has been in operation since 2001 under one and the same ownership;
Oddity 1: Google Webmaster Tools show the whole bunch of strange web sites linking back to the page in question (with no real backlinks showing to that page):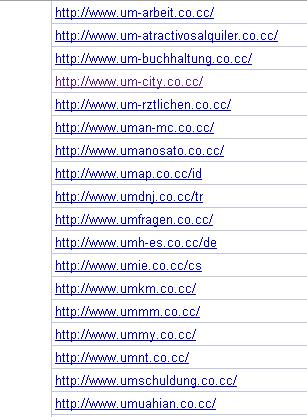 Oddity 2: The owner is subscribed to Google Alerts with 'uman' word and is getting odd results such as 'Man U' (Manchester United football club).
Question from our reader:
Could it be because of the fact that it's not really an English word that Google struggles with recognising it in external links?
It clearly looks like Google considers some type of similarity not only in Google Alerts (which would be quite understandable) but also with backlink reporting (take a look at the pages those sites in the screenshot link back).
Please let me know your thoughts and ask additional questions (if any) that could help to clarify this to us.